Published:
October 27, 2017 08:56 pm EDT
Manchego became the first undefeated two-year-old trotting filly to win a Breeders Crown as she drew off down the stretch in her $600,000 divisional championship on Friday night at Hoosier Park.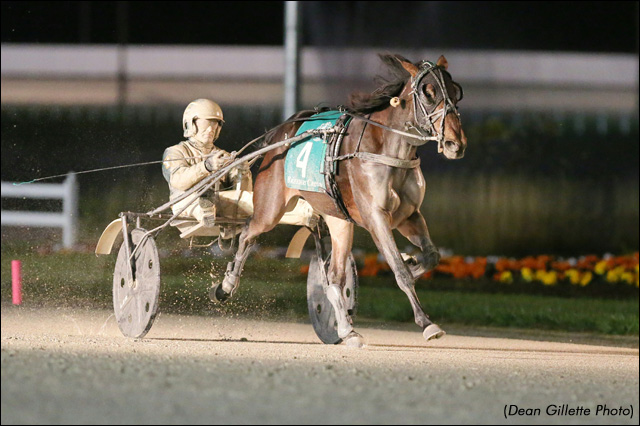 Manchego and driver Yannick Gingras winning the $600,000 Breeders Crown Two-Year-Old Filly Trot on October 27 at Hoosier Park.
Driver Yannick Gingras pointed the perfect filly towards the front from post four and cleared S M S Princess (Ake Svanstedt) in the first turn with Phaetosive (Trond Smedshammer), who set the 1:53.3 divisional track record in her elimination last week, pressing on to their outside as they passed the quarter in :27.2. Phaetosive took the lead approaching the :55.4 mid-mile mark and continued to lead through three-quarters in 1:26.2. Meanwhile, Lily Stride (Tim Tetrick) advanced first-up with Gingras making his move in the final turn aboard Manchego, who then stepped by Phaetosive down the lane. She won by a widening four and a quarter lengths in 1:54.4 over a sloppy track. Seviyorum (Andy Miller) closed well from the backfield to finish second over Phaetosive.
"I have a lot of respect for Trond's filly, she's been chasing us all year," noted trainer Jimmy Takter after the race. "I know she's a very, very good filly and I didn't want her on my back. Yannick and I spoke about it a little bit. I'd rather sit behind her and let her do the dirty work and the race couldn't have turned out better for me. We stretched him a little bit through the half and when I saw that half, I said she's going to win this."
The victory added to Takter's record Breeders Crown trophy collection, marking his 31st win in the championship series.
"I don't want to rate horses. It's not fair to the other champions we've had, but she's unique," said Takter. "To do what she's done all year, you know, 12 straight wins, that's tough to do in today's market. It's really so hard for horses to stay in shape for a whole season, but she's just an unique animal and I am so proud to be apart of her."
Perfect in a dozen career starts, Manchego now boasts a bankroll totalling $910,398.
The Brittany Farms-bred filly by Muscle Hill out of Secret Magic is owned by Black Horse Racing of Lebanon, New Jersey, John D. Fielding of Toronto, Ont., and Herb Liverman of Miami Beach, Florida.
Sent postward as the 1-2 favourite, she paid $3 to win.
More updates on Friday's championships will be posted in the 2017 Breeders Crown News Centre.