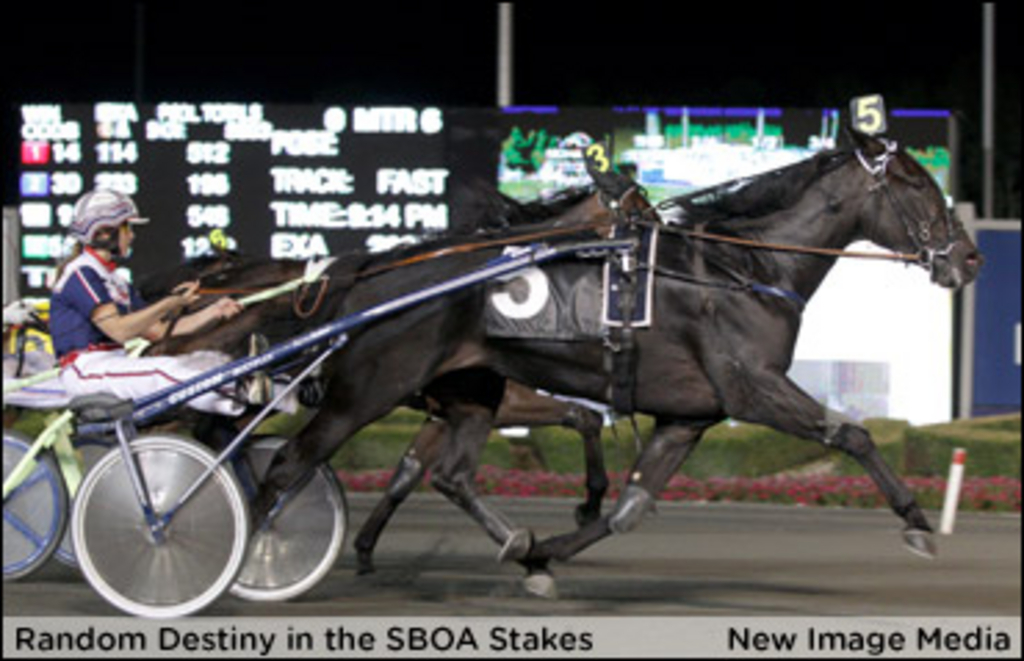 Published:
October 27, 2010 09:29 pm EDT

Three-year-old trotting filly Random Destiny wore down divisional leader Emmylou Who in the single $40,000 Ontario Sires Stakes Gold elimination on Wednesday night at Windsor Raceway
.
The popular Emmylou Who (Lyle MacArthur) took control off the gate with the inside post advantage with Wilsonator (Scott Zeron) rolling up alongside and taking over at the first quarter mark in :27.3.
Refusing to sit a pocket trip, Emmylou Who moved back out for the retake in front of the grandstand and led the field to the half in :58-seconds. As she proceeded to three-quarters in 1:26.4, Random Destiny and trainer-driver Riina Rekila moved underway from fifth.
The Ken Warkentin-Front Porch Swing filly, who is currently ranked third in the OSS standings, journeyed first up and took it to Emmylou Who in the stretch, eventually wearing her down for the 1:56.2 victory. Emmylou Who finished a half length behind in second with Wilsonator five and a half lengths back in third.
Random Destiny paid $13.50 to win as the 5-1 third choice.
Random Destiny won the first Gold Final of the season on May 23 at Mohawk Racetrack after finishing second in her elimination. She has since put together a record reading 4-3-2 in 15 starts, which includes a victory in the SBOA Stakes, for Overseas Farms Ltd. of Campbellville, Ont. She has earned $275,923 of her $476,223 bankroll this season.
The top nine finishers advance to next week's $130,000 OSS Gold Final at Windsor – the last OSS event for the sophomore trotting fillies before the Super Final on Nov. 13 at Woodbine Racetrack.
Here is a look at the field for the final in post position order:
1. Woke Up Dreaming
2. Little River Dance
3. Random Destiny
4. Ipromisenottotell
5. No Magic To It
6. Wilsonator
7. Emmylou Who
8. Poof Shes Gone
9. Angostura
To view Wednesday's results, click here.