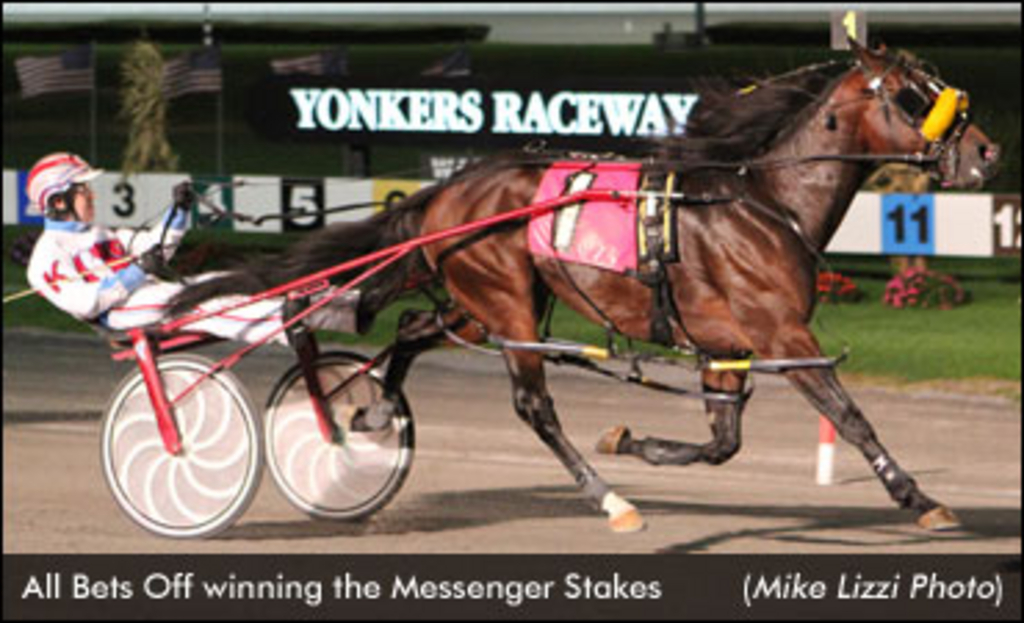 Published:
October 25, 2014 10:52 pm EDT

All Bets Off was never challenged on his way to winning Saturday's $500,000 Messenger Stakes for three-year-old pacers at Yonkers Raceway, Nuncio won Saturday's $500,000 Yonkers Trot for three-year-old trotters and the undercard was peppered with upsets.
Sent off at odds of 1-9, Nuncio and driver John Campbell won the Yonkers Trot by 2-1/4 lengths over Datsyuk in 1:56, giving trainer Jimmy Takter a sweep of the Trotting Triple Crown. Resolve finished third.
Takter, who won the Hambletonian Stakes with Trixton, picked up the Kentucky Futurity and Yonkers Trot with Nuncio. Owned by Stefan Melander's Stall TZ Inc., Nuncio has won 10 of 15 races this year and earned $1.29 million. He finished second in the Hambletonian.
The most recent horse to win the Trotting Triple Crown was Glidemaster in 2006. The last horse to capture two jewels and finish second in the remaining leg was Mack Lobell in 1987. Campbell drove both of those horses.
Takter has won the Yonkers Trot four times; Campbell has won three times.
"This horse is just so consistent, I have so much admiration (for him) and think so much of him because he always gives me a good effort," Campbell said. "Horses like that are hard to find."
The tone of the race changed before the horses reached the starting gate when Gural Hanover, who won his Yonkers Trot elimination last week and drew post No. 1 for the final, was scratched sick.
"I thought he was the horse to beat going into the race," Campbell said. "I think my horse was good enough to win, no matter what, he was very good tonight, but it certainly changed the complexion of the race. It's unfortunate. I feel bad for (Gural Hanover's connections) to get a horse into a race like this and not be able to race."
Don Dorado, leaving from the extreme outside post, went to the lead on the first turn, but Campbell moved Nuncio to the top before reaching the opening quarter-mile in :29. He led the rest of the way, with fractions of :58.4 and 1:27.3, to notch career victory 15 in 25 starts.
"I just wanted to make sure (Nuncio) kept his mind on his work, and gets around that last turn," Campbell said. "He was just a little funny-gaited last week in the last turn, but better this week. The main focus was just to keep him to his task and didn't do anything foolish. He did the rest."
Nuncio has never finished worse than second in any race and pushed his lifetime earnings to more than $1.75 million.
"Any horse at this level, they have to have the gait, they have to have speed, they have to have heart," Campbell said. "But his consistency over the two years has just been remarkable. He's never put in a poor performance for me at all."
All Bets Off went to the front as soon as the gate opened and never looked back. Driven by Matt Kakaley for trainer Ron Burke, All Bets Off won by 2-3/4 lengths over Luck Be Withyou in 1:51.1, with McWicked third. The time was the fastest ever for a Messenger Stakes at Yonkers.
"I was leaving no matter what," Kakaley said. "I wasn't going to duck him. He can leave so quick, I just had him jammed up on the (starting gate) pretty good and he just sprinted out of there.
"He was rolling along and he had a good hold of me. He was in the bit and felt fresh, so I was pretty confident."
The Messenger is the third leg of the Pacing Triple Crown. Jimmy Takter's Lyonssomewhere won the first jewel, the Cane Pace, and started the Messenger from post No. 3. Limelight Beach, who won the second leg of the Crown, the Little Brown Jug, did not enter the Messenger.
No Pan Intended is the last horse to win the Pacing Triple Crown, in 2003.
All Bets Off had raced only once since Sept. 13 prior to his Messenger elimination last week. He finished fourth in the elim, but rolled through fractions of :26.3, :55.1 and 1:23 to win the final.
"Ronnie said he was a horse that probably needed a little more work," Kakaley said. "He wasn't as good, he wasn't himself, last week and that's obvious. But I had all the faith in the world in Ronnie and his team. They always bring them ready to show up, and they showed up tonight."
All Bets Off has won 11 of 15 races this year and earned $908,625. He is owned by Burke Racing, Frank Baldachino, The Panhellenic Stable, and Rosemary Shelswell.
The victory provided Kakaley with his first Triple Crown winner.
"It's huge," Kakaley said. "This is the biggest race I've won. This year has been a great year for me. Ronnie has been giving me a lot of opportunities and things have been going really well. So thanks to him."
In an already long race -– at the nontraditional distance of 1-1/4 miles –- Natural Herbie went even longer to win Saturday's $250,000 International Trot Preview Invitational.
Racing on the outside much of the way, Natural Herbie battled through a field of international stars to win in 2:24.4 at odds of 9-1. European standout Commander Crowe finished second, three-quarters of a length behind, and Bee A Magician, the lone female in the eight-horse field, was third. Obrigado was fourth and Arch Madness fifth.
Sebastian K, the fastest trotter in harness racing history, went off stride while racing three-wide for the lead on the first turn and was not a factor. According to his connections, he hit his race bike causing the break in stride, just the fourth break in his career.
Natural Herbie, a multiple Indiana Sire Stakes champion, and driver/trainer/owner Verlin Yoder were in fifth place when Yoder made a first-over move just prior to the half-mile point. From there, the four-year-old Here Comes Herbie-Ljanearl gelding remained first over into the stretch, when he rallied from third place to get the victory.
"It was a little earlier than I wanted to, but I had to move," Yoder said. "He stood up to it. I've put him in bad spots before and he always comes through. But he had his work cut out tonight."
Natural Herbie started from post seven and was midpack as Arch Madness led the field to the first quarter in :27.4, half in :57.1, three-quarters in 1:26.2 and mile in 1:55.1. Commander Crowe was second, followed by Bee A Magician and Not Afraid.
"I was hoping I could make it down the backside before I pulled the blinds," Yoder said. "When you pull the blinds, he puts in another effort. He waits on it. I made it to just the turn before I had to pull them and he stepped up to the plate and did what he was supposed to.
"I knew he was trotting good and trying hard. Whenever he's trying that hard, he's usually going forward."
Natural Herbie, purchased by Yoder just prior to the start of his racing career as a two-year-old, has won 12 of 23 races this year and 24 of 46 lifetime, with earnings of $749,841.
"It's an honour," Yoder said about the win against a world-class field. "It keeps me speechless. I don't know what to say. He's done way above what I ever expected him to do. He's just got a lot of talent. He's a very smart horse and he knows how to win races."
A former factory worker who used to build RVs, Yoder has been involved in harness racing since 2004. It started as a hobby, but turned into a full-time pursuit. He enjoyed his best year in 2013, when he conditioned not only Natural Herbie but Indiana Sire Stakes three-year-old female trotting champion Lady Blitz.
"He's taken me to places I've never been to before," Yoder said about Natural Herbie. "Just being a trainer-driver, it just does not happen nowadays, especially when you own them yourself. It's very special. He took us places that we never expected to go.
"Yonkers treated me very nice. Nice hospitality. I was up here (Friday) night and got the grand tour. It was very nice. I've got nothing but the best to say about it."
Highest Peak took advantage of both parts of the 1-5 favoured entry of Market Rally and Avalicious going off stride to capture Saturday's $124,590 Hudson Trot for three-year-old fillies in a time of 1:58.2.
Sent off at odds of 8-1, Highest Peak and driver/trainer Ake Svanstedt saw Market Rally make a break on the first turn and Avalicious go off stride on the second turn.
Market Rally fought back to take the lead from Highest Peak at the halfway point, reached in 1:00, but was unable to sustain the effort. Highest Peak reclaimed the lead in the stretch and held off Mistresswithmuscle by 1-1/2 lengths. Bambino Supreme finished third.
Highest Peak (Andover Hall-Highland Glider) has won five of 14 races this year and $133,850. Svanstedt owns the filly, which he purchased in August.
"She minded her manners," said Bjorn "Bernie" Noren, Svanstedt's assistant trainer. "We were attracted to her because she's a nice bred filly and she was good on her manners for (former trainer) Noel Daley.
"She had been training good and I thought she would have a good chance tonight."
Act Now, the 1-5 favourite, took the lead from Tyra in the early moments of the race and cruised to a 1:53 win in Saturday's $150,854 Lady Maud Stakes for three-year-old female pacers.
Fancy Desire, who was parked for much of the mile, finished second and Beautiful Lady was third.
George Brennan drove Act Now (Western Ideal-CPA) for trainer Nik Drennan and owners Joe Davino and Patrick O'Brien. She has won five of 12 races this year and $307,444.
"She was really good," Brennan said. "She was a little hotter than I wanted, she was hitting my bike a little, that's why I got down there a little quicker in three-quarters (in 1:24.3) but she was well in hand. She was good."
---
This story courtesy of Harness Racing Communications, a division of the U.S. Trotting Association. For more information, visit www.ustrotting.com.