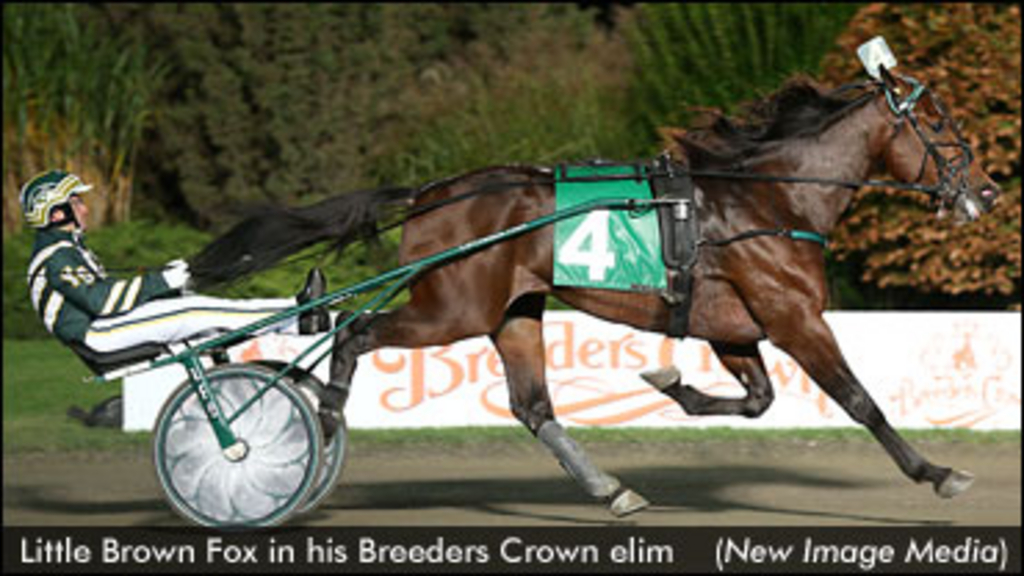 Published:
October 20, 2012 08:07 pm EDT

The Breeders Crown three-year-old and open divisions requiring eliminations were contested on Saturday night at Woodbine Racetrack.
Saturday's card included two eliminations each for the following sophomore divisions: pacing fillies, trotting colts, and pacing colts. One elimination was also required for the aged trotting mares division.
Heavy favourite American Jewel and driver Tim Tetrick defeated defending Breeders Crown champion Economy Terror (Dave Palone) in the first $24,635 elimination for three-year-old pacing fillies in 1:52.3. Big McDeal (Jody Jamieson), Marty Party (Ron Pierce), and Jet Wash (James MacDonald) finished third through fifth, also advancing to next week's final.
Economy Terror, moving in to post five with Bettor B Lucky scratched sick, fired off the gate and carved out fractions of :28, :57, and 1:25.3 before being confronted down the stretch by American Jewel. After following in the two-hole for most of the mile, American Jewel was flushed out of the pocket at the third quarter mark with Marty Party advancing from the backfield. American Jewel battled with Economy Terror down the stretch and gave one final surge as the wire approached to prevail in a photo finish. The 3-5 favourite paid $3.20 to win.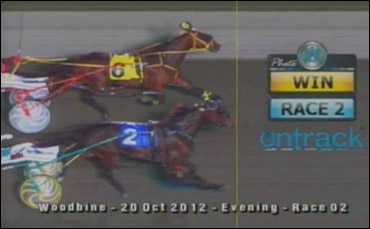 "I know it would be a sprint; there was no pace," commented trainer Jimmy Takter after the victory. "They opened up in :28 and a :57 half, that's an extremely slow pace for these horses. It's not easy to make up a length in a sprint like that so she showed a lot of guts. There's a strong wind in the stretch and I didn't think she would be able to make it up, but the last stride she put in was good so I was happy.
"They've been battling each other last year and this year," added Takter, noting the duel between his O'Brien Award winning filly and Economy Terror. "They're two tough fillies and I'm happy to win this elimination. It is very important because you get to pick your post position."
The American Ideal-Trim Hanover miss is owned and bred by Brittany Farms of Versailles, Kentucky. She has banked $852,000 of her $1.5 million bankroll this year with a record of 7-4-2 in 14 starts.
Favourite Romantic Moment, driven by Yannick Gingras, overcame her outside post eight starting spot to win in 1:52.1 and complete a Jimmy Takter and Brittany Farms sweep of the three-year-old pacing filly eliminations. Rockaround Sue (Tim Tetrick) and Apogee Hanover (Doug McNair) closed well for second and third while Shelliscape (John Campbell) and Handsoffmycookie (David Miller) finished fourth and fifth.
Romantic Moment fired across the track and cleared to command into the first turn before hitting the first quarter mark in :27.2. She proceeded to the half in :56.1 and opened up five lengths on her past the 1:24.3 three-quarters mark before cruising home for the victory. Rockaround Sue narrowed the winner's margin to three-quarters of a length with her closing kick. Romantic Moment paid $3.30 to win.
"We bought her from Hunterton Farm in Lexington two years ago for $75,000 and we thought she was the best pacing filly in the sale at that time," explained Myron Bell of Brittany Farms. "She might race next year and continue her legacy and become a broodmare.
"We're on a little bit of a roll tonight," continued Bell. "And I want to thank everybody here at Woodbine and everybody that comes out for the racing."
Another daughter of sire American Ideal out of Time N Again, Romantic Moment improved her sophomore record to 10-3-1 in 14 starts while boosting her career bankroll to over $958,000.
The field for next week's final is listed below in post position order. The winners earned the right to select their posts.
$492,700 Breeders Crown Three-Year-Old Filly Pace
PP-Horse
1. Economy Terror
2. Big Mcdeal
3. Romantic Moment
4. American Jewel
5. Shelliscape
6. Handsoffmycookie
7. Rockaround Sue
8. Apogee Hanover
9. Marty Party
10. Jet Wash
Little Brown Fox romped to a 1:53 triumph in his $24,635 elimination for three-year-old trotting colts bringing trainer Jimmy Takter back to the winner's circle. Prestidigitator (Sylvain Filion) came on for second with Mr Chicago (Tim Tetrick), Solvato (Trond Smedshammer), and Stormin Normand (David Miller) completing the top five finishers.
Driver Yannick Gingras sent Little Brown Fox to the lead from post four and carved out fractions of :27.4, :57, and 1:24.1 en route to the five and three-quarter length score. He paid $3.50 to win as the 3-5 favourite.
"It was easy. He was very, very good tonight. We made the front easy and he got a cheaper half and he took off from there," said Gingras after the race. "I figured if they were going to come and catch me they would have to work a little bit at it. I mean you got a tail wind in the backstretch too so that definitely helped, but he was really handy."
The Muscles Yankee-Malvictorian colt is owned by Brittany Farms, John and Jim Fielding of Toronto, and Christina Takter of East Windsor, New Jersey. With a sophomore record reading 7-4-3 in 16 starts, Little Brown Fox has earned the bulk of his $885,000-plus bankroll this year.
Supplemental entry Intimidate, driven by Sylvain Filion, came flying home down the stretch to pick off heavy 1-5 favourite Market Share (Tim Tetrick) in a career-best equalling time of 1:53.1 in the second $24,635 elimination for three-year-old trotting colts. Knows Nothing (Jody Jamieson), Another Amaretto (Andy Miller), and Guccio (Jimmy Takter) earned the final spots in next week's championship.
Knows Nothing sprinted off the gate from post six while Appomattox (Scott Zeron), Archangel (David Miller) and Market Share were three-wide early on. Knows Nothing clocked the first quarter in :27.2 before Archangel rolled up to take over into the backstretch with Appomattox taking back into third and Market Share settling away fourth.
Archangel led the way to the half in :56.2 before Market Share made his move. The Hambletonian and Canadian Trotting Classic champion advanced first up during the third panel and applied heavy pressure to the leader as they raced by the three-quarters mark in 1:25.1.
Market Share wore down Archangel into the stretch, but couldn't fend off the late-charging Intimidate, who rallied home for the upset after sitting sixth for most of the mile. He paid $25.10 to win for the fourth consecutive time.
"He won pretty handy his last two or three starts and he got supplemented to the Breeders Crown so tonight there was a little extra pressure...but man oh man did he ever race good," commented Filion after the victory. "I saw the first part of the race and Timmy got parked three-wide for a piece of it so turning for home I knew I had a slight chance of catching him and my horse just kicked into another gear and he was just super."
Intimidate is trained by Luc Blais, who also owns and bred the Justice Hall-Fabulous Tag gelding with Judith Farrow of Hemmingford, Que. The career earner of just over $145,000 now boasts a seasonal record reading 12-3-0 in 16 starts.
The Hambletonian Society announced that the $546,987 Breeders Crown Three-Year-Old Colt Trot will be drawn at the Breeders Crown press conference at WEGZ Stadium Bar on Tuesday, October 23 at 12 p.m. rather than the previously reported Open Trot. Toronto Maple Leafs forward James van Riemsdyk will be the special celebrity drawmaster.
Even-money favourite Beatgoeson Hanover, with Brian Sears picking up the catch-drive from an absent Jim Morrill Jr., won the $39,416 elimination for older trotting mares in 1:54 flat. Autumn Escapade (David Miller) closed well for second and Mysticial Starlight (Tim Tetrick) finished third. Bax Of Life (Randy Waples), Tamla Celeber S (Orjan Kihlstrom), Pantholops (Corey Callahan), and Cleopatre Duharas (Yannick Gingras) rounded out the top seven finishers who will join the mares that accepted byes in the final, including 2011 Breeders Crown champions Frenchfrysnvinegar and Cedar Dove, along with Pembroke Heat Wave.
Oh Sweet Baby (Mario Baillargeon) was first to fire off the gate and crossed over to command from her post seven starting spot while putting up a :27.3 opening quarter. But down the backstretch, Sears sent Beatgoeson Hanover first up from fourth and took over the top spot past the :57.2 half-mile mark. She then opened up mutliple lengths on the field en route to three-quarters in 1:24.4 and cruised home for the two length victory, paying $4.20 to win.
"I was not really nervous [picking up the drive]. I was fortunate that I've raced her quite a few times before and I know her pretty well," noted Sears in a post-race interview. "I know she's a really nice mare when she's on her game and tonight she was really sharp. That's usually not her trip to race on the front end, but she was really good tonight and able to step away from them."
The four-year-old Andover Hall-Beat The Wheel mare is trained by Richard 'Nifty' Norman for owner Neven Botica of Perth, Australia. She notched her sixth win in 18 seasonal starts while inching closer to the million-dollar career earnings mark.
The field for next week's final is listed below in post position order.
$246,350 Breeders Crown Mares Open Trot
PP-Horse
1. Bax Of Life
2. Beatgoeson Hanover
3. Pembroke Heat Wave
4. Cleopatre Duharas
5. Pantholops
6. Cedar Dove
7. Autumn Escapade
8. Frenchfrysnvinegar
9. Mystical Starlight
10. Tamla Celeber S
Bettors Edge and driver David Miller wore down pacesetter Panther Hanover (Sylvain Filion) in deep stretch to take the first $24,635 elimination for three-year-old pacing colts in 1:49.4. Thinking Out Loud (John Campbell), Hillbilly Hanover (Tim Tetrick), and Escape The News (Yannick Gingras) rounded out the top five finishers in close quarters.
Panther Hanover out-sprinted his foes from post seven to take the lead off the gate and carved out fractions of :26.1, :54.3, and 1:22.1. At the half, Bettors Edge began his first over attack from fourth with Thinking Out Loud and Hillbilly Hanover following his cover. The 17-1 longshot eventually edged by the leader late to score by half a length, paying $37.20 to win.
"He raced huge. I came first up and really just brought him out easy first over and he charged home," said Miller. "He's been very consistent of late and he's versatile. I can race him any way I want to and he's just been really, really sharp."
Bettors Edge provided Brittany Farms, who owns and bred the Bettors Delight-Spring Wind gelding with Val Dor Farms of Millstone, New Jersey, with another elimination victory on the night. For Bettors Edge, the win was his fifth of the season in 19 starts and boosted his career earnings to nearly $417,000. He is trained by Linda Toscano.
Heston Blue Chip and Tim Tetrick converted from the pocket to win in 1:50.3 and complete a sweep of the three-year-old pacing colt eliminations for Toscano. Mel Mara (Ron Pierce) came on for second with 2011 Breeders Crown champion Sweet Lou (Dave Palone) edging out supplemental entry Michaels Power (Scott Zeron) in third and Dapper Dude (John Campbell) finishing fifth.
Tetrick fired Heston Blue Chip to the lead from the outside post seven and clocked a :27.1 opening panel before giving way to Michaels Power down the backstretch.
Michaels Power rushed up from third and cleared before the :55 half-mile mark. As he proceeded to three-quarters in 1:23.1, Dapper Dude made the first over sacrifice with Sweet Lou following his cover and Mel Mara third over trailing the field.
Michaels Power continued to lead the way into the stretch, but couldn't hold off the late closers. Heston Blue Chip pulled the pocket down the lane and swept by to win his first start back since the New York Sire Stakes Championship on Sept. 22. He returned $8.30 to his backers as the 3-1 third choice.
"He had a lot of racing this year so I knew [the time off] wasn't going to be a problem," said Toscano. "We took him down to Lexington with us and we thought about what to do with him and I really wanted to put him on Lasix so we certified him down there and just gave him a real good qualifier [timed in 1:49.1 on Oct. 5] to use as a tightener."
The American Ideal-Shot Togo Bluechip colt, who is now 10-for-13 in his sophomore year, is owned by Kenneth Jacobs of Baldwinsville, New York. His seasonal earnings passed the $500,000 mark while his bankroll climbed to nearly $880,000.
The field for next week's championship is listed below in post position order.
$546,897 Breeders Crown Three-Year-Old Colt Pace
PP-Horse
1. Michaels Power
2. Bettors Edge
3. Escape The News
4. Heston Blue Chip
5. Panther Hanover
6. Dapper Dude
7. Sweet Lou
8. Thinking Out Loud
9. Hillbilly Hanover
10. Mel Mara
The fields for the remaining divisions not requiring eliminations are listed below.
$492,700 Breeders Crown Three-Year-Old Filly Trot
PP-Horse-Driver Listed
1. Check Me Out - Tim Tetrick
2. Win Missy B - Ron Pierce
3. Miss Paris - Rick Zeron
4. Bluff - TBA
5. Personal Style - David Miller
6. Maven - Yannick Gingras
7. Dream On Hanover - Randy Waples
8. Sassy Syrinx - John Campbell
9. Dorsay - Corey Callahan
10. Cowgirl Hall - Jim Morrill Jr.
11. Chilitodayhotamale - TBA
$326,660 Breeders Crown Mare Pace
PP-Horse-Driver Listed
1. Dreamfair Eternal - Brian Sears
2. Rocklamation - Jim Morrill Jr.
3. Camille - Brett Miller
4. Anndrovette - Tim Tetrick
5. Tea Party Princess - Scott Zeron
6. Swinging Beauty - Doug McNair
7. Krispy Apple - Tim Tetrick
8. Ginger And Fred - Scott Zeron
9. Rebeka Bayama - Sylvain Filion
10. Monkey On My Wheel - Jody Jamieson
11. Drop The Ball - Yannick Gingras
$492,700 Breeders Crown Open Pace
PP-Horse-Driver Listed
1. Put On A Show - Jody Jamieson
2. Aracache Hanover - Doug McNair
3. Up The Credit - TBA
4. Hypnotic Blue Chip - TBA
5. Golden Receiver - Tim Tetrick
6. We Will See - Ron Pierce
7. Bettor Sweet - David Miller
8. Foiled Again - Yannick Gingras
9. Razzle Dazzle - Brian Sears
10. Foreclosure N - Jim Morrill Jr.
$591,240 Breeders Crown Open Trot
PP-Horse-Driver Listed
1. Daylon Magician - Jack Moiseyev
2. Mister Herbie - Jody Jamieson
3. Hot Shot Blue Chip - Corey Callahan
4. Commander Crowe - Christophe Martens (foreign invitee)
5. Arch Madness - Trond Smedshammer
6. Chapter Seven - Tim Tetrick
To view the fields for the two-year-old divisions, click here.
To view Saturday's harness racing results, click on the following link: Saturday Results - Woodbine Racetrack.