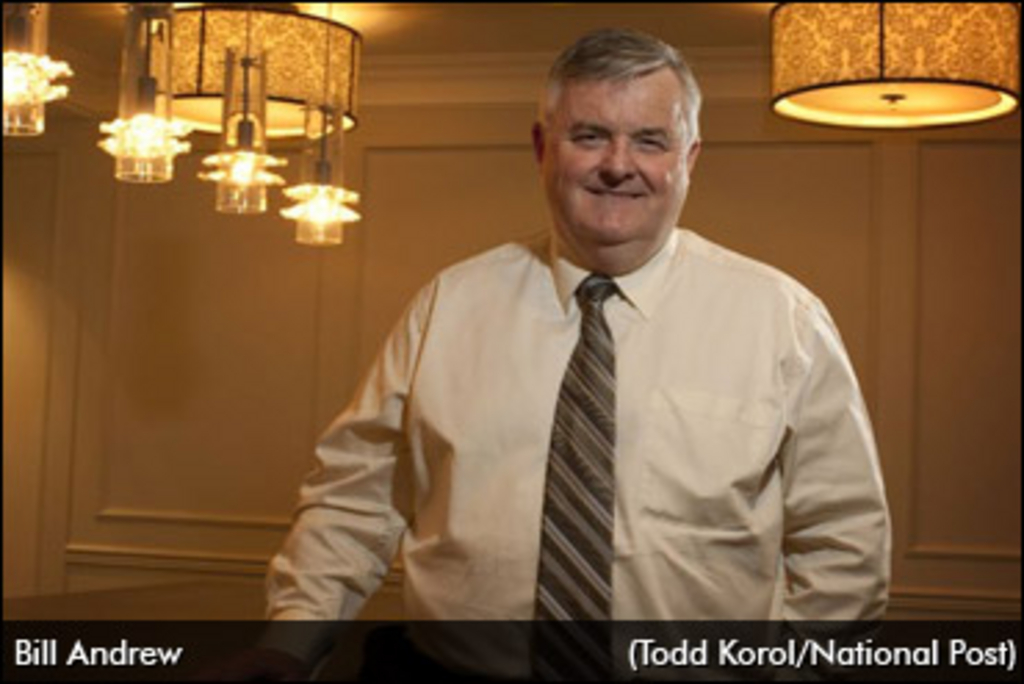 Published:
October 19, 2015 10:27 am EDT
Bill Andrew has had a lifelong passion for Standardbred racing. Sitting with him in the Mid-City Grill restaurant on a blustery day at Century Downs, you would never know that this man has built a Canadian Standardbred racing empire.
He is soft spoken and unassuming, but his eyes sparked with warmth when he talked about the horses he has raced and raised, the fans of the Standardbred industry and the ways that his horses been able to give back to the communities where they race.
Bill's father was in the RCAF, so they moved a lot when he was growing up, but home was always Prince Edward Island, where his grandfather trained and drove Standardbreds. Bill attended university in P.E.I. and Nova Scotia, and after he graduated as a mining engineer he moved to Calgary in the early 70's for a career in oil and gas. His achievements as a visionary and leader in the oil industry are legendary, but his achievements as an owner, breeder and philanthropist in the Standardbred world are equally significant.
Bill inherited his interest in racing from his grandfather and father. He purchased his first yearling in Alberta in 1990, and has raced horses ever since. His concentration moved from racing to breeding in about 2003, and his Meridian Farms has grown to two locations with the home farm in Milton, P.E.I. which is managed by his brother Brian Andrew, and a western base in Okotoks, Alberta.
Meridian Farms has hit a major milestone in 2015, and sits in the Top 15 in North America for foal earnings with 241 wins and over $1.4 Million in earnings. There are 2,900 Standardbred racing broodmares in Canada, and Meridian Farms only has 60 mares at the two locations, so their achievement is truly remarkable.
Most breeders (of any horse breed or discipline in Alberta) would be inordinately proud of being in the Top 15 in North American earnings, but Bill is much more proud of the charitable contributions that Meridian Farms horses make to the communities where he races. Bill is incredibly humble, but he has a broad smile and he leans closer over his coffee cup when he talks about the three charitable stables that Meridian Farms has started and supported over the last five years. In 2010, Bill wanted to put more into the communities where the horses race, and with the help of ASHA Executive Director Fred Gillis, they set up Fun for Fans. The Fun for Fans Stable is given a horse that races under the stable name for the year, and each month a different charity is chosen as beneficiary. Making a profit with a race horse is not a sure thing, so Bill guarantees that each charity will receive at least $1,000, and if the stable horse makes more in that given month of racing that is a bonus for the charity! Meridian Farms pays all of the expenses for the horse, and also provides support for Family Days, Kids Days and t-shirt giveaways.
In 2010 and 2011 the Fun for Fans horse was Starring Role, a mare that Bill Andrew and trainer Dan Sifert purchased at the Harrisburg Sale as a yearling. 'Starry' was the perfect horse for the Fun for Fans Stable, and in her 31 starts for the stable she had seven wins and was named Alberta's Champion Aged Mare for 2010. She had her own Facebook page, and at one point her fan club was over 40 members strong and many showed up to cheer her on every time she stepped onto the track. 'Starry' had 76 starts, and made over $156,000 and now lives at Meridian Farms in the broodmare band at Okotoks.
Too Ideal is the 2015 Fun for Fans Stable horse, and the seven-year-old bay mare has had 26 starts and two wins and made over $11,000 so far which will be shared with the Rockyview Volunteer Fire Department, Airdrie Over 50 Club (22 members came out to Century Downs to cheer on Too Ideal in July!), Perky in Pink Breast Cancer Awareness, Southern Alberta Ronald McDonald House, Olds Christmas Angels and the Airdrie Boys & Girls Club.
Bill expanded the charitable component of Meridian Farms after the initial enthusiasm and success of Fun for Fans. With a horse named Hurrah, Bill initiated the Hurrah for Charity Stable in P.E.I. in 2014, and the bay raced 27 times and was in the money 11 times, with five wins and made donations to seven different charities. This year A Fiesty X Ample is racing for the stable, and will support 4-H, Autism Society, CBC Turkey drive and Charlottetown Boys & Girls Club.
Bill also supports the Truro, Nova Scotia area and the Cheering for Charity Stable has had an outstanding 2015 with the five-year-old mare Barona Lilac. 'Lilac' has had an incredible 11 wins this year, and is making headlines with her support of Truro charities.
Bill feels strongly about his race horses, but he's not at all focused on the wins and the money earned. He believes that the racing industry needs to create touchstone moments for fans. He is devoted to promoting the racing industry to new fans, and has started a Name the Foal contest through ASHA. Children from ages 2 – 16 can enter to win Best Name, Best Drawing and Best Letter, and there are iTunes and other gift certificates sent to the winners of each category. A Grade 7 teacher in P.E.I. uses the Best Letter contest as a class project, which shows a reach into the community that no one could have expected!
At the ASHA Yearling Sale in September, Pickles On Top, the filly who was the Name the Foal horse for 2014 went through the sales ring. Bill donated her $24,500 sales price to Olds & District Hospice Society, Olds & District Christmas Angels and four Standardbred retirement groups. The five-year-old girl who named Pickles on Top was invited to the sale with her family, and got to meet 'her' filly. The 2015 Name that Foal contest is over, and three-year-old Sway won the contest with the name "Pinkie Pie." Pinkie Pie will go through the ASHA Yearling Sale in 2016 and once again, Bill will donate the auction price to local charities.
Bill is gracious when he talks about his successes in racing and breeding. He's hard pressed to pick a favourite horse, preferring to talk about the merits of all of his horses, and he can go back three and four generations when he talks about the pedigrees of his mares. He is excited for the Alberta Sires Stakes Super Finals, which are coming on October 31 at Century Downs. Keep Coming, Johnny Gun and Fire Watch are all Meridian Farms-bred horses that he will be watching closely and cheering across the finish line between now and then.
(with files from Horse Racing Alberta)