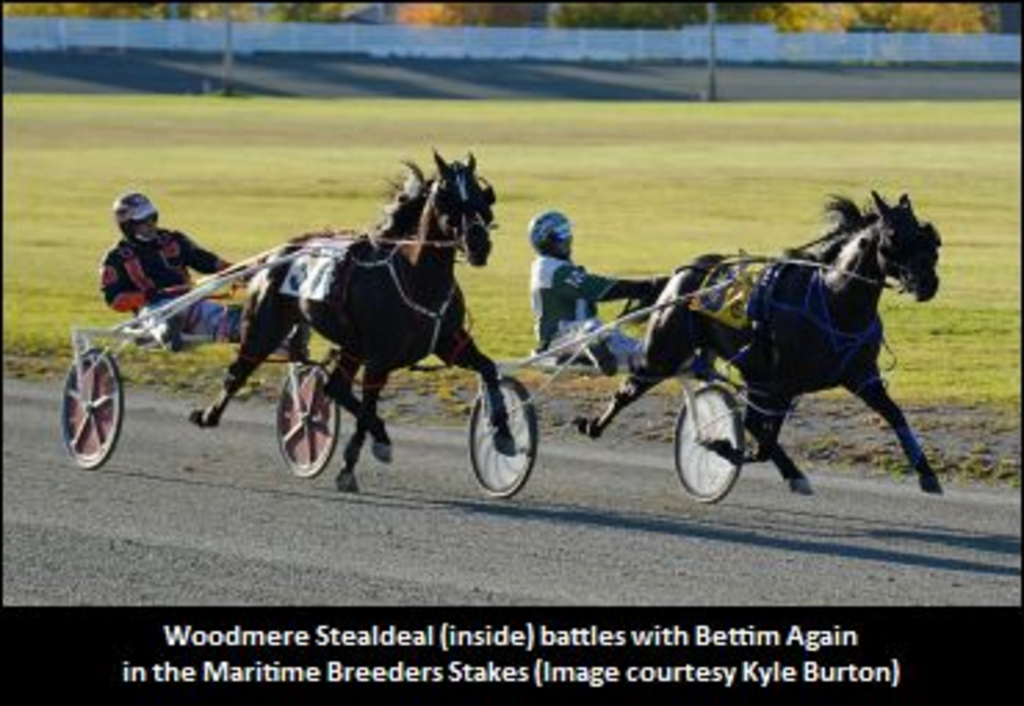 Published:
October 18, 2020 05:58 pm EDT
A quartet of Maritime Breeders Stakes divisions for two-year-old pacers highlighted the Sunday, October 18 live program at Truro Raceway. It would be an understatement to say that the rookie pacing colts and fillies simply put on a show during the card, as track records were lowered in three of the afternoon's four splits.
Woodmere Stealdeal had attracted all of the focus heading into Truro's Sunday card, and deservedly so. The gelded son of the late Steelhead Hanover had assembled an unblemished 12-race win streak heading into his Maritime Breeders assignment. It is clear that Woodmere Stealdeal and his pilot, Marc Campbell, were looking for more. It is also clear that the public, who had bet the duo down to heavy-favourite status (1-9), were also expecting another 'W.' Was everyone expecting a track-record effort? Maybe. Although, regardless of expectations, a track record mile is exactly what they got.
Bettim Again (who was driven by Redmond Doucet and was the 2-1 second choice) fired out the hardest in the early going, but it didn't take long for Campbell and Woodmere Stealdeal to make their move. Campbell opted against sitting in the pocket early, as he launched Woodmere Stealdeal to a first-up attack in the opening panel. Doucet wasn't looking to give up the point easily, as he forced Campbell to use Woodmere Stealdeal to a degree past the :27.3 quarter pole and for most of the second panel, which was concluded with a :56.1 half-mile clocking.
Woodmere Stealdeal was able to get a breather in the third quarter, as he went on to click off three quarters in 1:26 with a sharp Bettim Again priming to pounce.
Doucet called on Bettim Again in the final quarter. The duo popped from their cover and took dead aim at the wire. Only one thing stood in their way: Woodmere Stealdeal.
Woodmere Stealdeal dug in through the stretch, repelled Bettim Again's valiant move, and nailed the wire in 1:54.1. The clocking lowered the track record for two-year-old gelded pacers (the previous mark of 1:56 was recorded by Bettim Again on Sept. 4). Bettim Again finished a half-length back in second, while Dustylanegoliath (Gilles Barrieau) finished well back in third.
Woodmere Stealdeal, who is trained by Danny Romo, has now won all 13 of his career pari-mutuel races and has banked $68,646 for his connections, Kevin Dorey and Robert Sumarah. His 1:54.1 Sunday clocking is his sixth track record performance of his juvenile campaign (previously twice at the Charlottetown Driving Park, and once at each Summerside Raceway, Northside Downs and Inverness Raceway).
As Romo recently told Trot Insider, Woodmere Stealdeal will now be shut down until the 2021 racing season.
Earlier on in the card, a track record that had stood since 2005 fell by the wayside in the Maritime Breeders, as Rotten Ronnie did everything in his power to grab the top headline of the day. The Lennan MacIsaac-trained and Redmond Doucet-driven colt powered to a gate-to-wire win (:28.3, :59, 1:26.3) in 1:56.1. Woodmere Alvin (Brodie MacPhee) and Moneyorroses (Steven Shepherd) finished second and third, respectively. Rotten Ronnie's 1:56.1 clocking lowered P H Super Dave's 2005 pacing colt track record of 1:57 by four-fifths of a second. Rotten Ronnie, who is a brown son of Malicious, now has a slate that reads 4-3-2 from 13 starts and $28,307 in purses for owners Redmond Doucet and Andy Stewart.
Not willing to play second fiddle to the boys, Aspoonfulofsugar also took the opportunity to etch her name into the track record books, as she won her Maritime Breeders division in 1:56.1. The clocking lowered Na Naa Said So's 2019 track record of 1:56.2 by one-fifth of a second. Dale Spence had the Joseph Baxter trainee on her toes throughout the contest, as he let his charge roll on the engine, cut all of the speed (:28.1, :57.3, 1:27) and win by more than 12 open lengths. Southwind Skye (Marc Campbell) finished second and Elm Grove Penney (Danny Romo) finished third. Aspoonfulofsugar, who is by Rollwithitharry, has now compiled a seasonal slate of 4-1-2 from seven starts and $28,107 in purses for owners Jennifer Baxter, Sean Baxter, Trish Hardy, and Matthew Williams.
The first of the afternoon's Maritime Breeders splits was won by Stonebridge Terror filly Tobins Brownie, who was sensational for trainer Jonah Moase and driver David Dowling. Tobins Brownie posted a gate-to-wire win (:29.2, :59.4, 1:30) in 1:58. She finished four lengths ahead of JJ Talisa (Redmond Doucet). Woodmere Vanish (Paul Langille) finished third. Tobins Brownie has raced to a slate of 9-2-0 this season from 13 starts, which is good for $51,296 in purses for owners James Quinn, Carl Peterson, and Amy Katherine J. Lakie.
To view the harness racing results for Sunday at Truro, click the following link: Sunday Results - Truro Raceway.