Published:
October 14, 2016 05:26 pm EDT
The world's fastest pacer, Always B Miki, who recently reset the time standard in harness racing to 1:46, leads a group of 39 eligible pacers for the $400,000 Breeders Crown Pace, slated for Friday, Oct. 28, at the Meadowlands Racetrack.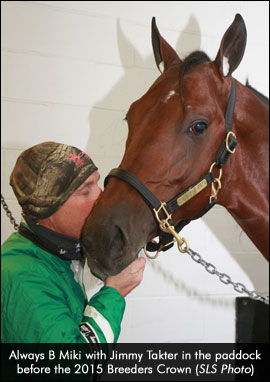 Always B Miki, the defending Breeders Crown Pace champion, is one of a record six Breeders Crown champions among the eligible pacers: the five-year-old son of Always A Virgin is joined by Freaky Feet Pete (2015 sophomore pacing champ); Foiled Again (2013 Open Pace); Luck Be Withyou (2013 freshman champ); McWicked (2014 sophomore champ); and Traceur Hanover (2014 two-year-old-colt pace champ). Both Freaky Feet Pete and McWicked have called it quits this season.
Also eligible is the sensational Shamballa, who was just one and one-quarter lengths back of Always B Miki in that historic 1:46 mile, and also defeated both divisional leaders Always B Miki and Wiggle It Jiggleit in a 1:47.1 score in the U.S. Pacing Championship at the Meadowlands on Hambletonian Day, August 6. Shamballa is driven by the red-hot Scott Zeron, who is having a career year at age 27, having just won the Triple Crown of Trotting with Marion Marauder. Zeron has more than $800,000 in Crown earnings though he is still seeking his first title.
One of four Breeders Crown events slated for the Meadowlands on Friday, Oct. 28, the Crown Pace will be featured in a one-hour live broadcast on SNY (SportsNet New York) from 9-10 p.m. (EDT).
The battle for division supremacy may very well come down to the Breeders Crown, as 2015 U.S. Horse of the Year Wiggle It Jiggleit is not eligible to the program, which has stallion eligibility as its cornerstone.
The $400,000 Breeders Crown Pace carries a supplemental tag of $50,000, and supplements are due Monday, Oct. 17 at the Meadowlands race office. The starting fee is included in the supplemental amount, and at least 50 percent of the supplemental money, minus the normal starting fee, is added to the purse of the individual events.
Horses eligible to the Breeders Crown events must enter by 9 a.m. on Tuesday, Oct. 18, also at the Meadowlands race office.
Elimination events, if necessary, will be raced on Friday, Oct. 21.
A complete listing of all eligibles to the 12 events and more information on the conditions of the race can be found at hambletonian.com.
(With files from Breeders Crown)