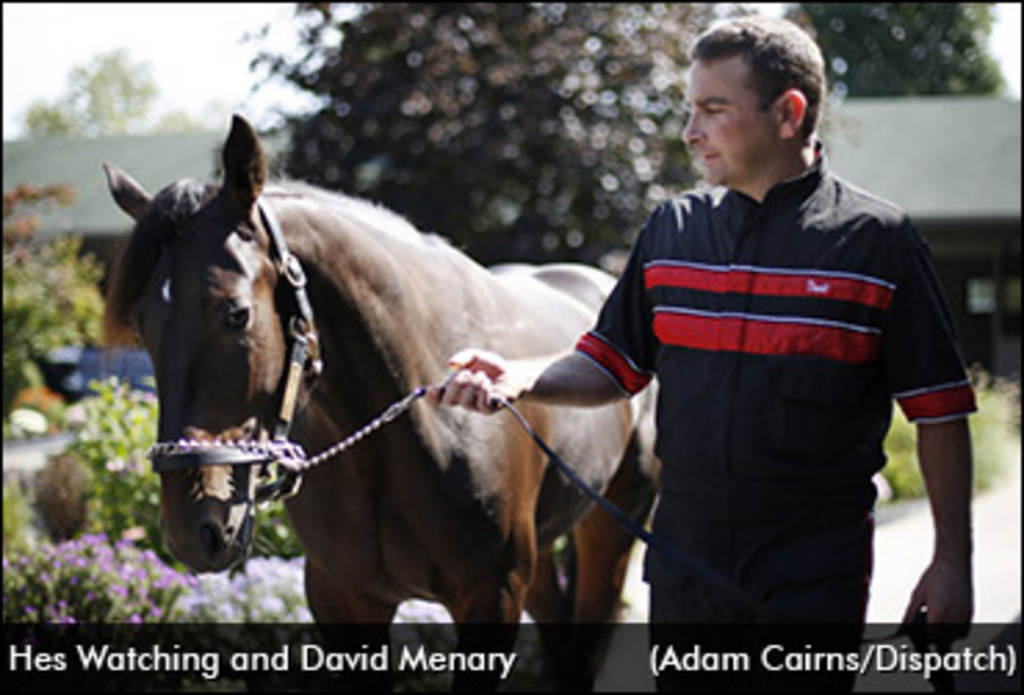 Published:
October 13, 2016 10:03 am EDT
Ontario trainer Dave Menary has a lot of horses to be thankful for, but not many come close to Hes Watching, the pacing speedster-turned-stallion that Menary surprisingly plucked out of the 2012 Standardbred Horse Sales Company yearling sale in Harrisburg, Penn. for just $3,000. Hes Watching went on to earn 366 times that amount, a cool $1.1 million.
"He really helped put me on the map. I had a lot of fun with the horse," Menary said. "Between racing him and selling pieces of him, it put me in a lot better position in business and in life. It was just a fun ride. I really look forward to seeing his offspring."
Hes Watching, a son of American Ideal out of the Real Desire mare Baberhood won 13 wins in 21 starts and equaled the 1:46.4 three-year-old world record while winning the $776,000 Meadowlands Pace in 2014.
"He has raw speed," Menary said. "When I bought the colt, I thought he was above my budget for what I wanted to pay for him. I kind of pegged him as like a $30,000 June, New York-bred. I was lucky enough to open my book and when he was in the ring I thought they were on the wrong horse. He was way below the budget I would have set for him. Two bids and I owned him. I sold a quarter the next day at par."
Hes Watching was initially owned by Ontarians Menary, Brad Gray and Mike Guerriero. When Menary finally got around to working with the colt as a baby, Hes Watching opened the trainer's eyes immediately.
"He was the last one to come in that year to break. We had quite a few to do and because he was the cheapest and I owned the majority, he came in really late," Menary said. "We had some expensive (Somebeachsomewheres) and Camlucks that year, including the highest-priced colt in Canada. There was a handful of expensive ones and when we brought (Hes Watching) in, the second day in the cart, we kind of giggled that the colt could go as much the ones that had been in for two months.
"He was just good all winter training down. He never made a mistake. He was always buried up in the top set and once we started to go fast, once we broke 2:14 he started to really shine. The two-year-old year was super-impressive and I had a lot of fun in his three-year-old year. He gave me some of the highest highs you could have in the business."
Muscara Racing Trust of Ivyland, PA bought in before the start of Hes Watching's three-year-old season which included the colt and Menary's career highlight -- the world record Meadowlands Pace victory orchestrated by driver Tim Tetrick.
"To go that kind of mile and come home the way he did with a lot more in the tank that day, on the big stage, that was super-exciting. But I go back as pick-me-ups a lot of times and watch previous replays. Some of my favourite replays of him are some of his two-year-old replays, like Saratoga when he ran twice and spotted them over 30 lengths and won. I get as much enjoyment watching that replay as I do the Meadowlands Pace," Menary said.
Hes Watching now stands at Tara Hills Stud in Port Perry, ON and his impact is still being felt by Menary and his fellow owners.
"It really helped out all the partners -- me, Mike Guerriero and Brad Gray. We were able to go out and spend extra after that. Some have gone well and some have gone badly, but now that (Hes Watching) is a stallion we're still enjoying the ride and I'm looking forward to the next chapter of his life," Menary said.
(Courtesy Ontario Racing)