Published:
January 6, 2022 10:07 am EST
The Mighty Hill's freshman campaign took him from an Ohio county fair track to winning the Ohio Sires Stakes, setting a world record and being named the 2021 Ohio Two-Year-Old Trotting Colt of the Year.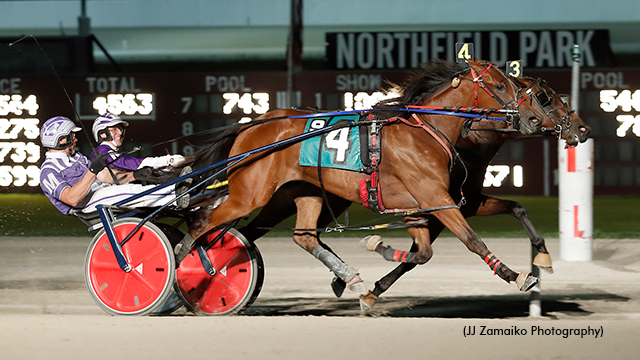 The Mighty Hill, son of What The Hill, won five of eight starts in 2021 for trainer Chris Beaver and the ownership group of Beaver, Donald Robinson and VIP Internet Stable LLC, earning $285,485. He was bred by Nathan Miller of Middlefield, Ohio.
The Mighty Hill started the season in the Buckeye Stallion Series and had a mid-season start at the Union County Fair.
Beaver says they started him in the Buckeye Stallion Series because he wasn't training with his top horses.
"He seemed out of rhythm and a little bit sore all winter, he wasn't doing anything impressive."
Beaver says when they got The Mighty Hill ready to race, he was gritty and wanted to do it.
The Mighty Hill's final win of the season came in the Ohio Sire Stakes, winning in 1:55.4, and setting a world record for geldings on a half-mile track.
The Mighty Hill will be honoured at the Ohio Harness Horsemen's Association Annual Awards Banquet on January 15, at the Hilton Columbus-Polaris in Columbus, Ohio.
(With files from Ohio Harness Horsemen's Association)