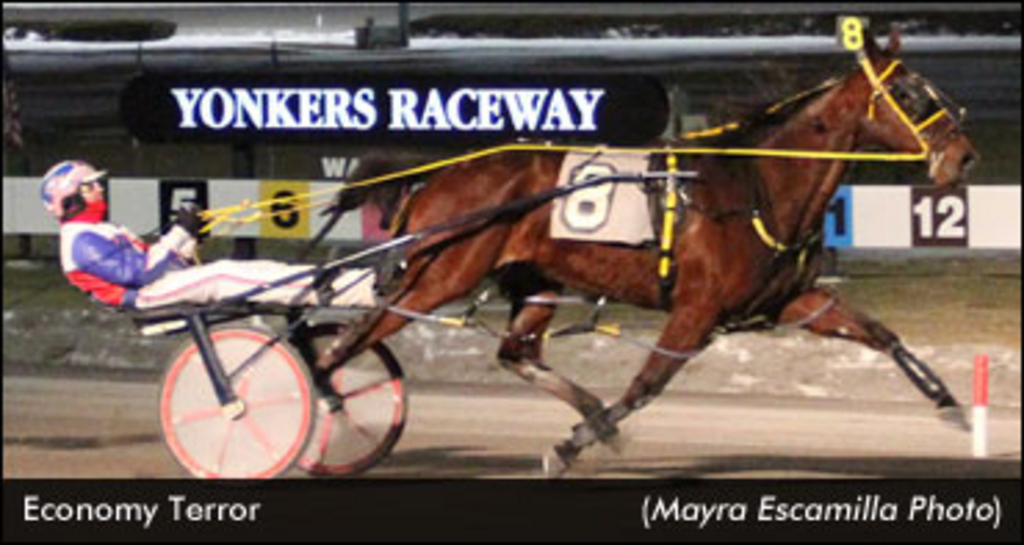 Published:
January 31, 2014 10:51 pm EST
Yonkers Raceway's pair of Friday night $33,000 Open Handicaps -- a Pace for the ladies and a Trot for all qualified participants -- were won by Economy Terror (Ron Pierce, $15.20) and DWs NY Yank (George Brennan, $5.50).
Ordered behind the eight-ball, Economy Terror -- a winner in her last effort two weeks ago -- saw a whole lot of action take place in front of her.
A wide-early Lorrie Please (Eric Carlson) made the first lead, going past Rockaround Sue (Jason Bartlett) after a :26.3 opening quarter-mile. 'Sue' was hard to handle in the two-hole, so she played leapfrog on the lead. No sooner did that happen than last week's winner, Carols Desire (Dan Dube), took her turn on the lead.
'Carol' found a :56.1 intermission, leaving tepid 5-2 favourite Magic Starlight (Brennan) first-up and Economy Terror right on her back. The battle was in full swing in and out of the 1:24.4 three-quarters, with Carols Desire owning a scant lead.
However, Economy Terror rolled wide and by, whipping a from-last Ramalama (Matt Kakaley) by a length and three quarters in 1:53.3. Rockaround Sue, Little Santamonica (Jordan Stratton) and Lorrie Please came away with the minor spoils.
For fourth choice Economy Terror, a millionairess (and then some) five-year-old daughter of Western Terror trained by Chris Oakes for co-owners Chuck Pompey, Howard Taylor and Edwin Gold, it was her second win in three seasonal starts. The exacta paid $39.40, with the triple returning $290.50
The week's marquee trot was a two-speed number. It was 8-5 choice DWs NY Yank -- assigned outside his seven rivals -- in play early. A winner in his last start three weeks ago, 'DW' worked around Calchips Brute (Pierce), setting soft earl intervals of :28.1 and :58.3.
War Cry Hall (Bartlett) tried it first-up from a long way back, offering minimal objections at the 1:28 three-quarters.
The leader remained so, taking a length and a quarter advantage into the lane. He won by that margin in 1:56.4. Calchips Brute held off Zooming (Tyler Buter) for second, with Facing Justice (Dube) and Lorenzo Dream (Eric Goodell) settling for the remainder.
DWs NY Yank, a five-year-old Dilbert Hanover gelding co-owned by trainer Ron Burke (as Burke Racing), Weaver Bruscemi and Howard Taylor, is now two-for-two in 2014. The exacta paid $28.80, the triple returned $85 and the superfecta paid $591.
(With files from Yonkers Raceway)