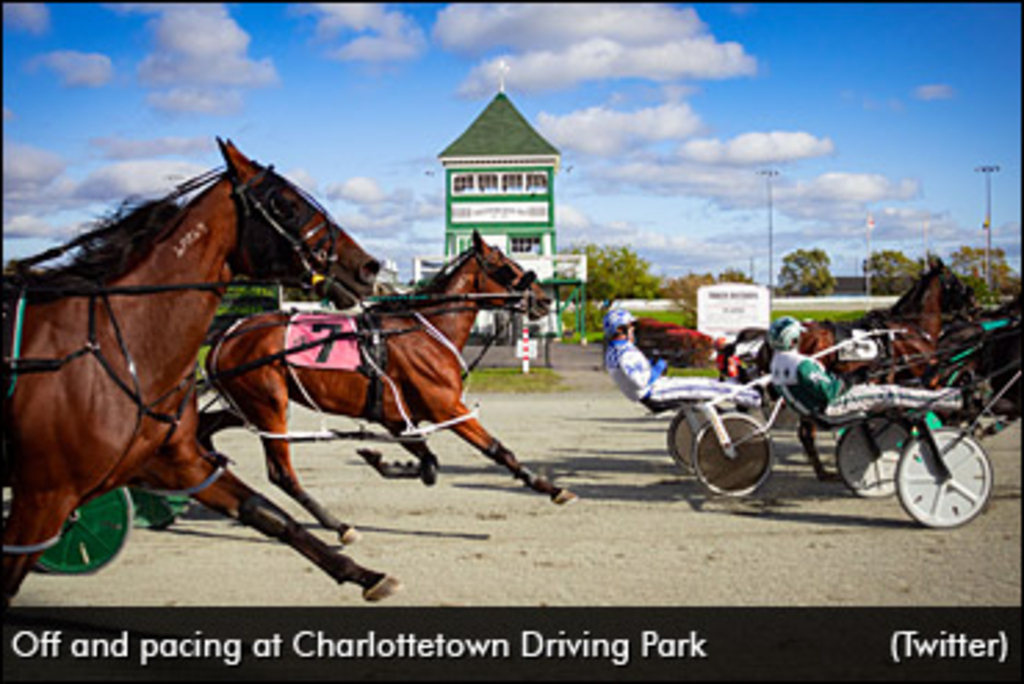 Published:
January 28, 2021 02:43 pm EST

While Ontario's harness racing industry waits for the green light to return to the track, Red Shores Racetrack & Casino at the Charlottetown Driving Park is enjoying an uptick in interest as the only active racetrack in Canada.
"First of all, we are very fortunate to be able to live and work here on Prince Edward Island," said Lee Drake, Manager of Racing at Red Shores, on CBC Island Morning. "We've been working closely with the Chief Public Health Office and government here, and they've done a fantastic job. We started looking at this all the way back in April and May, we knew that there was a chance we were going to be the first track to open in Canada, which happened. And then we had a great summer, as did most of the country, and now we're back into a situation again where we can still operate.
"When we looked at this early in the year, we knew that -- due to COVID -- our on-track [business] was going to suffer," Drake also said. "For those who know our product here in Prince Edward Island, we get a lot of people out to our track and -- from a business standpoint -- that is very helpful. With the additional exposure of course, we are going into markets in Canada and the U.S. that are seeing us for the first time, and they're betting on our product; they like our product—we're developing some good partnerships there. So it has a lot of advantages for sure."
With being the only Canadian racetrack in operation at the moment, Red Shores' has managed to take hold of a larger share of attention within the harness racing space. So much so that wagering, alongside the track's contributions to its purse pool, are up about 10 percent.
"The horsepeople here on Prince Edward Island and everyone involved works hard to make sure we put on a great product," Drake said. "Our TV viewership has been through the roof as well when it comes to our online platforms. Later in the program on a Saturday afternoon, we will see some of our Ontario locations drop off because of the other tracks we're up against, whether its Standardbred or Thoroughbred."
Meanwhile some natives of P.E.I. like trainer Rachel Andrew and driver Austin Sorrie are standing by as they wait for racing to resume in Ontario.
"Before we shut down, I mean we were racing six to seven nights a week," Andrew said. "Really, we were going every night, and during the day we'd do our daily jogging and training with the ones that weren't racing, and then continued until usually midnight if we were racing. This is a pretty big change on a day-to-day basis for sure."
"I've just been laying low pretty well, trying not to put too much weight on. It's not going very good," Sorrie said jokingly. "I've just been training and jogging horses for Murray Brethour to stay out of trouble."
Some Ontario horsepeople have decided to send their stock elsewhere to race through the shutdown, mainly into the U.S. Both Andrew and Sorrie even considered moving themselves stateside with a return to racing not yet in sight, with Sorrie also looking into returning home to race at Charlottetown.
"I thought about it, the only thing was the quarantine to come down there," Sorrie said. "And when I would come back, just to even go to the track I would have to quarantine to 14 days, so that would hurt a lot.
"I thought about [going to the U.S.]," Sorrie also said, "but there were pros and cons about it and there just weren't enough pros for me to go. If you go down there, you can only drive the Canadian-trained horses and -owned horses. As a catch driver, I only have one of my own and I don't want to get to drive one a week down there. And then you get down there and they say they're starting back up in like five days up here, you got to quarantine when you get back so you lose time up here too."
"We've been playing back and forth with that for about two weeks now," Andrew said of moving tack for the moment. "We kind of have come to the conclusion that I don't think it's the best move for us, but we really, really considered it. But in the end there were more cons for us, especially with our responsibility for our own farm, we have broodmares and babies and things like that. Shipping our whole stable down there and possibly not getting to race every week with the way classes are written in the states...they usually try to cater to their own, which totally makes sense. And then also coming back and not knowing when we're going to start up. We could go down and they could say 'Yeah, we're going to go here.' We decided not to [go], but we really, really considered it."
Though racing for Sorrie and Andrew is currently halted, the two will have an opportunity to celebrate this weekend as they both head into the 2020 O'Brien Awards as finalists for Rising Star of the Year.
"It's definitely just an honour to have my name up there with everyone who's been there in the past," Andrew said. "Austin's had a tremendous year, ever since he's made the move to Ontario he's succeeded tremendously. I think he's definitely deserving of the award and it's just great to be nominated."
"I was in it last year, and just something to be nominated and be a part of when you come from a small town… it's pretty cool."
Drake said that Red Shores is also planning to celebrate the success of its Island graduates the night of the O'Briens, along with local horseman Gilles Barrieau as he competes for the O'Brien Award for Horsemanship.
"With our COVID restrictions and our restaurant able to open, we decided that we are going to celebrate this," Drake said. "We are the home of Joe O'Brien, which is what the awards are named after. So we started working with Standardbred Canada and have a COVID sellout for the 31st. We have family members from Rachel and Austin and Gilles Barrieau, and we want to be able to show how proud we are. And also an opportunity to do it and do it safely."