Turning Heartache To Joy
Published: January 18, 2016 9:30 am ET
Last Comment: January 21, 2016 8:08 am ET | 2 Comment(s) | Jump to Comments
"I said, 'You know what, we're here, we might as well carry on.' There's no point in crawling up in a ball and crying. You got to push through it. It's like the old saying, 'You fall off the horse, you get right back on.'"
The ever-so-timely win for trainer Chantal Mitchell and Rakin It In last Monday at Woodbine Racetrack made immediate headlines in the harness racing industry. On Sunday, that story was front page content for traditional media as well.
Mitchell and Rakin It In were featured on the front of Sunday's Toronto Sun with a feature story courtesy writer Steve Buffery.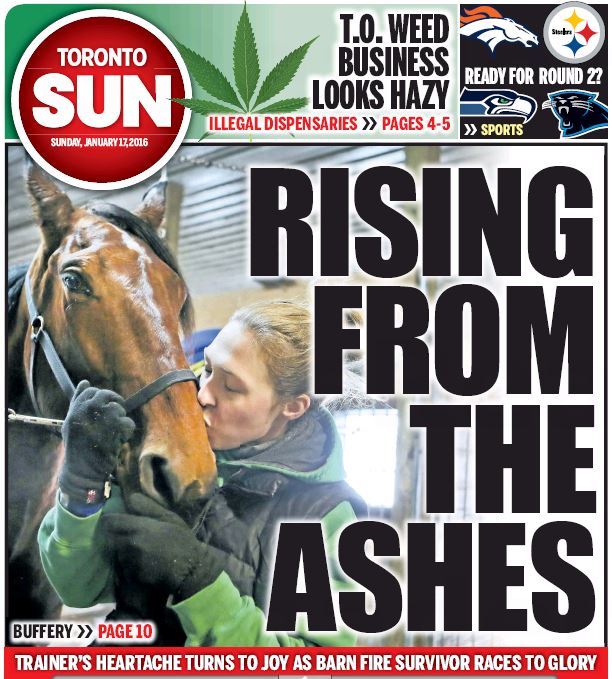 Mitchell was racing Rakin It In on Monday, January 4 at Woodbine Racetrack. She brought the pacer back to Classy Lane Training Centre and found Barn 1 ablaze. She lost 10 horses, including seven Standardbreds, equipment and clothing. Tangibly she was just left with Rakin It In, but she and the others affected by the tragic fire have been met with a continuous outpouring of support from the racing community and beyond.
"It's been crazy," Mitchell told The Toronto Sun. "But the support from everyone has been unbelievable -- people calling, and texting and sending money. It was just so unbelievable, it just blows my mind."
Rakin It In, unraced at three due to injury, gave Mitchell something else to smile about last Monday when Chris Christoforou helped guide the four-year-old pacer to his maiden-breaking score.
"I'm flabbergasted, I'm floored," said Mitchell after taking Rakin It In to the Woodbine test barn. "I'm just happy for the first time in a whole week. He picked a great time to do it ... It's so nice. It's like one big family here. And if he never wins a race again, well, he picked the right night to win a race."