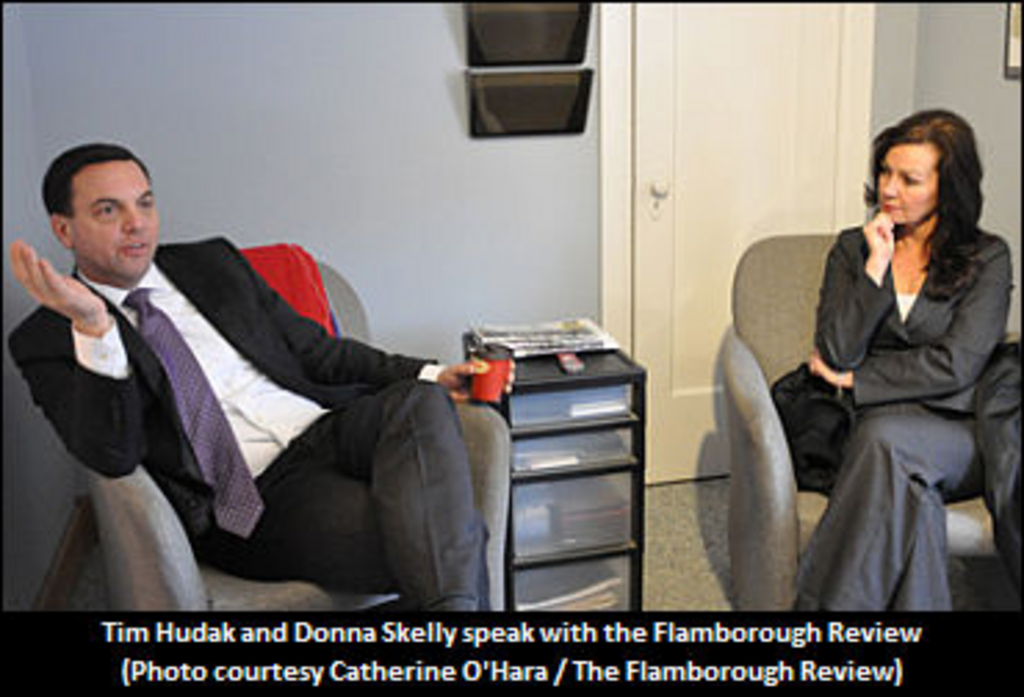 Published:
January 16, 2013 02:38 pm EST
Ontario Progressive Conservative Leader Tim Hudak and Ancaster-Dundas-Flamborough-Westdale PC candidate Donna Skelly were in Flamborough on Monday, January 14 and both touched on the Ontario Liberal Party's controversial decision regarding the slots-at-racetracks program.
Hudak and Skelly sat down for an exclusive interview with the Flamborough Review, and neither shied away from the growingly-dire situation that the Ontario horse-racing industry has been thrust into.
Skelly discussed how the Liberal's decision in regard to the SAR Program is continuing to manifest itself in day-to-day living. She also made note of how the Ontario Liberal Party does not have a problem spending in upwards of one billion of provincial taxpayers' dollars to save a few Liberal seats, but will play hardball with the slots-at-racetracks contract, which puts food on the table of in upwards of 60,000 Ontarians.
"I think it's unfortunate and it's really devastating what has happened just in the last year with the cancellation of the slots program," Skelly was quoted as saying. "It's already having an impact on the community. It's not just a political issue, we're playing with people's livelihoods."
Skelly added, "It's something we've seen so often with the Liberal government, they waste money when there are clearly areas where money should be spent. They're not afraid to cancel a project to save Liberal seats at the cost of a billion dollars, money that could have easily been directed to families who are struggling with autistic children and also (to) long-term health care."
"At a time that the government's focus should be on getting our economy moving, creating more jobs, it's just dead wrong to plough under 65,000 jobs in the horse racing sector," said Hudak. "It's going in the opposite direction of where we should."
(With files from the Flamborough Review)