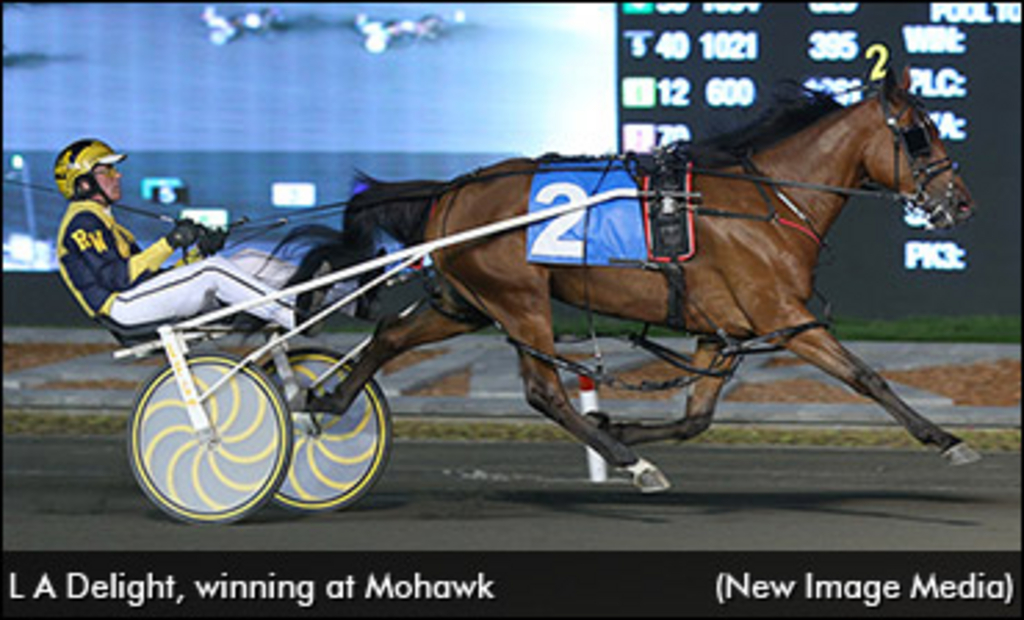 Published:
January 13, 2016 08:52 am EST
"To tell the truth, I didn't even know all these things were available. I was as shocked as anybody when I got the cheque."
Bob McIntosh is a little embarrassed to admit even he didn't fully realize how much he had earned in Ontario Bred Rewards with his star homebred pacing filly L A Delight in her rookie season in 2015.
L A Delight earned $704,335 on the track and collected an additional $179,959 in Ontario Bred Rewards throughout the season the daughter of Bettors Delight is Ontario Sired and McIntosh paid the $50 to enroll her dam, West Of L A, in the Ontario Resident Mare Program. (Those living outside of Ontario please note: the resident mare program is open to horse owners anywhere in the world. The 'resident' part refers to the mare needing to reside in Ontario for a minimum of 180 days, including the date of foaling, to remain eligible).
Since West Of L A was enrolled in the Program and remained in Ontario for at least 180 days, L A Delight qualifies as being Ontario Bred. She is also Ontario Sired because Bettors Delight stood in the province the year L A Delight was conceived. He is standing at Winbak Canada in the Toronto area for 2016.
McIntosh and his partners — C S X Stables of Ohio and Al McIntosh Holdings Inc. of Leamington, ON — first earned $99,113 rewards because L A Delight is Ontario Bred. That amount is 15 per cent of $660,755, which is the combined total of the $256,500 she earned in Ontario Sires Stakes competition and the $404,255 she made in selected open stakes.
Since L A Delight is both Ontario Sired and Ontario Bred, she earned an additional $80,846 in bonus money because she qualified for the Standardbred Breeders of Ontario Association (SBOA) Enhanced Breeders' Program that split $1 million on a pro-rata basis between all eligible horses. In 2015, that bonus amounted to over 12 per cent of what each horse earned in Ontario Sires Stakes and selected open stakes.
McIntosh owns some 50 broodmares, making his one of the largest Standardbred bands in Ontario. Asked whether nearly $180,000 in bonus money was critical to his bottom line, he said, "It sure is… It pays a lot of bills on the ones that don't produce those types. It's a major incentive."
The trainer said L A Delight returned to his farm on Jan. 9 after spending a few months turned out at Carter Duer's Peninsula Farm in Kentucky.
"She looks good. She grew a bit. She's a good-looking filly," said McIntosh who has a huge number of young horses in training for 2016, many of them homebreds.
"I have 69 horses here in training and 35 of them are two-year-olds," McIntosh said.
Today, he's giving thanks that a large number of those are eligible to Ontario's lucrative Resident Mare Program.
Today, he's giving thanks that large number of those are eligible to Ontario's lucrative bonus programs. To learn more about Ontario's bonus programs, click on the previous link.
(with files from OHR)