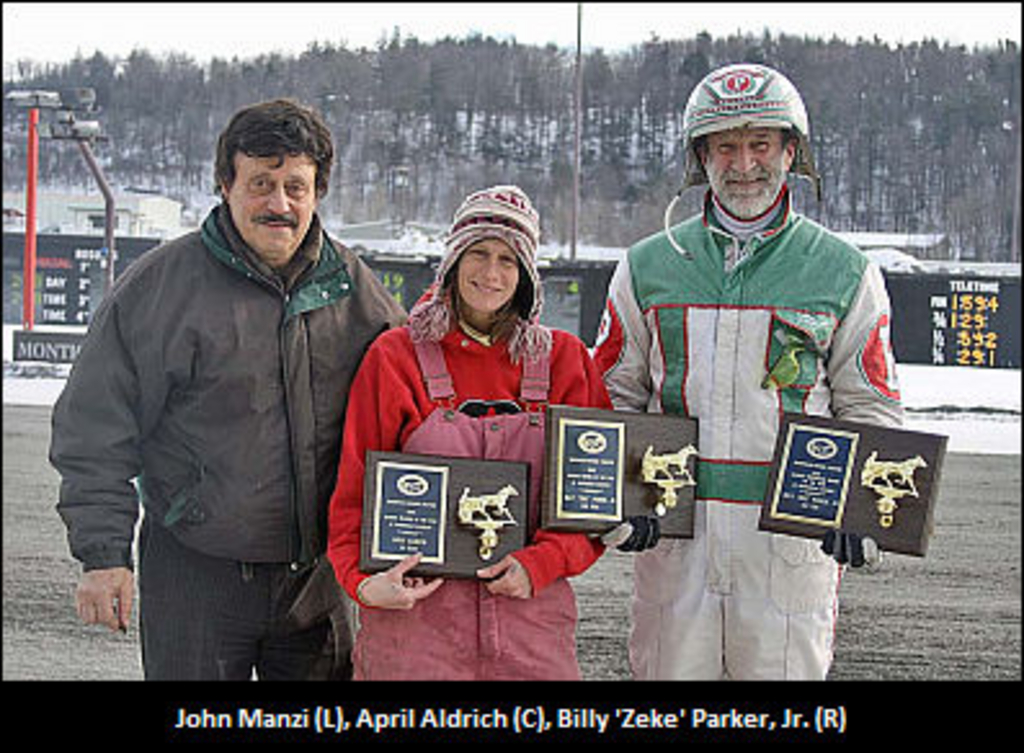 Published:
January 12, 2010 11:15 am EST
It has been five years since Billy 'Zeke' Parker, Jr. has won the driving crown at Monticello Raceway, but his 399 wins at the 'Mighty M' in 2009 was tops
.
Prior to the 2004 season, Parker captured the Monticello driving title on 12 other occasions, not to mention the two championships he won while competing at Yonkers Raceway during the late 1990s.
"I had a good year and I feel good in the bike," said the 57-year-old reinsman, as he received his plaques, one of which was for leading percentage driver (.363 UDR).
"People tell me that I haven't lost a thing over the years, but I'm not sure about that," Parker said. "It gets tougher as you get older but I'm happy where I am at this time."
Parker began the 2010 campaign needing only 91 driving victories to reach the coveted 10,000-win plateau, a milestone owned by just a special few.
April Aldrich, on the other hand, doesn't drive; she leaves that for her husband, Bruce Aldrich, Jr. Her prowess is on the training side. During 2009 she harnessed 94 winners which aided her in capturing the training title for the fourth time.
"It went right down to the wire, and I wasn't sure I was going to beat out Gary Messenger (93 wins) who also had a very good year," she said. "This makes three years in a row, and I don't think anyone ever gets tired of being the leader."
Though the 2010 season is young, Parker has already won five races, and Aldrich has harnessed three winners.
(Monticello)