Magee: Beauty Meets Beast
Published: September 6, 2015 12:31 pm ET
Last Comment: September 7, 2015 1:32 pm ET | 1 Comment(s) | Jump to Comments
Tragically Shipp (aka Harry) was born on our farm just outside of Wingham, Ontario nine years ago. He is a Shipps Speed gelding out of a little mare (CH On Tour) that had speed but, due to her high-strung personality, failed on the track.
Harry didn't start his career in racing until the age of four. As he matured, he seemed to enjoy racing in harness on the local B tracks and did so with moderate success until September 2013 when he developed a severe eye infection resulting in corneal ulcers. The next seven months was spent trying to save his eyesight and both eyes. Harry was treated with multiple medications, endured many biopsies, was seen by several veterinarians including world-renown equine ophthalmologist, Dr. Dennis Brooks from Florida over a period of seven months. Thanks to my daughter, Erin Watson and our local veterinarian, Dr. Emma Webster, we were able to save Harry's eyes and start him training for the 2014 season. He loves his work and just being out on the track improved his overall health in so many ways.
Enter Natalie Elliott, a young lady from Clinton, Ontario who was working as a groom at various tracks. It was there that she approached Erin and asked if we happened to have any trotters in the barn. We had one -- Tragically Shipp -- and he was just coming back to harness racing. Natalie was extremely interested in getting involved in Racing Under Saddle (RUS) but needed a mount. Why not try it? Nat came to the farm, saddle and bridle in tow and proceeded to saddle up with just a little hesitancy. Harry, being the supreme gentleman, took it all in stride and trotted around the track perfectly without his usual trotting hopples. June 21, 2014, he qualified in harness (hopple free) and on June 25th he qualified at Grand River under saddle with Natalie aboard keeping the trot and finishing first. Natalie needed a second ride to qualify as a RUS rider so they returned and qualified again, finishing a good second. He must have caught the eye of Julie Walker, president of RUS Ontario because Erin received a call that RUS was looking for horses for an upcoming Canadian/Norwegian Challenge at Hanover and Grand River Raceways.
Meanwhile, Harry continued to race in harness, picking up three second-place finishes without the aid of the hopples. Natalie continued to train him under saddle at the home farm, hoping to race him during the 2014 RUS season. July 25th at Hanover Raceway, Tragically Shipp carrying experienced Norwegian rider, Anne Lene Aursand, he just missed winning by a third of a length in a time of 2:03.l. Anne Lene was thrilled with her ride and 'wanted to take Harry home to Norway'. He was, apparently, one of the best horses she had ever ridden. She told us that she "just sat and he did his job." Quite a compliment from this accomplished rider from Europe where RUS is quite common and very popular.
We sat out the second leg of this Challenge with an invitation to an International race on Industry Day at Grand river. His next rider -- Saara Jalasti from France -- came with high credentials. She would be riding against one of the top-rated RUS riders in Europe, Phillipe Masschaele, and the race was to be handicapped. Harry was assigned the five hole in a field of eight. The day had started out with blue skies but just before our race, black clouds rolled in and there was a downpour. Just as the horses and riders were entering the track, the sun reappeared.
Behind the gate, Harry was his usual keen self with his nose on the gate. He and Saara got away second to his nemesis, Radical Dreamer ridden by Marit Valstad and trained by Ron O'Neill. By the half, Harry was in the lead with Masschaele in hot pursuit on Angies Lucky Star for trainer Richard Moreau. Harry finished first in a time of 2:02.4 and four and half lengths out front to a cheering fan club on the rail! What a thrill for the dedicated fans!
Natalie finally got her chance to debut with her equine partner at Georgian Downs later in August and then at Mohawk for a non-wagering event on August 29th. The race was declared a dead-heat between Tragically Shipp and Radical Dreamer in a time of 2:00.1.
(New Image Media)
Unfortunately, it was also the last race of the year for Tragically Shipp. He suffered a tendon injury that night and was laid off for close to a year.
After a quiet winter, Harry was started back jogging in late spring after getting the go-ahead from Dr. Melissa McKee. Fortunately, he keeps himself in fine form and had been turned out with 'buddies' to keep him active without the stress of hard work. Natalie rode and Erin jogged to develop both aspects of his training and to test the soundness of his healing tendon. Harry was anxious to move ahead but Erin patiently kept to the plan as laid out by Dr. McKee. Our target was to qualify him in August and he was on schedule...unfortunately, our rider was not. Natalie was involved in a farm accident while jogging her own horse, Thor Seelster, another RUS/harness horse that she was doing quite well with. She was diagnosed with a concussion and was unable to ride or jog horses or drive a vehicle for several weeks. We were fortunate to have Amber Brand Lawson ride Harry in his first qualifier of the year. This new team worked well together and they got the job done finishing second to Radical Dreamer, the horse that we had battled with last year. This was Harry's first test and he came through it well -- no swelling, no heat, no soreness.
The next test was a qualifier in harness at Hiawatha to get him on a five-eighths track. He came out of that with a win by seven and a half lengths. He was as ready as he could be for his first RUS engagement of the year at Georgian Downs on Saturday, August 29th. Nat had him primed to go while Erin was on a family holiday. The Orange and Yellow team -- aka "Beauty and the Beast" -- had drawn the six hole in a full field of nine horses. As usual, Harry went straight to the gate almost planting his nose on it and settled into second behind Radical Dreamer by the half. At the three-quarter pole, he was leading by four lengths. Coming down the stretch he was challenged by Sarah Town on Wine Photo, a new horse to RUS. He hung on for a tight win in his best RUS time of 1:59.4. The winner's circle was a brilliant show of orange and yellow, Nat and Harry's RUS colours, and cheering fans in their matching t-shirts.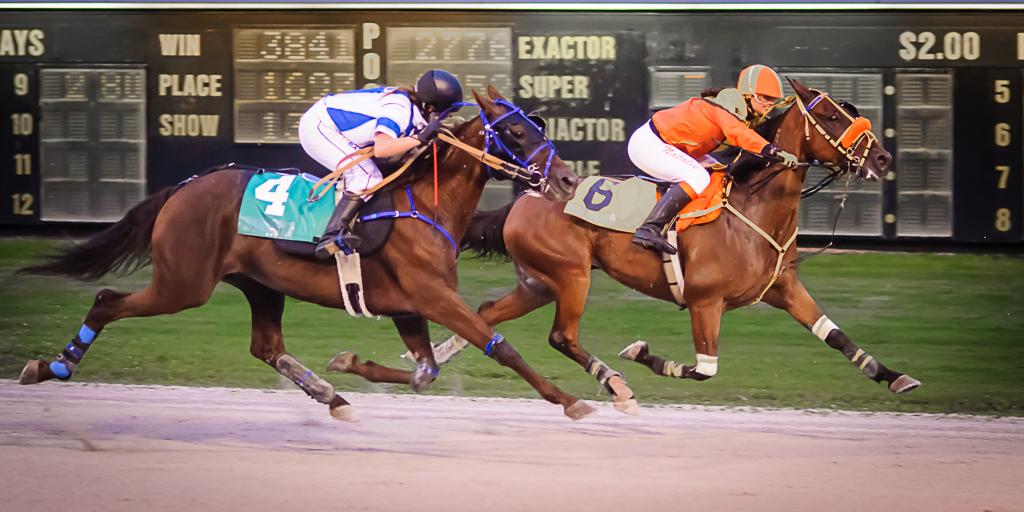 (twitter.com/Peter Beckett)
Harry is scheduled to enter the upcoming RUS events at Hiawatha on September 12th, the Invitational at Mohawk on September 26th and three races in October at Flamboro and Western Fair. Hopefully, our 'Comeback Kid' will stay healthy and strong for the remainder of this season and in good form to start up early for the 2016 RUS Ontario program. He may even get a few more races in the bike just to keep him on his toes.
Lynne Magee, Owner
Wingham, Ontario
---
The views presented in Trot Blogs are those of the author and do not necessarily represent those of Standardbred Canada.