Trainer Annie Stoebe had never even heard of harness racing eight years ago - she was a rodeo competitor from Montana (think Yellowstone). Owner Lynn Curry groomed Standardbreds at The Meadows in the late sixties, and then took a 52-year hiatus from the game. This year, on Hambletonian Day, the pair teamed up to win the $355,000 Jim Doherty Memorial with their star trotting filly, Instagram Model. By Keith McCalmont.
Meet trainer Annie Stoebe, a former scholarship winning rodeo competitor from Montana, who just eight short years ago had never even heard of harness racing. Meet owner Lynn Curry, a successful businessman who groomed Standardbreds at The Meadows in the late-sixties before he headed off to college, and who never actually owned a horse until 2020. Now learn the story about how fate seemed to bring the two of them into a partnership, that just 21 starts in saw them capture one of racing's signature events for two-year-old trotting fillies.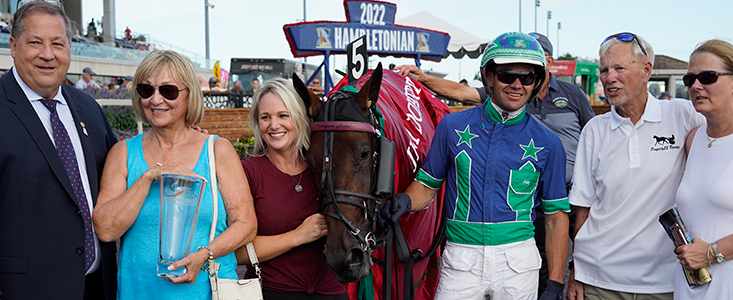 Persistence is the engine that drives talented people towards their dreams and goals.
Trainer Annie Stoebe, a 34-year-old native of Montana, just realized one of her dreams on August 6th when the Lynn Curry-owned Instagram Model captured the $355,000 Jim Doherty Memorial on Hambletonian Day at the Meadowlands. She's come a long way from her former life as a barrel racer on scholarship at Wetherford College in Texas.
"Halfway through the [school] year I got in a really bad rodeo accident and my horse got killed," Stoebe said. "I moved back to Montana and went on a sabbatical from barrel racing for a few years. It's not a safe sport, that's for sure. What I've learned is that everyone has peaks and valleys in their life, and the best thing you can do is enjoy the peaks. When you're down in the deep, dark valleys know that at some point you're going to be back on the top… you just have to work your way there."
Horses have always been a big part of Annie's life - just not racehorses.
By the ripe old age of 9, Stoebe was already re-training problem ponies, which eventually sparked her interest in barrel racing, a rodeo event in which horse and rider traverse a cloverleaf pattern around barrels in a race against the clock. She was good enough at it to get a scholarship too, and unlike most college athletes, make money while competing.
"Rodeo is the only college sport where you can make money and it's not illegal," Stoebe said. "When you go to a rodeo, you pay to enter it and you get paid by placing. There's actually a money exchange even though it's a college sport."
Stoebe eventually left that potential money and the rodeo world behind, but not the dream of working with horses for a living. She had never even heard of Standardbred racing until 2015, but it was then that she arrived in New Jersey where, through the recommendation of a friend, she took a job with trainer Brett Bittle. Within a few years she was also competing on a number of amateur driving circuits as well
"When I started for Brett I was jogging horses within the first two weeks," she smiles. "I was going training miles not too long after that as well.".
As adept as she was at barrel racing, she says sitting in the bike behind a racehorse is an even bigger thrill.
"When you're barrel racing it's you and your horse in the arena and you go as fast as you can - but until the clock stops [on the final competitor] you don't know if you won," Stoebe said. "Whereas, in driving, you're going down that last stretch and can look your competitor in the eye and you and the horse are doing all you can to cross the wire first. It's an amazing experience."
She was immediately astounded by the financial differences between the two equine disciplines.
"In rodeo, you pay $100 to enter and race against 100 people to maybe win a few hundred dollars, but you're sitting on a $50,000 to $100,000 animal," Stoebe said. "So, when I moved to New Jersey and I got into the Standardbreds, I realized you could claim a horse for as little as $10,000 and race against seven other horses for how much?
"So, I sold my barrel horse and claimed my first race horse, Uriel. I got into the amateurs and never looked back."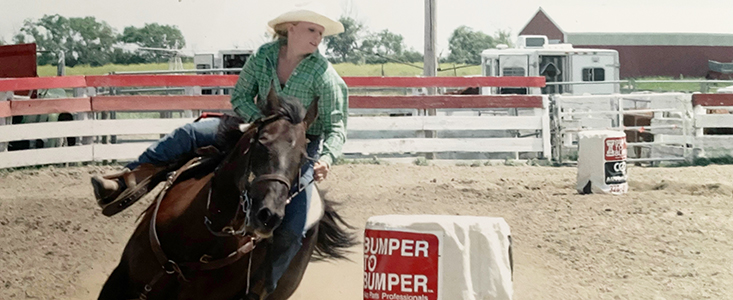 Well, so to speak. It was a frontrunning Uriel who would propel Stoebe to her first driving win, in only her fifth pari mutuel start, on a chilly December evening in 2017 at The Meadowlands, leaving the gate at odds of 64/1 and drawing off to win by 7 ¾ lengths.
"I still watch the replay," said Stoebe, with a laugh. "Down the stretch, I keep looking around to see if they're coming to get me. It was so stinking cold that night. I was crying happy tears coming back to the winner's circle and the tears were freezing to my face."
* * * *
They say it's not what you know in life, but who you know. As it pertains to both Stoebe and Lynn Curry, veteran conditioner Brett Bittle is a good guy to know.
"I was giving a vet's wife riding lessons and the woman knew I was burned out on the riding horses… she told me to go see Brett," Stoebe recalled. "I went and interviewed and he said he didn't think I'd show up the next day, but I did and the rest is history."
She was just 26 at the time but she spent more than six years with Bittle, learning the ropes of the racing game.
"Brett is a great guy. He loves his horses and he always wants to do the best by them," Stoebe said.
And so Stoebe suddenly found herself back in a competitive equine sport and it stirred her ambition.
"I've had a passion for horses ever since I can remember but in the spectrum of things it's hard to have a career in horses and make a living and feed yourself," Stoebe said. "In Standardbred racing I found I can be with horses all day long and still make a living, and actually love what I do. Not many people go to work every day looking forward to and loving their job. There are days in the winter that I'm cranky because it's so cold and I'm chilled to the bone, but there's still nothing else I'd rather do."
Lessons learned in her time with Bittle included crafting a training program specific to each individual horse.
"Instead of having a set program and that's what every horse will do - from how fast they train down to a doubleheader every training session - he made a different program for each horse based on what they needed at the time," Stoebe said. "One horse might live at the farm and train twice a week. Another might train a little bit every day. Because of his [stable] size, he could give each horse a program instead of, 'make it or don't, this is our program.'"
Stoebe, who won the Doherty in just her 90th career training start, has taken that approach to her modest-sized stable. And she's taken to heart her lessons from Bittle, including an axiom applied to Instagram Model, her lightly raced stakes winner.
"Brett would say to me, 'A horse is like a bar of soap. When they're young, that bar of soap is even smaller and the more you use them, the less there is left,'" recalls Stoebe. "It's a huge statement. When it comes to staking and choosing when to race, I always think about that. Is this race worth using the bar of soap for this? When you set a strategy, horses don't last forever, so you have to pick and choose your spots."
That level of planning is something that would appeal to owner Lynn Curry, a graduate of Penn State University with a degree in Industrial Engineering.
From 1967-69, a youthful Curry actually worked as a groom at The Meadows Racetrack for trainer Rocky Rapone, brother of Lou Rapone.
"Back then I had it made. My salary was $35 per week for the normal 2,000 hours," said Curry, with a laugh. "I worked there when it opened as the first entertainment center in south Pennsylvania. They chartered 15 buses a night there from Pittsburgh and you had to pay to get in.
"Stanley Dancer was the biggest trainer back then. You needed a groom for every horse [on race night] as security was so tight," he added. "They'd pay other grooms a whopping $5 to take a horse. It was a different world but it was the same world. I loved it and I've maintained that love forever."
It was heady times in the racing industry but troubled times for the world as a whole.
"I was first in my family to be accepted to college. My father sat me down and said, 'You're going to college or Vietnam.'," recalled Curry. "Life got in the way and I became a man with a family, but this is what I want my last business to be when I'm ready to retire from all my other pursuits, and God I love it."
It is a testament to Curry's love for horse racing, that his passion for it burned so bright, that even after five decades of life - marriage, businesses, investments, children, grandchildren - he finds himself with some disposable income and, even more remarkably, at the doorstep of one Brett Bittle.
"I started interviewing trainers and found Brett Bittle of Yankeeland Partners, who have been in the business forever," Curry said. "I'm a huge user and believer of statistics. I've always been a harness person. I've no interest in Thoroughbreds. So my plan was to be an owner and have my own niche, which would be trotting fillies."
The goal was also to be hands-on, so Curry needed a smaller operation willing to take on a spare hand. And while Bittle wasn't taking on new clients at the time, he did have a potential solution.
"Brett called and said, 'My assistant Annie is great. She's young and a terrific trainer. If I took you on, would you take her as your trainer?'" recalled Curry. "That was perfect for me because I was going to be an active owner. I wanted to jog my horses and clean the stalls."
Soon after, Curry traveled to Harrah's Philly, where Bittle had horses in to race, and met with Stoebe in the parking lot, due to COVID-19 restrictions that limited attendance at that time. They clicked, and Stoebe convinced Curry to come by the training center to speak further.
"She was so slick," said Curry, with a laugh. "I show up and she waves hi and says, 'We're really backed up. I have two to jog. Can you jog Allie with me and I'll take Sky and we can talk?'"
Stoebe's plan worked to perfection and Bittle found two stalls for Curry, with his young assistant set to take charge.
"So, 52 years and 3 months later [since leaving his groom's job at The Meadows] I was back in a jog cart and she had me, obviously. It all came back," Curry said. "The thing about Annie is her work ethic is off the charts. Even Brett said that. She's young but she was with Brett for a long time and soaked everything up.
"I'll always owe where I am today to Brett Bittle for saying he had two stalls for me," Curry continued. "He put me into business and gave me a tremendous young trainer.  I'm teaching her the business side and she teaches me the horse side. So far, we've been a really good match."
* * * *
We've all heard of Hollywood endings, but how about a Hollywood beginning? Fast-forward a little and on July 2, 2021 at The Meadows, Curry actually returned to his old place of employment with his first ever starter as an owner - Mimi Ocean Hanover.
He had spent $125,000 on the Hanover Shoe Farms-bred Bar Hopping bay at the Harrisburg Sale despite his best intentions. She was one of two purchases that Curry and Stoebe made at the November, 2020 yearling sale along with $140,000 acquisition Champagne Hanover.
"I didn't want Mimi Ocean," started Curry. "We went to Hanover to look at all the horses before the sale. When they brought her out I thought, oh please don't let this filly be any good because my wife's name is Mimi'," said Curry, with a laugh. "My wife's name is Philomena Curry, but her entire life, from the time she was born, she's known as 'Mimi', and if my wife sees that name on my list she'll say to get that one. So, who did I bring home? Champagne and Mimi. And that cracked Brett up because Mimi was on his list, too."
Returning to The Meadows that day brought back a lot of memories for Curry.
"My father and I used to sit on the hill with the racing program and a six-pack of beer. We weren't the wealthiest people in the world but we knew how to enjoy that," Curry said.
Sitting in the stands at The Meadows also brought back memories of Currie's earlier racing days.
"Our barn didn't win that often but I can tell you my first horse that won was named Shamrock Peter," said Curry. "The one that paid the most was David F. They were having problems with him and then they figured it out. He was 12/1. Let's just say my father left work early after I called him and he barely got there in time! That was 1968."
Perhaps sensing the moment, Mimi was more than up for the challenge on this day. Sent to post at 8/1 in her first lifetime start, in rein to Dave Palone in a $54,856 PASS division for two-year-old filly trotters, Mimi Ocean Hanover got away fifth and came a slow first-over before drawing clear in the stretch to score in 1:57.
"When she crossed the finish line first, in my first race ever at my home track from 50 years previously, it was a pretty special moment," Curry said. "I'd never had my picture taken before. Unlike now, only owners, drivers and trainers had their pictures taken back then."
For Stoebe, the win meant far more than just a payday. The victory came as a result of years of blood, sweat and tears, from her rodeo days to her newfound home in harness racing.
"She's my heart horse. She was my first baby, and her and I have such a connection," Stoebe said. "She's had some soundness issues and some growing up to do, but she's so talented and a great animal.
"For Lynn, the win was so special," she added. "It was his first start and she won pretty handily. It was so special for all of us."
But Mimi Ocean Hanover, who has now earned $89,081 to-date, was just the beginning for the dynamic duo of Curry and Stoebe, who would soon add to their barn with the $350,000 purchase of Instagram Model at the Lexington Selected Yearling Sale in October, 2021.
Curry leaned on his years of business experience to make the Lexington Sale a good one for them, identifying a strong market and adjusting his budget accordingly. Although he spent more than twice as much on Instagram Model as he had on any previous single horse, Curry recognized a potential opportunity.
"It's not the dollars [up front] it's the return on the investment and the situations that you're in," Curry said. "We knew Lexington was going to be idiotic because all of us in the investment business had one hell of a year. I knew everyone would want Walners and they'd be expensive with the extra money floating around."
Exile, a daughter of Walner at Hip No. 62, was hammered down for a remarkable $800,000 and Instagram Model was set to enter the ring just 10 hips later. Both Curry and Stoebe had fallen in love with Instagram Model, a bay daughter of Chapter Seven bred by Steve Jones and Ray Schnittker.
"She was so big and beautiful," Stoebe said. "We had her on our list as an 'A'. We didn't think we'd be able to touch her though, based on her page and conformation. She just looked like a real horse."
But some of the big money had flowed with Exile, and with Instagram Model not being Kentucky-eligible, Curry was convinced they could score.
"We were wishing in the wind but I had a substantial number on her," Curry said. "When everything went quiet and the gavel came down we thought we were going to jump out of our seats. We loved her that much."
* * * *
Instagram Model won her parimutuel debut in 1:54.1 on July 15th at the Meadowlands in rein to Scott Zeron, who had gently piloted the filly through a pair of qualifiers previously. But with Zeron injured in a bad spill at Pocono later that month, it was Andrew McCarthy who took over for the Doherty elimination, guiding 'Iggy' to a sixth-place finish in a race that saw the top nine finishers all qualify for the rich final.
"I don't consider it a bad start, personally," said Stoebe. "We were transitioning to a new driver with Scott getting hurt. Andy wanted to feel her out. She was going for $20,000 and then racing for $400,000 the following week. I was thrilled with his drive. He felt her out and knew what he was sitting behind, so she was tight and not tired for the final."
Instagram Model enjoyed a perfect week leading into the final.
"Annie hates it when I say this, but she is the most boring horse I've been associated with," said Curry. "And I mean that in a positive way. Thirty percent of two-year-olds never make the track the first year because of what's between their ears. The first time we put the harness on her and put her on the track, she went to work. She loves the track and she goes to work happily every day whether it's training or jogging. She's so happy to be on the track and has been like that from the beginning. So, I call her boring because we don't have to worry about her."
Apparently the filly isn't one to have pre-race jitters either, right up to leaving the gate in the biggest race of her career. Instead she prefers to leave her team to sweat out the nerves of racing on Hambletonian Day,
"She gets in the paddock and pretty much falls asleep," said Stoebe. "You hook the bike to her and get ready to walk her out and she's pretty much sawing logs. You almost want to slap her to wake her up! But when Andy got away where he did, I was pretty confident."
Royal Filly set the opening splits of :27 and :55.1 before Instagram Model came first-over and edged to the front shortly after the leader hit the three-quarters in 1:24.3.
"When they were in the far turn and he pulled her out with just the two ahead of her, Annie and I were looking each other straight in the eye and we started to smile because we just knew that the 'Iggy Monster' was going to do what the 'Iggy Monster' does," Curry said. "And when she crossed [the wire] in 1:53 the world stopped. If you take away the great moments with family in terms of personal moments, it was one of the top five moments in my life when she crossed the finish line and won the Doherty."
To make a good moment even better, Curry saw a familiar friend near the winner's circle that wasn't expected to be there that day.
"I saw my wife first and then I looked up and saw Scott Zeron stand up and throw his hand in the air… and I threw my thumb up in the air," said Curry. "Him being there, even though it was me, Annie and Andrew in the winner's circle, he belonged there too because he was that key to getting 'Iggy' where she was. Him being there was one more great thing because no one thought he'd be able to get out of a hospital bed and be there when the accident happened.
"And as for 'Iggy', I'll say this much, it certainly wasn't boring!"
 This feature originally appeared in the September issue of TROT Magazine. Subscribe to TROT today by clicking the banner below.