In our May, 2019 issue we told you about a bullfighting cowboy from Manitoba by the name of Daryl Thiessen, who was working with Standardbreds and had just started driving them in races. In 2020 Daryl won 61 races and more than $416,000 in purses around Ontario, and was tearing it up on the B-tracks, but when a Covid-induced racing shutdown hit in the spring of 2021 he headed west to Alberta to pick up a few drives there. Unfortunately, he was involved in a terrible accident in a race at Century Downs soon after, and his life changed overnight. The road back has taken him to many different places across North America, and has also included words like drugs, alcohol and depression. He's back in Ontario now however, and he candidly shared his story with TROT. By Keith McCalmont.
A one-time bullfighting cowboy from Manitoba, Daryl Thiessen had suffered his fair share of injuries over the years. He started driving Standardbreds in 2019 however, and was starting to make a real name for himself around Ontario's B-tracks when the Covid pandemic shut down racing in that province in the spring of 2021. Thiessen decided to travel west and ply his trade in Alberta, but was involved in a devastating accident at Century Downs shortly thereafter. The road back has taken him all across North America, and has had more downs than ups, but inspired by the strength of his father, and with the spirit of a true cowboy, Thiessen has found his way back to Ontario, and is looking to pick up where he left off, doing what he loves the most - racing horses.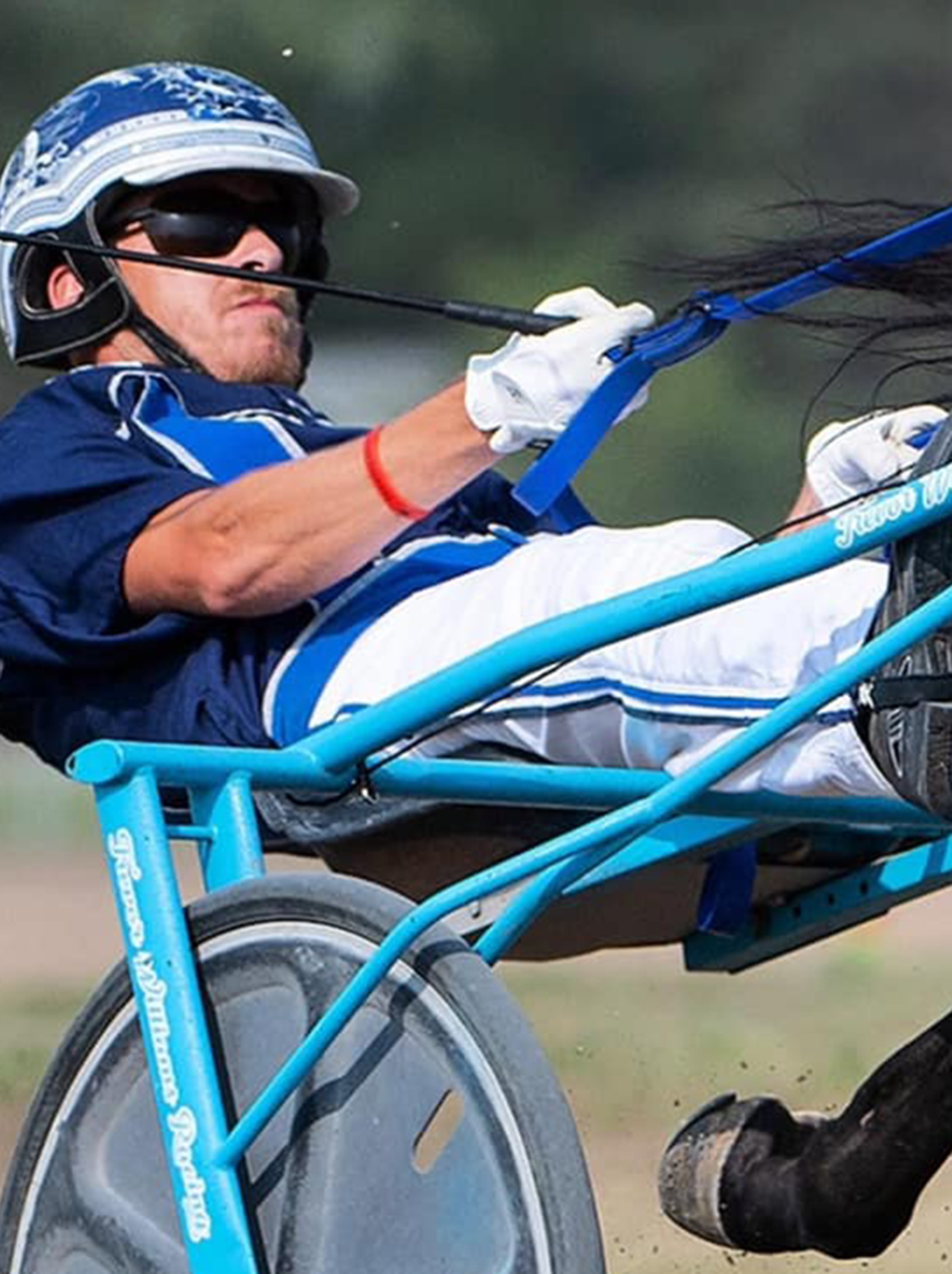 All Daryl Thiessen wants to do is drive horses. The 33-year-old Elm Creek, Manitoba, native recently returned to Ontario after an injury-riddled hiatus, and is in search of live drives as he looks to rebuild a career that, along with his body, was shattered by accidents, depression and a global pandemic.
Thiessen is a superior athlete. In his 20s he was among the top-five freestyle bullfighters in the world. He transitioned into driving Standardbreds in 2019 and went on to win 61 races and $416,686 in purses in 640 starts, in a pandemic-shortened 2020 campaign.
"I was doing really well and then the pandemic hit," he shared. "Racing in Ontario was in one of its shutdown periods but they were racing in Alberta that spring. I was dating a girl that lived in Calgary at the time so I took off for Alberta and started getting some drives out there."
But on May 18, 2021, his life would change in an instant, in a seven-horse race at Century Downs featuring a frontrunner on the break, named Lost Control, and Thiessen's charge - trapped in the two-hole - by the name of Crush Me.
Fitting names for both horses as it turned out in this case, but not in a good way.
"My mare was grabbing the left line pretty good. She was running out and pretty racey, and wanted to get out and race," Thiessen said.
The Phil Giesbrecht-piloted L A Woman, who would go on to win the race, made a first-up move as Lost Control made a break, but the leader couldn't get to the safety lane.
"I couldn't move out because Phil was there and I was just stuck in a bad spot," Thiessen said. "By the time I realized that the horse in front wasn't getting to the safety lane, my filly stepped on his wheel and did a nose plant.
"I thought the worst," continued Thiessen. "I thought the whole field was going to go over me. I looked back and everyone missed me and I thought, 'Holy shit I survived!' And then I looked over my right shoulder and saw this green shadow roll, and that thing was not missing me."
Everything went black after that for Thiessen as chaos ensued on the track with the Nathan Sobey-driven Sintaluta running over him and falling to the track. Only four horses would finish the race and when Thiessen came to he found himself stuck between two planes of existence.
"I saw my parents' faces in the clouds and they're saying, 'Get up, Daryl. Get up,'" recalled Thiessen. "I went to get up and my shoulder felt weird, and then I saw the horse there and Nathan Sobey there and I thought, 'I think I was in a horse race'. And then the ambulance pulled up and I came back to reality. It was a long hour on the track after that. I thought I was dead."
The force of the impact was so intense that Thiessen's brand new Grattan helmet broke in half.
"I had a broken femur - a compound fracture - and lost a lot of blood. I had a compound break of my collar bone. I dislocated my hip and that really f%$king hurt," recalled Thiessen. "My thighs and quads were ripped apart. My knee was hurt. I did damage to my shoulder. It knocked me unconscious. I had a really severe head trauma and a concussion."
It's a miracle that Thiessen, Sobey, Crush Me and Sintaluta have all since come back to win races. But for Thiessen, who would make a too-quick return at Miami Fair in Manitoba and later at Century Downs, the road to a new normal and a second chance at life has come with many bumps in the road.
* * * *
Thiessen was in pieces, quite literally, after the injury at Century Downs, with a metal rod inserted in his leg from his hip to his knee for support. But he was quickly back on his feet - maybe too quickly.
"I was full weight-bearing after surgery," Thiessen said. "The surgeon did an incredible job, but it didn't sink in how bad things were and what was coming mentally and physically.
"I just got right to work. I was working out and getting after it," he added. "My collarbone was rebuilt and I started lifting weights two weeks after. I was walking three weeks later and I wasn't supposed to do that for six months. I drove a couple weeks after that and actually won the race, but things spiraled out of control for me mentally."
Thiessen said the first two months following the injury went well enough. He kept busy and stayed positive by working his rehab program.
"I've been hurt a million times and I thought I'd just heal and come back like every other one," Thiessen said. "But this one was so much more severe than I understood, and it put me down a dark path of depression and anxiety. It got pretty dark and I learned how mentally exhausting a physical injury can be."
Thiessen soon realized he wasn't quite himself and began to mask the trauma - both physical and mental - with drugs and alcohol. The once promising young driver, who had enjoyed success in Ontario, found his career stalled.
"I was up-and-coming, and life was going exactly as I wanted it, and then everything changed with one step," Thiessen said. "It was hard to watch people drive the horses I was supposed to be driving, and seeing other people at a similar spot in their career, or even a couple steps behind me, having success. It's not that I was jealous, I was happy for them, but sitting there… it was hard. You add pain pills and everything else and it became an absolute nightmare."
By October of 2021, Thiessen was enduring dark times at Marquis Downs in Saskatchewan and his life was in tatters.
"I won four or five races out of eight one night and afterwards I was just so sad," he said. "I had pushed a really good woman away. I was addicted to drugs and was trying to fill the high in my life that racing gives me, with other things that aren't able to be sustainable. I was pushing everyone around me away. I couldn't sleep or would cry myself to sleep if I could. I was out of control. After Thanksgiving, when I won those races, I knew I couldn't live like this anymore. I went home and told my dad I needed help."
That Thiessen found the inner strength to reach out and ask for help almost certainly saved his life.
"I really do believe God was giving me signs to slow down in life and I wasn't listening, so he knocked me down," Thiessen said. "I never would have dealt with those things in my life if I didn't [get in the accident], so in a way there's a silver lining.
"After talking to professionals, I had a lot of issues I didn't realize were going on that I was just masking by going racing seven nights a week and being at the barn six days a week," he continued. "What time do you have [in racing] for self-growth or checking in with yourself and working on your own flaws? I'm not making excuses, but there is no time. We're running around like chickens with our heads cut off every day, which we love. We chose this life. I'm not knocking the industry or the lifestyle, but there has to be some time or a day off to check in. I had more going on in my head than I realized and when all that came to a halt, all those things came to the forefront."
Thiessen recuperated at his family farm in Elm Creek and surrounded himself with good friends, meditation and online therapy as he tried to get well.
"It wasn't about racing at that point, it was my life. I thought about taking my life, I really did," Thiessen said. "I was walking around my mom and dad's farm and I thought, 'I don't have a reason to get out of bed. I've nothing to live for'. I was crippled and walking around with a cane, and could barely walk. My dad came home early from work that day and, if he didn't, I don't know what would have happened. I'm glad he did."
It was being around his father, Barry, that really helped remind Thiessen just how precious a life in racing really is, and that at some point you have to get on with living life, albeit with the tools to handle the stress and strain of the every day.
"I grew up on a small cattle ranch," explained Thiessen. "My dad was a full-time mechanic in Winnipeg, over an hour away, and he'd be up every day at 4am to feed the cows, let them out, and fix frozen wells.
"I remember him telling me about a boss he didn't like that gave him anxiety so bad that on his way into work he'd have to stop and puke," continued Thiessen. "But he had to feed his wife and kid and he went in and did it every day. I can't think of one time of my dad complaining or whining about things not being good enough. I can't describe how hard this man worked. This isn't work, what we do, this is a dream. This is a lifestyle and if you don't like it, do something else. We rely on happy horses and the horses rely on happy humans."
* * * *
When times are tough you find out who your real friends are. For Thiessen, when the going got tough, it took a return to his rodeo roots to put a spring back in his step, and later still, it was the harness racing community that opened a door back into his chosen profession.
In the midst of his recovery, a friend called and suggested Thiessen put his name in to be a judge at the Bullfighters Only World Finals in Las Vegas in December 2021.
"I got voted in [to be a judge] by the top guys in the world and it was a great experience," Thiessen said. "I linked up with a lot of my rodeo friends, some very strong-minded determined people, and got around that warrior mentality again."
Thiessen left Las Vegas and spent the winter in Oklahoma, working on the ranch of bullfighting champion Cody Webster.
"We rode horses, we roped and worked cattle, and lived the cowboy lifestyle every day… and I got my confidence back around horses. I started getting that itch again.
"Cody was flying all around North America, and seeing how passionate he was I knew I came to the wrong place if I planned to retire from racing," he added. "I got that fire back."
Daryl was soon watching racing again every night and that competitive spirit returned, so he called up friend and trainer Casie Coleman, who found him a gig in Florida with trainer Jonas Czernyson.
"I went to 'Harness Racing University' at Ake Svanstedt's farm for a few months, and that was one of the best phases of my career. Ake is a great trotting guy, and Jonas has had great horses. It was an unbelievable experience and I absorbed so much and tried to become the best horseman I could. I doubled my knowledge in three months."
Thiessen said he was overwhelmed by the intellectual manner in which Czernyson and Svanstedt conducted their training sessions.
"That ability to not lose control is what makes great horsemen - being able to stay patient, especially with younger horses," Thiessen said. "They don't hit the panic button - ever. If something happens, they think through it logically and they fix the problem. They don't really have problems, those guys, they just have solutions."
Thiessen left Florida and headed north to New Jersey, looking to get back in the rotation as a driver and ply his trade against some of the best reinsmen in the game on a circuit that features Tim Tetrick, Dexter Dunn, Brian Sears and David Miller to name a few.
"That was like going to university, too," Thiessen said. "I qualified horses for Joe Holloway and drove a little bit for Jonas and Jeff Cullipher."
Daryl won some races at Tioga and Harrah's Philadelphia, but by July he realized his injuries had caught up with him again.
"My hip was killing me," he said. "They did a CAT scan and they told me the femur was still broken. It turns out, I'd driven that whole 4-5 months with a broken femur."
He endured knee surgery in July 2022 and was treated with an ultrasound machine to help fuse his fractured femur.
"I was out six months, but luckily, this time, I had all the tools in place to deal with it," Thiessen said. "Did I have some depression? Yes. It's not easy being out. I was frustrated but I had the tools and friends, and I handled it a million times better than the time before."
Thiessen returned to driving at Cal Expo late in 2022 and picked up a half dozen victories in a limited number of starts. Now back in Ontario, he's trying to build back his career in the province where he first made a name for himself in 2020, before the pandemic hit.
"I just had so much success here early on," Thiessen said. "My numbers before the accident were really good. I was batting .350 here and was one of the hotter guys in the country the first two months of the year, and then we locked down and I got hurt."
* * * *
Thiessen is now working full-time with friend and horseman Jonathan Drury, training horses at a farm near Fergus, Ontario, as well as qualifying horses on the regular and starting to pick up some catch drives along the way.
Among Thiessen's supporters is trainer Carmen Auciello, who won 197 races last year for more than $3.2 million in purse money.
Auciello, who is known to take a turn at karaoke, often serenades the well-travelled Thiessen with a few lines from the theme song for the old TV show, The Littlest Hobo, which each week saw the canine hero save the day before heading off to a new town and another adventure.
"He's been all over North America so every time I see him, I call him 'The Littlest Hobo'. I'll sing the theme song to him as a gag," said Auciello, with a laugh. "He's a great guy and I'm glad he's back. I hope he settles down and plants some roots here. I've done my best to get him a few qualifying drives and get him back listed on the page."
Auciello teamed up with Thiessen to win a number of races on the 'B Circuit' back in 2020.
"He's got really good hands and is really good with a horse. I've always liked the way he drives. He's aggressive and that's what it takes to win races on the small tracks, especially the half-mile tracks," Auciello said. "If a horse puts steps in or wasn't the cleanest going, he's not afraid to give them a chance and put them in position. I always found him to be fearless."
It's hard to imagine Thiessen being anything other than fearless. As a freestyle bullfighter he stood in the arena as a Spanish Fighting Bull hurtled out of a shotgun chute with murder on its mind.
"It's man versus beast for 40 seconds and then a horn will sound and you have 20 more seconds to sell your bullfight and end on a good note," Thiessen said. "You want to get as close as you can [to the bull] and keep in control. There's no whistles or referees and when it goes wrong, it goes wrong. It's very intense."
The competitors would score points by making rounds, jumping over the bull and making maneuvers around it, all while getting as close as possible without losing control.
Incredibly, the bulls score points, too.
"Some people go there to cheer for the bull. Why would they do that?" asked Thiessen, with a laugh.
But facing that kind of pressure means that when it comes time to drive an unruly horse, Thiessen has ice in his veins.
"The biggest similarity is the ability to remain calm in a chaotic situation. If I'm in a hole with a horse that's pulling real bad and I'm stuck in, the worst thing I can do is panic," Thiessen said. "It won't help, and the horse will feel my energy and make everything worse. Bullfighting is the same thing, the more shit goes south, the more calm you have to be, and that's something that takes mental training and preparation."
Auciello said Thiessen has improved as a driver and as a horseman since graduating from 'Harness Racing University.'
"Definitely a lot more mature. He's very good at handling a horse and probably even better than before he left," Auciello said. "He's very talented and for any trainers out there, don't be afraid to list him on your horse. He'll give you a good, honest chance.
"He communicates very well," added Auciello. "He's the first one to let you know if you need to change anything or make an adjustment. That's what I like about him, he's helpful and he gives you an honest opinion on any changes that could make the horse better or drive straighter."
Daryl is embracing this new chapter in his life with a great deal of gratitude and his trademark graft: working out six days a week and biking 10 miles per day.
"Being physically fit keeps you mentally fit. You need to have both or it lags you down in some way," Thiessen said. "The horses are expected to be in shape, so why hire a driver you know isn't in shape. It's our responsibility.
"Plus, I don't consider myself to be just a driver," Thiessen added. "I'm a horseman, and I want people to pass the lines to me, trust me to take care of their horse, come back with a horse that raced well and made them some money, and is safe for next week."
Thiessen, who watches replays obsessively to find ways to improve his craft, said he knows it will be slow going at the beginning, but he's hopeful that his business will pick up again to where it was. Most importantly, he's now in a position - both mentally and physically - to be successful.
"My leg feels great. Mentally, I feel good. And I deserve it. I've been waiting a long time to feel like this again," he smiles. "I just want to get my driving career back and whenever it happens, it happens. I've accepted my flaws and the mistakes I made, and I'm happy that I lived through it. Now I'm getting what most people don't get - a second chance."
 This feature originally appeared in the March issue of TROT Magazine. Subscribe to TROT today by clicking the banner below.