When a horse races 110 times over seven seasons there are bound to be some ups and downs.
Many people know about most of the ups in the career of this new Hall Of Famer that made more than $5 million on the racetrack, but longtime trainer Casie Coleman reminisced with TROT about three distinct occasions when the trip to the winner's circle wasn't necessarily a smooth road traveled. By Rachel Oenema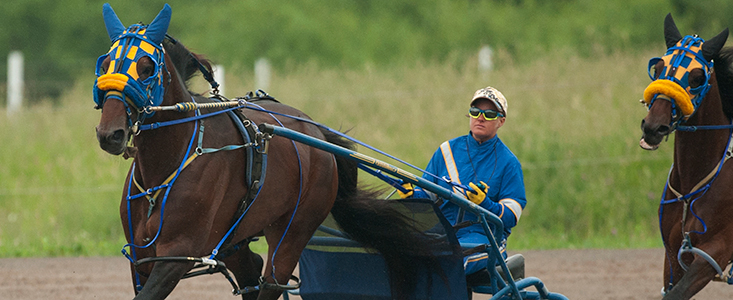 If you took a look at the greatest athletes in history, you will find a handful of similar characteristics and attributes amongst them.
Take a look at some examples:
Michael Jordan — he was determined. He overcame many obstacles throughout his life to reach the top of his game and refused to lose throughout his career.
Wayne Gretzky — he worked hard throughout his entire career and loved what he did. He possessed natural sheer talent and guts and was able to stay at the top of his game even into his older years.
Babe Ruth — he was strong and determined to conquer all of his goals. He was a showman but was warm-hearted, and could bring a crowd to their feet.
Muhammad Ali — he was resilient and determined. He stepped into the ring as the underdog on several occasions but never let go of his courage. One of his most famous quotes perfectly summarizes what it truly takes to become a great athlete, "I hated every minute of training, but I said, 'Don't quit. Suffer now and live the rest of your life as a champion.'"
If you look at these great athletes, you can conclude that to be great, most athletes would need to love what they do, be determined, bold and courageous, strong and have the desire to never give up.
In our sport of harness racing it takes all of these ingredients to be the best of the best, and there is one recent equine counterpart in particular who possesses all these character traits, and just like the list of great names listed above, he too is going to be enshrined into a Hall of Fame.
His name is Mcwicked.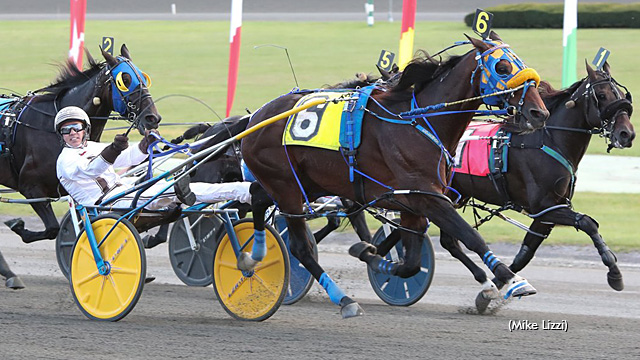 Born March 10, 2011 in Hillsdale, Pennsylvania, the son of Mcardle is the third foal of Western Sahara. Breeder Andray Farm sold Mcwicked as a yearling at the 2012 Harrisburg Sale for $35,000, landing in the barn of Julie Miller after the hammer dropped.
He earned $179,617 in his rookie season before being entered into the Harrisburg Mixed Sale, where he was discovered by Pedigree Guru's Norm Hall. Hall went to client Ed James with the suggestion that his SSG Stables purchase the colt, and Mr. James and his trainer Jim MacDonald did just that. For the majority of the next six seasons, MacDonald would condition the colt every winter and spring, and then turn him over for the stakes season to conditioner Casie Coleman, who would be his trainer of record for the majority of his career - a career that spanned over seven years and ended with 40 lifetime victories and $5,103,271 in earnings. He is the richest pacing stallion in history and the third richest North American Standardbred of all time.
Mcwicked holds the titles of the Max Hempt, Adios, Progress Pace, Ben Franklin, TVG Open, William Haughton, Canadian Pacing Derby, Joe Gerrity, Jr., Dan Rooney – twice; Roll With Joe, Breeders Crown – twice, PASS Finals, and the Jim Ewart – twice.
He's earned the title of four O'Brien Awards — Three-Year-Old Pacing Colt/Gelding (2014), Older Pacing Horse of the Year (2018 & 2019) and Horse of the Year (2018). His 2018 earnings of $1,662,094, at age seven, made him the oldest horse to ever top North America's earnings list.
Pretty comparable to six NBA Championships, 894 regular season goals, 714 career home runs or 56 boxing victories.
However, like any other great athlete there were several times throughout Mcwicked's career where he overcame circumstances or injury to prove himself to be one of the greatest of all time. There were also times throughout his career where he just needed fate to do its job.
They say 'bad' things always come in threes. Trainer Casie Coleman can definitely recall three events throughout Mcwicked's career in which it was uncertain if he would even be able to line up behind the starting gate, let alone win.
1. Saturday, September 1, 2018.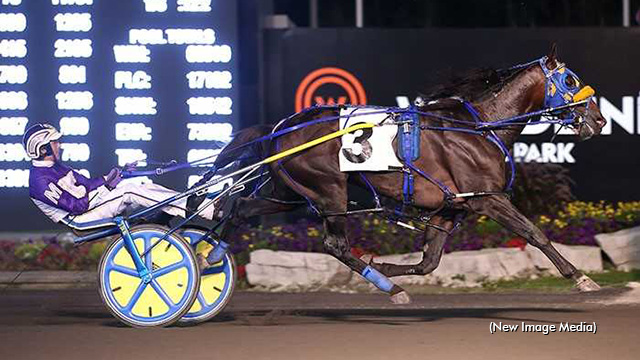 If you took a drive through Campbellville, Ontario during that week you would see signs staked in front lawns reading 'Come and watch the Wonder from Down Under' 'Come see the great Lazarus'. The driveway to Woodbine Mohawk Park was plastered with signs all hailing to the great Lazarus, the Australian and New Zealand sensation that shipped to North America to race against the best aged pacers here before pursuing his stallion career. His Canadian debut to be contested in the Canadian Pacing Derby where he entered the race as the heavy, heavy, favourite.
Walking into the grandstand on the night of the CDP, you were handed a free T-shirt that read LAZARUS across the back, and you had to make sure you came early because they went fast.
Days before the big dance, half an hour from Woodbine Mohawk Park at Golden Horseshoe Lanes, Casie Coleman anxiously anticipated Mcwicked racing in the CDP.
"If there would have been eliminations for the race, 'Wicked' wouldn't have even raced. He came up with a quarter-crack the Thursday before the night the elimination would have been. He was lame that day and the days following which would have included elimination night, so had there been one — he 110% would not have raced," Coleman said.
"His blacksmith, Wayne Crouse did an unbelievable job on him all that week, along with his groom Tyler Schlatman, who worked endlessly on his foot to get him sound enough to race. I couldn't really even train him up for the race which led me to believe that although he was sound enough to race he may be a little short. But I was going to take sound versus short."
The issue didn't necessarily strike as a surprise for Coleman as hoof issues were something Mcwicked struggled with but constantly overcame.
"He battled quarter-cracks his whole career, he just had a bad foot and that was always the problem. I wore bar shoes on him the majority of most weeks — he wore bar shoes jogging, training and leading up to a race and then on the day of the race I would just put a regular shoe back on him. He would go in the sea salt spas when they were available, we tubbed his feet often with epsom salts and copper sulphate, we wrapped his feet with ichthammol, magic cushion, poultice — you name it, we were doing it."
"The biggest thing that helped him was wearing the bar shoes throughout the week to keep the pressure off, I did race him a few times with the bar shoes but I found he was just never the same because he couldn't grip the track as well."
Knowing she and her team had done everything they could for him and letting fate do its thing, Mcwicked shipped out for battle along with eight other foes all looking to defeat Lazarus (who had defeated Mcwicked in the Dan Patch at Hoosier three weeks earlier).
Along with dealing with the foot issue, it was also unsure who would pilot Mcwicked the night of the Pacing Derby.
"Brian Sears and Dave Miller shared Mcwicked throughout his entire career. Brian was offered the drive on Mcwicked in the CDP first but had an overlapping race at Yonkers that was going to interrupt him being able to make it. So I asked Dave to drive and about half an hour after I did, Brian texted me saying he had changed his mind and that he could make it - but I had already asked Dave to drive."
When the wings of the gate folded, Mcwicked and Dave Miller situated themselves near the back of the pack while Filibuster Hanover busted out a brisk 26.4 opening quarter, prompting the adored ⅕ shot Lazarus to make a move to the front before the half, where he would continue to lead the field through comfortable fractions of :55.1, 1:22.3. Mcwicked engaged his first-over mission to look Lazarus in the eye at the head of the stretch, blowing by the Wonder from Down Under to win Canada's oldest Standardbred race by two-and-a-quarter lengths in 1:49, with a :26.1 last quarter.
Team Coleman gathered in the winner's circle after destroying the field - an extra jovial moment for Coleman who had never been able to capture the prestigious race before then.
"I thought I had the CDP won once before with Betterthancheddar. That was when everyone thought Foiled Again [richest Standardbred of all time] was maybe getting too old for the big dances, but he shook late and beat Cheddar by a neck that night. It's a race I have always wanted to win, but never could and thanks to Wicked I was able to.
"The hype was so much over Lazarus that it felt like there weren't even any other horses in the race — and Wicked destroyed them. We went from thinking we might not even race, to winning it, and doing so very impressively.
Mcwicked defied the odds on this night. Not only did he defeat Lazarus, he overcame an issue that is typically not easy for horses to overcome. That's the determination and will to win he possessed - some of the traits that made him a great athlete.
However, if you look closely, there is a pinnacle individual missing from the 2018 Canadian Pacing Derby winner's circle photo. Mcwicked's owner Ed James, who never missed a race of his, was injured in a car accident that night while en route to Mohawk.
"Ed James was flying in to watch Wicked race that night, I had talked to him when he landed and told him I had a clubhouse table reserved for him and that I would see him there at the track — everything sounded great. I never heard from him and didn't know where he went to. I actually didn't even hear from him for many days after the Canadian Pacing Derby when I found out that while he was en-route to Mohawk that night he got into a car accident and was in the hospital. He had to stay in the hospital for nearly two weeks — he broke ribs and suffered many other injuries," explained Coleman.
"Ed missed many of Wicked's races for pretty much the rest of that whole summer because of the injuries he had. It's too bad he missed the race because it would have been his biggest win at Mohawk."
A bad quarter-crack, driver issues, an overwhelming favourite to defeat, and an owner in a bad car accident - none of it could keep Mcwicked from the winner's circle that night.
2. Sunday, December 7, 2014.
After winning the Breeders Crown for three-year-old colt pacers, Mcwicked was supplemented to the Progress Pace at Dover Downs. With Dave Miller aboard, the pair earned their way into the final with a victory in the elimination the week prior, and although Mcwicked came back the following week to win that $301,560 final in 1:48.4, it was another case where he nearly didn't even get to race.
"We supplemented him into this race Dover Downs for $20,000. I haven't supplemented a whole lot but I have done it before and generally you usually just pay your entry fee the night of the race. However this wasn't the case with the Progress because you had to pay your supplement fee at entry time," recalls Coleman.
"It was a weekday draw to race on the Sunday and the box closed at noon."
"From where I was stabled in New Jersey it was about a two-and-a-half hours from Dover Downs. I called to enter him and told the race office he was a supplemental entry and they asked me where my cheque was. I said to them that I would bring it Sunday with me when we came to race and they told me that without that cheque [by the time the box closed] I couldn't race," she explains.
"At this point, I'm looking at the time knowing how far away Dover is and I'm freaking out, like freaking right out."
"I had someone write Jeff Kemp, who was Mcwicked's groom at the time, a cheque for $20,000 and told him to get his car and drive to Dover Downs as fast as he could. He called about an hour into his trip in a panic that he was stuck in traffic, he looked at his GPS and told me he wasn't going to make it there by noon."
"I called the race office back and told them my guy was on his way with the money, but he's stuck in traffic. They told me that the rules were the rules, if the money wasn't in their hands by noon, they couldn't take his entry. We thought he had a good shot at winning the race and we really needed to find a way to get the money there."
With time and options running out, a little bit of fate, a little bit of luck, and a good relationship helped get Mcwicked's supplementary fee to the Dover Downs race office.
"I don't even know anyone from Dover. The only person I could think of is the guy who I buy race bikes from, Chad Foulk, who is stabled near Dover. I called him and told him my situation and asked if there was any chance at all he could get a cheque to the race office, and as soon as Jeff got to Dover we would just switch the cheques."
"He agreed to do it, went over and handed the race office his cheque and they accepted our entry."
A stressful day where $20,000 was eventually turned into $150,780 and a Progress Pace title was added to Mcwicked's resume.
Looking back on the situation, Coleman laughs at the ultimate fact of the matter.
"After all this was said and done, someone said to me that the Progress Pace is a Hambletonian Society race and asked me why I didn't just give my cheque to them. Their office is right down the road from the farm...I had no idea that we could have driven 15 minutes and done it that way instead of going on a wild goose chase to Delaware."
"But he won the race and that made it all worthwhile."
3. Saturday, July 26, 2014.
Mcwicked shipped to The Meadows for the Adios, coming into the race after a sharp victory in the $500,000 Max Hempt. Similar to the Progress, he earned himself a ticket to the final after an elimination win in 1:50.4. He returned one week later and showed his connections how easy it can be to make $200,000 in just one-minute-and-forty-nine seconds with an easy gate to wire score in the prestigious final.
But when one learns the whole story it's revealed that maybe it wasn't quite so easy after all.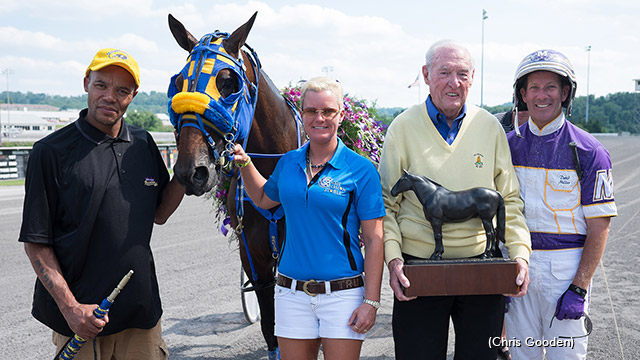 Casie Coleman relives that mid-summer day of 2014, where once again Mcwicked nearly didn't race, and had it not been for his sheer desire, he probably wouldn't have - and he surely wouldn't have won.
"His win in the Adios was very impressive, he had to overcome heat-stroke that day and I didn't know if we were actually going to race him at one point on that day either."
"At the Meadows, they have a rule where you cannot warm up until they take your TCO2 blood [test]. Here in Ontario, they test you a race before yours[goes out] but there, they test you before you warm-up, and you strictly are not allowed to warm up until it is taken. I always warm up my horses two-trips, and they hadn't tested him yet. We needed it done so we could warm up — I was begging them to do so. It was hotter than ever that day — it literally felt like it was a thousand degrees in the paddock. Everybody was in the same boat, we were all desperately waiting to warm-up and finally they came and tested the horses."
As most horses give their entirety every time they step foot on the racetrack, one can only imagine the toll it takes on them when it comes to racing in extreme heat.
"I had to warm him up way closer to his race than I would have wanted to, when it came time to get him ready to race he wasn't cooled out at all. He was huffing and puffing and that wasn't like him... there was hardly any air in the paddock and it was just so hot, I knew he wasn't himself."
"Dave Miller was driving him that day and I told him that if he didn't score out good during the post parade then to just bring him in and we'll scratch him."
Leaving it in the hands of 'Purple Jesus', fate and knowing the true toughness of her trainee, Mcwicked lined up behind the gate and went on to meet Coleman in the winner's circle.
"It was unbelievable how he won that race. Dave smiled at me in the winner's circle and said he couldn't have been any better. After the race we still struggled to cool him out... I was actually very worried about him because of how long it took for his body to cool down. We had fans on him, cold hosed him, ran fluids into him - we did everything we could for him that day to help him recover. I'm certain he had heat stroke. He ended up coming out of it all fine but it was just the fact of how tough he is and everything he overcame that day."
While greatness is defined by what you accomplish in your career, it is also defined by how you accomplish it.
"He loved to win — and he had the biggest heart. There were many times he was first over and didn't get the greatest trip, and just wouldn't give up. He had unbelievable lungs... after his races or a hard training mile he would never blow, his wind was unreal," says Coleman.
"There were many races where at the half he would be lagging and I would think to myself, something is off about him tonight or it's not his night, and the next thing you know he'd hit the three-quarters and here he would come rockin'. I think he would have really thrived in the long distance races like they have in Australia, because the first half of the mile he was never too interested, but always came alive during the last half."
Coleman reflects on Mcwicked's personality as something else that defined his greatness.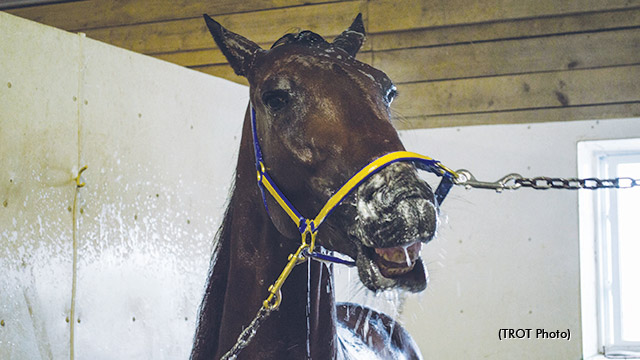 "He's not a mean horse but, he is a total badass. It's part of what made him such an amazing athlete. He would never mean to hurt anyone but you had to be on your toes with him. I usually had to have two people in the paddock with him because he was too much for just one person. He was loud and he was proud he made his presence noted as soon as he walked through the door. A lot of the time he would be on his hind legs so when you saw him coming you'd best get out of the way. He's as big as a truck and there was never any stopping him when he decided he was going somewhere."
Mcwicked now resides at Winbak Farm in Caledon, Ontario where he will look to pass on his bold personality, speed, desire to win, determination, heart of gold, and all the other traits that made him a great athlete. As much as he will likely miss picking it up and putting it down on the racetrack, he surely will be busy in another department as his book for 2020 was full and closed very quickly.
"He always had to make sure he told everyone who he was and where he was. He ranks right near the top of the list of the best horses I've ever had. He's the richest for sure, and he's the fastest and won the most stakes races. I always knew that if he was within five lengths of the leader at the head of the lane there was a very good chance he was getting his picture taken."
Congratulations Mcwicked, I'd put you up there with Jordan, Gretzky, Ruth and Ali any day of the week. You never quit, you never gave in -- enjoy living the rest of your life as a champion.