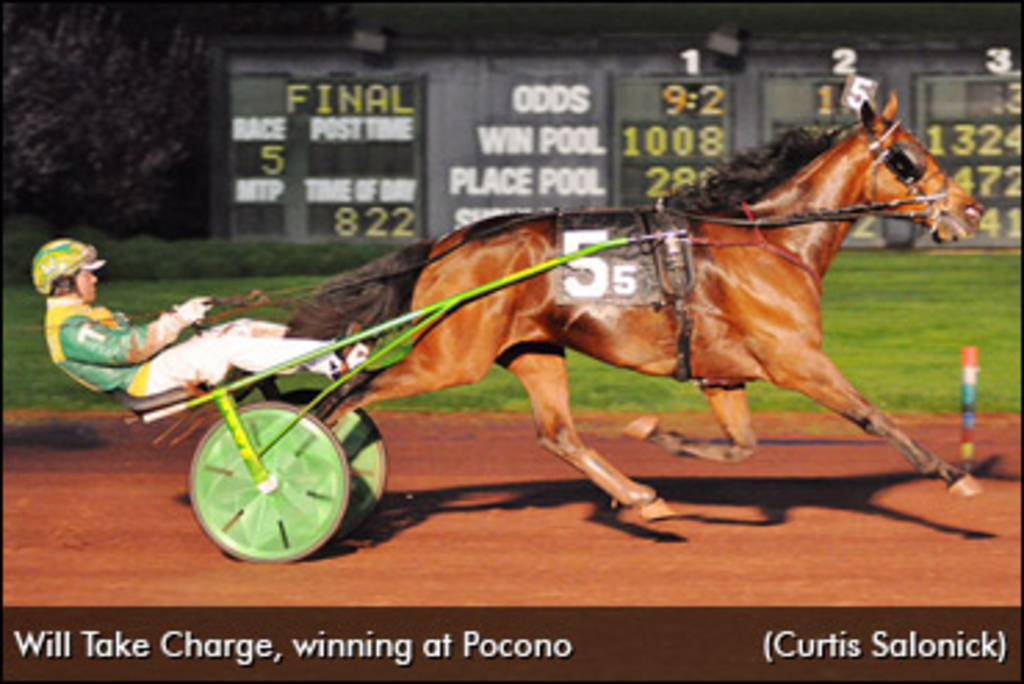 Published:
May 25, 2018 03:28 pm EDT
Will Take Charge charges into Sunday's $150,000 Maxie Lee Invitational off a win in a leg of the Great Northeast Open Series for trotters; a victory that saw the five-year-old gelding make a four-wide move around the final turn to complete a last-to-first rally after a few missteps at the start of the race.
"He can trot the turns as fast as any horse I've ever had," trainer Jeff Gillis said. "He's like a hobbled pacer almost. You can move him anywhere; he's very handy. He's just got a lot of good qualities that make him very versatile."
Will Take Charge joined Gillis' stable after owner Mac Nichol purchased the horse in November. The gelding was previously trained by John Bax and was runner-up in the Ontario Sires Stakes championships at ages two and three. For his career, Will Take Charge has won 17 of 60 races, going 8-for-14 with Gillis, and earned $704,761.
He made a splash with his seasonal stakes debut on May 5 by finishing second to defending Horse of the Year Hannelore Hanover in the Cutler Memorial at the Meadowlands. His Great Northeast Open win at The Downs at Mohegan Sun Pocono followed on May 13.
"There were a couple issues with his blood that we got corrected and he's just been a nice horse for us," Gillis said. "There were a lot of things that I liked about him. Obviously, his gate speed, and he looked like a really sound horse that carried good flesh. He was the kind you like to try to buy.
"The other thing was I knew Bax had kept him through his four-year-old year because he really liked him. Sometimes horses get stale and need a change. To say that he would be this good, no I didn't really expect that. But I thought he could be a nice horse."
Will Take Charge is a son of Kadabra out of Celebrity Angel, who is a half-sister to Dan Patch Award-winner Almost An Angel. He is fully staked this year.
"We'll let him tell us," Gillis said. "We intend to race him in all of those (stakes) if he's healthy and sound. Of course the big ones for us are the Maple Leaf Trot and the Breeders Crown. Hopefully he will be good for those."
The Maxie Lee is part of an invitational tripleheader at Philly with the Commodore Barry for older male pacers and Betsy Ross for older female pacers.
In addition, the card includes a Great Northeast Open Series event for trotters -- featuring 2017 Horse of the Year Hannelore Hanover -- and Great Northeast Open Series races for male and female pacers. There also will be two divisions of the Pennsylvania Sire Stakes for three-year-old female pacers. Action begins at 12:40 p.m. (EDT).
Will Take Charge will face a deep field in the Maxie Lee, where two-time Dan Patch Award-winner Marion Marauder is the 5-2 morning-line favourite. Will Take Charge is the 3-1 second choice, followed by the event's defending champion, Crazy Wow, at 7-2. Broadway Donna, another multiple Dan Patch Award-winner and the only mare in the race, is 6-1.
"I think we drew well," Gillis said, referring to Will Take Charge's post four starting spot with driver Tim Tetrick. "I think it's a good spot. I'm pretty confident in him based on what he's done the last couple times on a small track. He's shown the ability to race on or near the lead as well as off the pace. I feel confident in whatever Timmy decides."
Broadway Donna will try to join Buck I St Pat as the only female winners of the Maxie Lee Invitational, which debuted in 2008. Buck I St Pat, herself a multiple Dan Patch Award-winner, was a two-time champ. Other Dan Patch Award-honourees to capture the event were Obrigado, Father Patrick, Market Share, Chapter Seven, and Lucky Jim.
"I was very happy with the way she got started," trainer Jim Campbell said about five-year-old Broadway Donna, who won her seasonal debut in 1:51.4 at the Meadowlands on May 12. "There are no easy spots for her. No matter where she goes it's going to be tough racing. That's the way it is and you just have to adapt to it."
The Maxie Lee is named after longtime horsemen Maxie Lee. A native of North Carolina, Lee made a name for himself as a trainer and driver in the Philadelphia area at Liberty Bell and Brandywine. He had back-to-back Delaware Valley Harness Horse of the Year winners in the mid-1970s with Black Gamecock and Valley Ken. In 1990, Lee became the first African-American with a starter in the Hambletonian, with the Peter Haughton Memorial winner Backstreet Guy.
Following is the field for the Maxie Lee Invitational with drivers, trainers, and morning-line odds.
1. Marion Marauder, Scott Zeron, Paula Wellwood, 5-2
2. Rubber Duck, Joe Bongiorno, Jennifer Bongiorno, 15-1
3. I Know My Chip, Victor Kirby, Walter Haynes Jr., 12-1
4. Will Take Charge, Tim Tetrick, Jeff Gillis, 3-1
5. Crazy Wow, Yannick Gingras, Ron Burke, 7-2
6. Warrawee Roo, Dan Dube, Luc Blais, 9-1
7. Broadway Donna, David Miller, Jim Campbell, 6-1
8. Tuonoblu Rex, Andy Miller, Julie Miller, 8-1
(USTA)