Published:
April 14, 2017 11:33 am EDT
After sitting out last week's round in the George Morton Levy Memorial Pacing Series because of a numbers crunch, Rockin Ron's connections hope the gelding can come back this weekend with a performance good enough to maintain a spot in the upcoming $200,000-added final at Yonkers Raceway.
The preliminary divisions of the six-week Levy Series for older male pacers conclude Saturday at The Hilltop. Rockin Ron will enter the night holding the eighth-and-final spot for the April 22 championship, but might need nothing less than a win Saturday to keep his position.
Rockin Ron holds a five-point edge over Wakizashi Hanover and eight-point advantage over the trio of Long Live Rock, Mach It So, and McWicked in the battle to qualify for the final. He trails both Blood Brother and ProvacativeprinceN by 22 points, so numerous possible outcomes are in play, but the simplest way for Rockin Ron to roll into the final is by winning his division this weekend.
A horse receives 25 points each time he races in the series. He then gets points based on his finish, with 50 points for a win, 25 for second, 12 for third, eight for fourth and five for fifth. The complete standings are available at this link.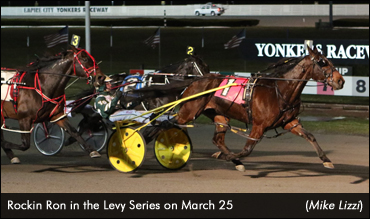 Rockin Ron, who has a win, second and fourth in the series, sat out last week's action because trainer Ron Burke could enter only three of his five eligible horses. A trainer can have only one horse in each division and last week there were three divisions. There has been a maximum of four divisions in the preliminary rounds.
"To be fair we've had to space out who gets to race, which really hurts your chances to get into the final," said Mark Weaver, who is among the owners of Rockin Ron. "I wish we could have raced him because it pretty much would have assured him being in the final. But that's the situation we're in.
"If he's good enough to get in, he deserves it. If he's not good enough, then he probably didn't deserve it."
Rockin Ron, a five-year-old son of Real Desire-Im All A Roan, is in the second of three divisions Saturday. He faces a group that includes series leader Missile J, third-place Keystone Velocity, fifth-place Bit Of A Legend (the series defending champion) and Blood Brother.
"Fortunately he drew inside," Weaver said, referring to Rockin Ron's post No. 2 starting position with driver Yannick Gingras. "Hopefully we can get a good chunk of it."
Last year, Rockin Ron won 11 of 26 races and earned $440,970 for owners Burke Racing Stable, the partnership of Weaver and Mike Bruscemi, and RTC Stables. His victories included the Confederation Cup and Prix d'Ete, defeating 2015 U.S. Horse of the Year Wiggle It Jiggleit in both. He finished second to Wiggle It Jiggleit in the Dorothy Mullin Invitational.
"Obviously we were high on him coming into this year and we've got him staked up to pretty much everything," Weaver said. "I think so far his year is starting off well. I think every start he's been pretty good. He hasn't been raced too hard and I think the week off should help. I'm real happy.
"For some of these Levy horses, after the Levy they're back to being overnight horses. With 'Ron' and All Bets Off, those are two that I think have a chance to go on and be competitive in the open ranks."
All Bets Off, a six-year-old stallion who has earned $2.295 million in his career, has finishes of second, third and sixth in the Levy. He competes in Saturday's third division, where Somewhere In L A is a slight 2-1 morning line favourite over 5-2 Wakizashi Hanover. All Bets Off and driver Matt Kakaley are 6-1 from post six.
"We contemplated standing him at stud last year, but figured we would give him another year of racing," Weaver said. "He qualified great and his first race was super. Then he was sick and drew badly. It's a little disappointing, but at the same time we've got a long year. Matt loves him and still has confidence in him. Hopefully Ronnie can get him straightened out."
Burke's other Levy competitors have been Caviart Luca, Always At My Place, and Take It Back Terry. Caviart Luca will race in Saturday's first division and is 4-1 on the morning line.
"Ronnie said they all trained great, all the Saturday night horses, especially Caviart Luca," Weaver said. "Hopefully (Caviart Luca and All Bets Off) can do all right and sneak into the consolation."
Complete entries for Saturday's races can be found at this link.
---
This story courtesy of Harness Racing Communications, a division of the U.S. Trotting Association. For more information, visit www.ustrotting.com.