Published:
April 11, 2019 07:06 pm EDT
After a successful season in 2018, Harrah's Hoosier Park Racing & Casino is proud to announce the return of First Turn Stable, a fractional ownership opportunity, for the 2019 live racing season. The first of its kind in the state of Indiana, First Turn Stable was designed to provide fans an easy and affordable way to experience the excitement of horse ownership and educate for future ownership endeavors. Harrah's Hoosier Park will begin taking new membership sign-ups on April 15.
First Turn Stable gives racing fans a chance to learn about horse ownership first-hand. The fractional ownership program, established in 2016, gives harness racing fans hands-on ownership experience from April to November for a one-time $250 buy-in. Since its debut in 2016, the program's popularity has only grown, making the 65 membership spots highly sought-after.
"First Turn Stable is now in its fourth year, and the excitement continues to grow as evidenced by the eagerness of members to join the stable," says Rick Moore, Vice President and General Manager of Racing at Harrah's Hoosier Park. "We are very proud to offer this opportunity to racing fans once again and want to send best wishes to all club members for a most successful 2019 season."
For 2019, trainer Jamie Macomber will once again serve as trainer for First Turn Stable. After working in the industry her entire life, Macomber recently launched her own stable and has a Breeders Crown title from 2017 with Beckhams Z Tam to her credit along with a 2017 Hoosier Park training title. Horses from the Macomber stable recorded 110 wins and earned more than $1.2 million in purse earnings throughout the 160-day meet at Harrah's Hoosier Park in 2018.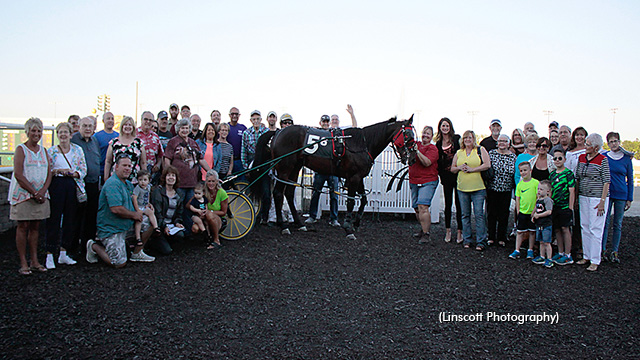 In 2018, First Turn Stable were the proud owners of a four-year-old pacing gelding named Vintage Grand for a majority of the 2018 season. Vintage Grand brought the First Turn Stable members into the Harrah's Hoosier Park winner's circle three times throughout the season. While Macomber doesn't have a horse picked out for the stable just yet, members are hopeful for another action-packed season.
Member Matt Weyand of Yorktown, Ind. is thankful for the opportunities First Turn Stable has brought him. "It's great having direct access to a trainer and other industry professionals," Weyand noted. "First Turn provides a community to network with other like-minded individuals and trainers to provide the chance to learn more about racing in general. It's also great getting pictures taken with a winning horse. We have loved our time with First Turn Stable."
The program provides interactive social media pages, weekly e-mail updates and monthly financials that will be shared with members to provide a transparent and behind-the-scenes look into the real cost of owning a racehorse. Members will also have the opportunity to watch morning training routines and will have the opportunity to interact with the trainer and driver after each race. Seminars and meet-and-greets with a variety of industry professionals will also be available to stable members throughout the 2019 racing season.
At the end of the racing season, the horse's winnings and costs will be calculated and any profit will be split among the 65 owners. If the season results in a financial loss, Harrah's Hoosier Park will offset the figure to bring the season to a break-even for the participants.
For more information on First Turn Stable and to see updates about the program throughout the season, find the First Turn Stable on Facebook.
(with files from Harrah's Hoosier Park)