Published:
November 25, 2016 11:30 am EST
This Sunday night (November 27), Pompano Park will play host to the Florida Standardbred Breeders and Owners Association (FSBOA) Super Night, which will feature over $430,000 in purse money for Florida-bred two and three-year-olds.
The annual extravaganza features the best state-bred Standardbreds and, this year, will feature two horses that have unblemished racing careers — Prairie Sweetheart and Gold Star Briana.
Prairie Sweetheart, now undefeated in 13 career starts, will look for her second Super Night championship in the $55,400 Breeders Stake, as she waltzed to victory as a two-year-old last season.
She recently returned to Pompano Park after defeating grand circuit stock at Lexington's Red Mile in 1:49.1, a lifetime best performance, and then trounced her rivals in south Florida by 12 and a half lengths. In that event, Prairie Sweetheart went off at a nickel-to-a-dollar in the betting with every other rival over 100-1.
The daughter of Royal Millennium was recently purchased by the Let It Ride Stables, but remains in the care of trainer Mike Deters, who trained the filly in last year's championship season.
Gold Star Briana took top honours in her class of two-year-old trotting fillies in 2015 and capped her season with a Breeders Stake win on Super Night. She will now look for a repeat performance in this year's $54,150 event.
This year, the daughter of Basil is a perfect eight-for-eight with five of those wins taken at Pompano Park in FSBOA stakes events.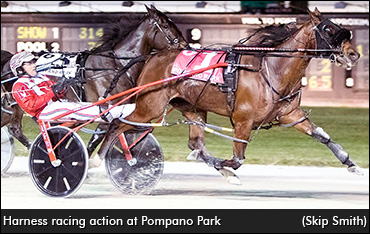 Last Monday night, Gold Star Briana faced some male counterparts in an overnight event to keep tight for Sunday's Super Night event and annihilated her foes by six and a half lengths in 1:56.2, a lifetime-best performance.
After that event, driver Wally Hennessey remarked, "She really turned on the afterburners around that final turn and we just hope she can do the same on Sunday night. But you cannot take anything for granted in this sport. Overconfidence will kill you every time."
'Briana' is trained by Dan Hennessey for owner Kevin Kelly.
Her main competition is expected to come from Trotting Missmissy, who is owned and trained by Donald Dupont. The daughter of Trotting Intruder has been a bridesmaid to Gold Star Brianna on four occasions this fall season.
The $56,650 Breeders Stake final for three-year-old trotting colts and geldings will feature Rexamillion, Thundercrest and Proud Joe T, all winners during the fall stakes season in south Florida.
Proud Joe T drew first blood with wins at Sunshine Meadows and Pompano Park, while Thundercrest roared to the head of the class shortly thereafter. Finally, last year's champion, Rexamillion, found his best stride and earned his first two wins of the year in his last two starts.
Waiting to take advantage of any miscues are Fifty Fifty Ninety and Savin Rock, both stakes placed during this season.
The $55,100 Breeders Stake for sophomore pacing colts and geldings seemed to feature a budding rivalry between last year's champion, Gleneagles, and Conmans Dream, victorious in his last two starts against the reigning champ in stakes action.
Conmans Dream, owned and trained by Jason Mac Dougall, chased Gleneagles all of last season but, recently, Conmans Dream has turned the tables on his arch-rival with a pair of wins.
But on Monday night, in a tune-up for Super Night, up popped R Chism to join the fray with a 21-1 upset win in a lifetime-best performance in 1:53.1.
Owned by Jay Sears along with trainer Kim Sears, R Chism destroyed his former best winning mile by almost two seconds.
The two-year-old divisions, with the exception of one, appear to be wide open.
In the colt/gelding trot, a budding rivalry has developed, as both Azzaro and Im Done both sport records of 4-4-0 in their respective eight lifetime starts.
In their most recent meeting in the Melvyn Aylor Memorial, Im Done was victorious, but almost let a 10-length lead slip away, as he held on for dear life late to win by a neck over the late-charging Azzaro, who rallied bravely after a miscue around the opening turn. Each will be seeking the major share of a $50,750 purse.
The $53,250 Breeders Stake for two-year-old trotting fillies will feature last week's Melvyn Aylor Memorial winner, Famous C, recovering after a miscue early in that event and spotting the field several lengths.
But that field of youngsters did not include Atlantic Crest, a filly that has put a substantial amount of daylight between she and her foes during this Florida stakes season.
The daughter of Crest, owned, trained and driven by Sergio Corona, has a winning race mark of 1:57.4, almost three seconds faster than her main rival, Famous C.
These two will be joined by a trio of other fillies, including Bonnie Blue Banker, the only other stakes winner in the group having won a Sunshine State Stake at 64-1 odds to kick off the racing season at Pompano Park last October 2.
The $54,100 Breeders Stake for two year-old pacing fillies will feature Gold Star Aurora, a winner of six of seven career starts, blemished only by a miscue early in her fourth start.
The daughter of Rock On is trained by 'rookie' trainer Maggie Audley, who sports a UTR of .532 coming into Super Night.
Owned by Marianne Audley, Gold Star Aurora won the Aylor Memorial for her class, as she repelled challenges from both sides in the final stages to prevail.
In the $54,270 Breeders Stake for juvenile pacing colts and geldings, Prairie Panther will attempt to extend his winning streak to seven.
The son of Royal Millennium, owned by Laurie Poulin along with trainer Mike Deters, has enjoyed plenty of daylight between he and his foes during his winning streak, and, most recently, took top honours in the Melvyn Aylor Memorial, as he hit the wire in 1:55.1, a new lifetime best.
Also on the Sunday program is the Open Handicap Pace with Pinocchio, undefeated in his four fall starts at Pompano Park, assigned the outside Post 8 in a $2,000,000 field.
Sing For Me George is also in to go, as is Blue Hour Power, making his initial fall debut at Pompano Park.
Finally, Pompano Park's Super Hi-5 Jackpot finale has a carryover awaiting of $14,638.61 on Sunday, as well as Pick-6 carryover.
Post time for the pari-mutuel program is 7:20 p.m.
(Pompano Park and the FSBOA)