Published:
October 29, 2021 03:19 pm EDT
Stablemates Amigo Volo and Chin Chin Hall are coming back from health woes for trainer Richard "Nifty" Norman, and both horses appear to be rounding into form just in time for Saturday's $650,000 Breeders Crown Open Trot at The Meadowlands.
Amigo Volo will start Saturday from post nine, with Dexter Dunn driving, as he tries to join Gimpanzee and Mack Lobell as male trotters to win the Breeders Crown three times. Gimpanzee and Mack Lobell were champs at two, three, and four.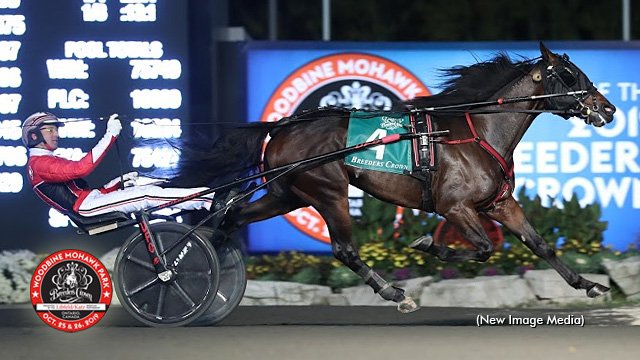 Amigo Volo went off stride at the start of his prep race last week, but had two wins, a second, and a third since a more than two-month midseason hiatus.
"The horse was a little bit eager and hit the gate and made a break," Norman said about last week. "We gave him quite a bit of time off because his health wasn't good, but now he seems like he's right back on point. I think he will go good. He drew nine in the final. He's going to have to smoke it out of there."
Chin Chin Hall was limited to five races last year because of injury. He finished second to Warrawee Roo last week. He has hit the board in six straight starts, winning three. Todd McCarthy will drive Chin Chin Hall, starting from the post 11 trailing spot behind the gate.
"He was a good second," Norman said. "He's come on. I'm not sure if he's gotten better or if the pack has come back to him a little bit. But he's racing good and solid. Really good."
It was a slow road back to the races for male trotter Warrawee Roo, but the Luc Blais trainee is quickly making up for lost time. Warrawee Roo suffered a fractured foot at the end of 2018 and did not race in 2019 or 2020. This year, the eight-year-old stallion has won five of 16 races and is the 9-2 morning-line third choice the 2021 Breeders Crown Open Trot.
Eliminations were unnecessary for the Open Trot, with a field of 11 going directly to the final. Warrawee Roo, a son of Majestic Son-Karoon, prepped for the event by winning last week at The Meadowlands in 1:51.2, a career-best time. He will start Saturday from post one with Dan Dube driving for trainer Blais.
Warrawee Roo has appeared in one previous Breeders Crown, finishing third in the 2018 Open Trot. He has won 15 of 66 lifetime starts.
"He's an amazing horse," said Blais, a four-time Breeders Crown winner. "It took long, but he has such a great attitude, I didn't give up, and he showed up. He likes to race. That's the kind of horse you want. He's a very nice horse.
"One thing I know, when he's on the track and he's feeling good, he's a competitor. That's for sure. He's going to try hard."
Another comeback kid for Blais is Forbidden Trade, the 2019 Hambletonian winner and Canadian Horse of the Year. A leg injury limited Forbidden Trade to five starts in 2020, but he has won four of 12 this season including the Caesars Trotting Classic and Crawford Farms Open. He is the 7-2 second choice in Saturday's final, starting from post two with Bob McClure in the sulky.
Forbidden Trade, by Kadabra out of Pure Ivory, qualified last week in 1:53 to get ready for the Breeders Crown. He has won 20 of 42 career races.
"I'm very pleased with him," Blais said. "He's always there and races good, feeling good. He came back very strong this year. We're very pleased about that. When we started, we didn't know how far we were going to go, but he stepped up and he stayed sound. That's the main thing. I think he will always be a nice horse."
Ecurie D is the 3-1 morning-line favourite in the Open Trot off his one start in North America, a 1:50.4 win in the Allerage Open earlier this month. Born in Denmark, Ecurie D was a sensation in Europe his first two seasons of racing. He won his first 11 races in a row, including all seven starts at age three.
In May, Ecurie D finished sixth in the Elitlopp. His 1:50.4 debut win in the U.S. puts him in a tie for the eighth-fastest mile of the season by an older trotter in North America.
Overall, Ecurie D has won 16 of 22 races and $458,368. He was supplemented to the Breeders Crown for $62,500 and starts from post three with trainer-driver Ake Svanstedt.
"We started up easy with him and then training more and more and he is doing good the whole time," Svanstedt said. "He is a good horse. He has good conformation, he is a smart horse, and he is good gaited. He is fast, he is strong, nice to drive. He is everything."
The Breeders Crown Open Trot is Race 10 on Saturday, the seventh of the eight Breeders Crown finals. To view the full entries for Saturday's Breeders Crown card of harness racing at The Meadowlands, click one of the following links: Saturday Entries ♔ Saturday Program Pages.
(with files from USTA)