Published:
January 4, 2012 01:23 pm EST
Voting for the United States Harness Writers Association and United States Trotting Association's Railbird Recognition Awards ended on New Year's Eve, and the voice of the fans of harness racing has been heard.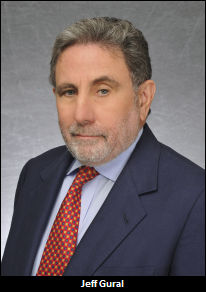 After nearly 8,000 votes were cast, Jeff Gural was named the 2011 Horseperson of the Year and Big Bad John's Little Brown Jug win was tabbed as the most memorable Racing Moment of 2011.
Gural, who owns and operates Tioga Downs and Vernon Downs in New York State and who also spearheaded major change in the racing landscape there, stepped in and took the lead role in an attempt to save Meadowlands Racetrack from being permanently shuttered after the State of New Jersey decided to cut ties with the racing industry. A longtime owner and breeder himself, Gural knew if the Meadowlands went down, the rest of the industry would more than likely follow. In a short time and without many options, Gural was able to broker agreements with the State of New Jersey as well as various labour unions and horsemen's groups in order to lay the foundation that would ultimately lead to the re-opening of the 'Mecca of Harness Racing' this Friday (January 6) and guarantee its survival with a 30-year lease.
During the negotiations, Gural stated, "I would say this is mostly about my caring about harness racing. There are a lot of people whose livelihoods depend on this." And as a result of Gural's hard work, the livelihoods of a lot of people will be protected for the foreseeable future.
After learning of how the fans of racing felt about his efforts, Gural said, "I was very happy to hear I was chosen by the fans to receive this award; it means a great deal to me. I would like to thank them all for their support and pledge to them that I will do everything I can to make the racing product at the new Meadowlands Racetrack something we can all be proud of."
In winning Horseperson of the Year, Gural received 47 per cent of the fans' votes. George Brennan, who had an outstanding year driving, finished second with 28 per cent.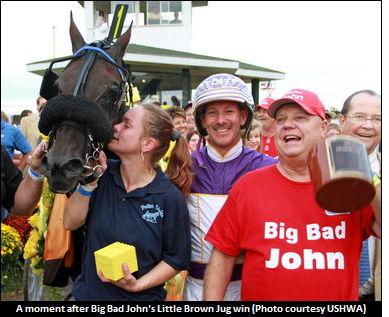 September in Delaware, Ohio is always an exciting time, but the scene in 2011 year was one that a lot of people remembered. Local hero Big Bad John --- Ohio-owned by Ed Telle, Ohio-trained by Ron Potter and Ohio-driven by Dave Miller --- became the first horse stabled year-round at the Delaware County Fairgrounds to win the Little Brown Jug.
When Telle learned of winning the award, he said, "That race was a moment I'll never forget. It was an all-Buckeye win and we must have had 300 people in the winner's circle. It was exciting to hear the fans reaction to such a special moment then, and I am happy that by virtue of this award, it has remained such a great racing memory for them now."
Voting for Racing Moment of the Year was very close, as Big Bad John's Jug received 28 per cent of the fans' vote. George Brennan winning both the Hambletonian and the Hambletonian Oaks was second with 25 per cent, and San Pail's Breeders Crown victory was third with 24 per cent.
Gural and the connections of Big Bad John will be presented Railbird Recognition Awards at the 2012 Dan Patch Awards Banquet in Orlando, Florida on Sunday, February 12.
(With files from USHWA)