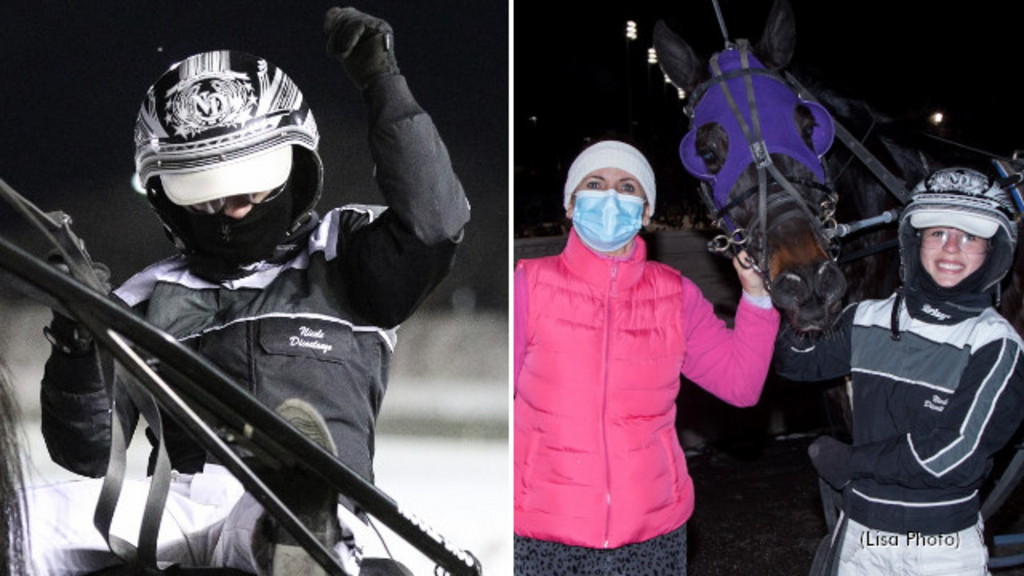 Published:
January 20, 2022 05:32 pm EST
As a teenager, Nicole DiCostanzo knew only one thing about harness racing — that she loved it. She had no family in the business but watched races constantly and eventually followed friends involved in the sport to the track. Before long, DiCostanzo bought her first horse, and there was no turning back.
Since making that initial purchase seven years ago, DiCostanzo's involvement in the sport has advanced from owning and caretaking to training and driving. The 23-year-old got her first win as a trainer in 2018 and notched her first victory as a driver earlier this month in a GSY Series amateur race at The Meadowlands. A second GSY Series triumph followed a week later at Freehold Raceway.
"I basically fell into the horse business," DiCostanzo said. "As a little kid, I was kind of obsessed about watching it on TV. I had a couple friends that were doing it, and I got hooked up going to the racetrack and started doing some paddocks. I didn't really know what I was doing, but within a month I bought my first horse.
"Ever since that day, I've grown accustomed to it. I've been doing it for seven years now and it's a thrill every morning going to the barn and jumping on a jog cart. I don't actually know what I would do without harness racing."
DiCostanzo has a five-horse stable in central New Jersey. Last year, she won 15 of 122 races and $257,264 as a trainer. Much of her success came at Yonkers Raceway, where she won 10 times and saw her pacer Uptown Funk compete in the open handicap.
As a driver, DiCostanzo got started in 2019. She raced 12 times prior to winning with Rockabilly Charm, trained by Victoria D'Alessandro, on Jan. 7 at The Meadowlands. Her second victory also came with Rockabilly Charm and the duo returns to the GSY Series for race seven Friday at the Big M.
"The biggest thrill I've had is winning at The Meadowlands," DiCostanzo said. "I always watched the amateurs, and a couple amateur girl drivers, and I was very intrigued by it. I wanted to do it, but I wasn't sure if I could do it. I did a bunch of qualifiers, and I wasn't really too confident.
"Last year, I put my head to it and told myself I can do this, and I want to do this. I worked very hard to get where I am today driving. It's crazy. I watch my replays and think, is that really me? It's a blessing."
DiCostanzo feels like she has clicked with Rockabilly Charm.
"(Victoria) asked me to drive Billy and he's been a saint ever since," DiCostanzo said. "She is almost convinced that he only goes good for me. I think I just get along with him well. I think he's a girl's horse for sure. He's got a great mouth on him, he's great to drive. He gives it his all, I'll tell you that."
DiCostanzo's favourite horse, though, remains her first, the still-active Steady Pulse.
"We've come a long way together," DiCostanzo said. "He's probably taught me just about everything I know."
As for her future, DiCostanzo hopes to continue her growth. Gradually.
"Last year was kind of the first year that people took notice," DiCostanzo said. "I'm just trying to succeed on my own. I don't really go over six horses because I do it by myself. I don't have any employees; I still pick stalls.
"So, I'm going to try to keep doing what I'm doing. I'm definitely going to claim a couple more horses on my own and I've got a lot of good owners right now. I'm going to try to stay between five to 10 horses training and then drive on the weekends for fun.
"My family and my friends are very proud of me. If you put your mind to it, you can do anything. That's the drive I have."
In addition to two GSY Series races on Friday, the 15-race card at The Meadowlands includes a $31,500 Preferred Trot. Warrior One is the 5-2 morning-line favourite.
Racing begins at 6:20 p.m. (EST). For free TrackMaster program pages, visit the track's website.
(USTA)