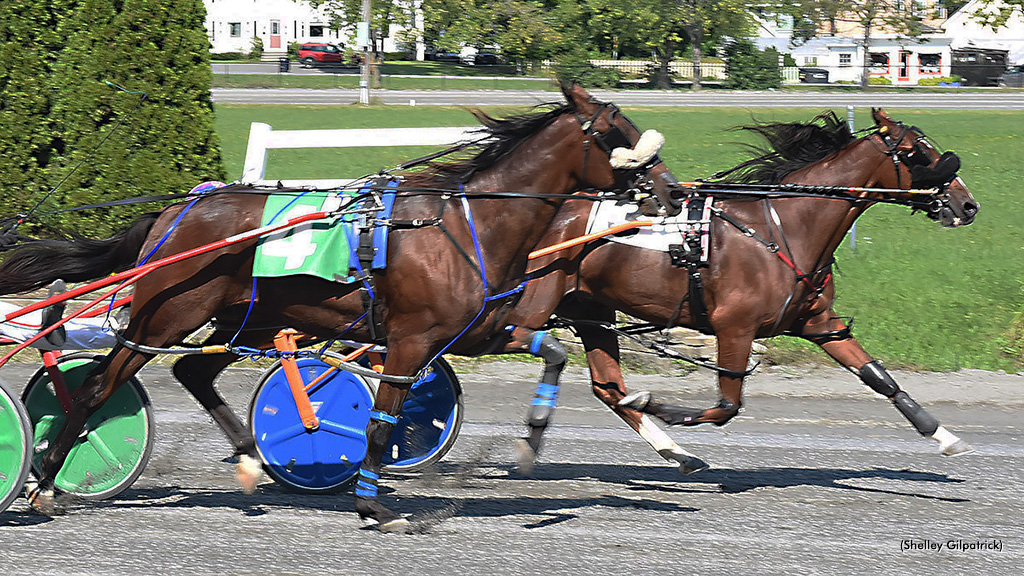 Published:
September 7, 2022 07:52 pm EDT
Maine's two-year-old pacing males had a make-up day of racing before the regular card at Bangor on Wednesday (Sept. 7) with two $18,000-plus divisions of the Maine Breeders Stakes (MSBS) enjoying swift times after a few extra days off.
With the Windsor Fair races cancelled on Labour Day (Sept. 5), the freshmen sidesteppers found themselves back on familiar ground as many of the Pine Tree State's products had started their careers in baby races, as well as the first round of stakes races, at historic Bass Park in Bangor.
In the first $18,009 non-wagering event, Two Towns Over got the best of current point-leader Luke McGook to capture his fourth stakes win in as many starts.
Driver Aaron Hall blasted Two Towns Over away from the starting car from post three to take command and post opening fractions of :29.3 and 1:00.3 with Luke McGook falling into the garden spot. Rockaroundsam was the first to generate the outer flow, and was within a length of the leader at the 1:29.3 third panel.
But Hall shifted Two Towns Over into another gear and had gained some separation at the head of the stretch, and scored in a lifetime best of 1:57.4. Luke McGook battled back into second and got within a quarter length of the victor. Rockaroundsam finished third.
Two Towns Over is trained and owned by Valerie Grondin and was bred by Andrew Bustard. The win vaulted the two-year-old son of Deuce Seelster into second place in the point standings.
In the second $18,008 MSBS division for two-year-old pacing colts and geldings, So Rock N Roll danced to the beat of his own drummer while breaking his maiden for driver Andy Harrington and trainer Marc Tardif.
Scoring from post two, the son of Western Maverick had things his own way and maintained a steady advantage over the rest of the field throughout the contest. Posting fractions of :28, :58.3 and 1:28.2, the well-rated fractions were the perfect set up to put a notch in his win column.  Already five times second or third in seven previous starts, So Rock N Roll is the home bred property of Leighton Property.
Twice The Ice finished second and Race Me Maverick was third.
The three-year-old filly pacers return to Bangor on Sept. 10, with the three-year-old trotters visiting Bass Park on Sept. 17.
The remaining fair schedule is as follows:  Farmington, Sept. 18-21; Cumberland, Sept. 28-Oct. 1 (two-year-old finals); and historic Fryeburg, Oct 6-8.
The Maine-sired sophomore finale returns to Bangor for all of the three-year-old MSBS divisional finals on Oct. 15. The two-year-old championships will be held two weeks earlier on Saturday (Oct. 1) at the Cumberland Fair.
(MSBS)