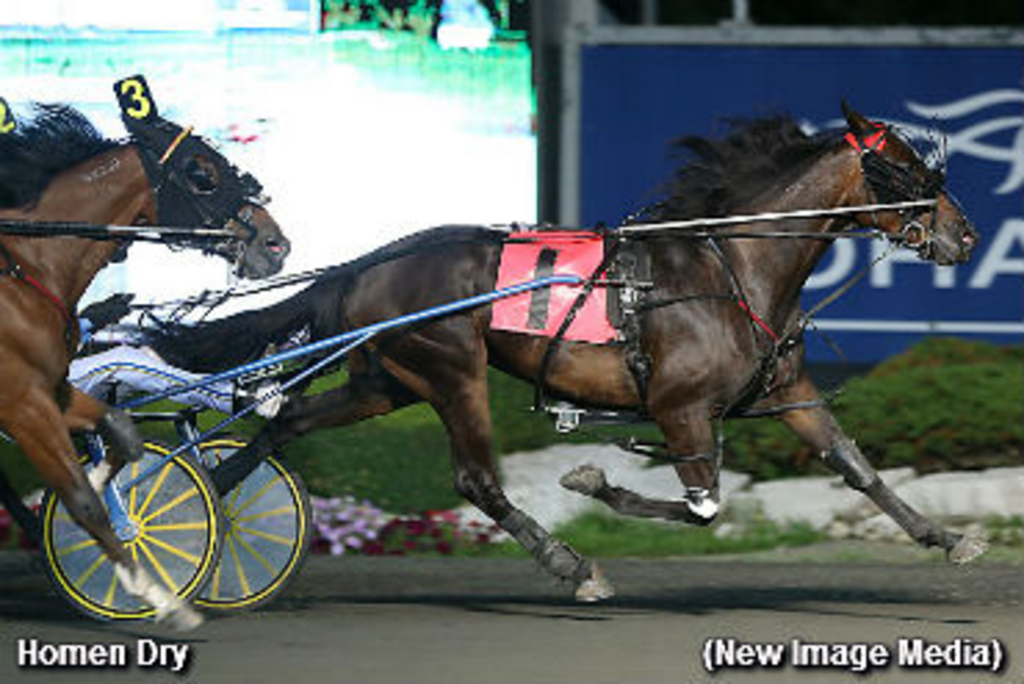 Published:
August 21, 2014 09:44 pm EDT

Brad Maxwell trainees finished first and second in Thursday's $46,600 final of the Define The World Series at Mohawk Racetrack, with Homen Dry coming out on top for driver Chris Christoforou.
Homen Dry, a son of Credit Winner-Beyond Blue, took over command in deep stretch and fended off late pressure from his stablemate, Southwind Stryker, en route to stopping the teletimer in 1:58.2.
Christoforou tucked the favourite into the three-hole while Jetpedia shot to the top and sliced out splits of :29.2, 1:00.4 and 1:29.4. Homen Dry commenced a first-over rally going into the final turn, and when Jetpedia made a break in the lane Homen Dry trotted clear and posted the win by three-quarters of a length. Southwind Stryker rallied for the runner-up award, while Lookslikeachpndale was third.
"He's done quite well. He's a tricky little guy to drive at times, but he's got lots of speed anyway," said driver Chris Christoforou. "It wasn't really where I wanted to be, but because of his habits he'll tend to pull up on the front. I didn't really want to be there even though the fractions were slow. I knew it wasn't good for him so I had to sit back – and I didn't want to be too far back because the fractions were slow so I was as close as I could be without being on the front and it worked out well."
Paul Van Camp, Ben Mudry and Tim Murray own the lightly-raced rookie, who has posted a 2-2-0 in his first four starts while banking $35,500 in the process. He was a $19,000 purchase from last year's Harrisburg Yearling Sale.
To view results for Thursday's card of harness racing, click the following link: Thursday Results – Mohawk Racetrack.