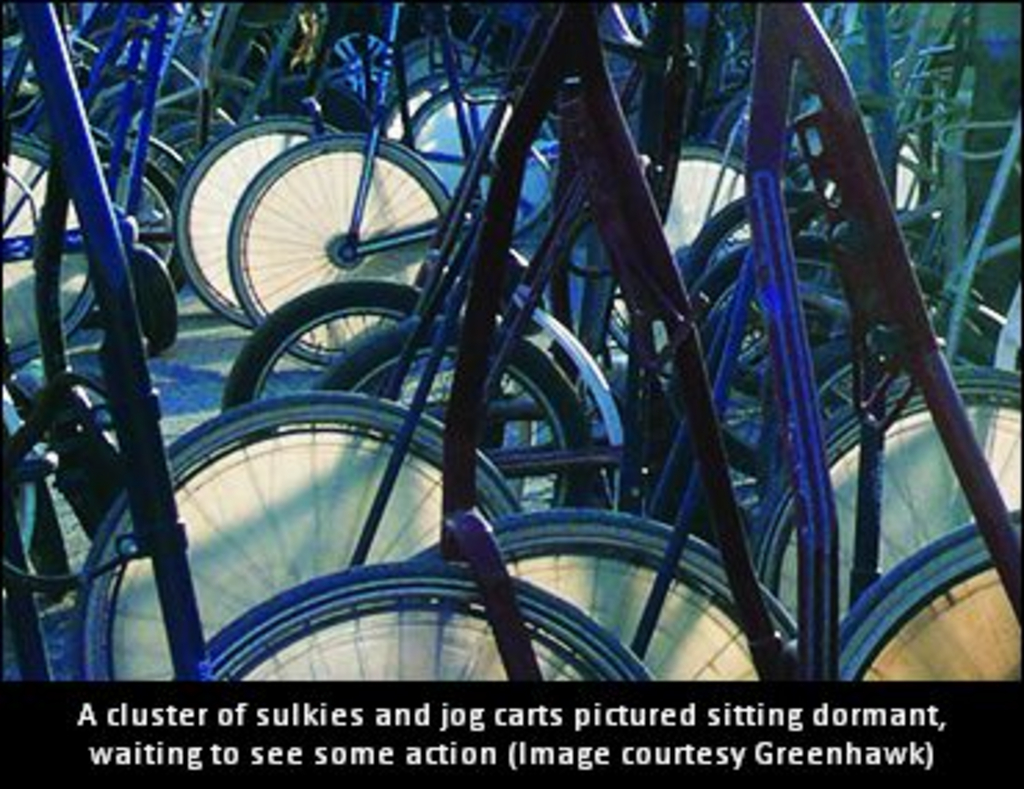 Published:
July 9, 2018 11:33 am EDT
When you think of the sport's top driving colonies, which track comes to mind? Woodbine Mohawk Park? Yonkers Raceway? The Meadowlands Racetrack? There are many to choose from, although one colony that tends to get overlooked has been making some real noise as of late.
The epic growth of harness racing in Massachusetts since the introduction of gaming at Plainridge Park in 2015 has produced increased handles and purses, a higher calibre of horse competing, and, in turn, more reinsmen to steer them as well.
As evidence of that, the current driver colony at Plainridge includes Drew Campbell and Shawn Gray, who are currently the top two leading UDR drivers in North America for drivers with 500 or more starts, along with fast-rising star Mitchell Cushing, who is the seventh best on the continent for those with 300 to 499 drives.
Campbell is the top UDR driver in the United States with a .426 and is also at the top of the win charts at the Plainridge meet with 88 victories from 385 starts and $601,863 in earnings. He's also sporting a .397 UDR and has hit the board 59 per cent of the time.
Campbell also is the leading driver at Scarborough Downs, where his numbers are equally impressive. There he has 76 wins in 235 starts and $191,227 in purses. He has a UDR of .477 and hits the board at an unbelievable 65 per cent clip.
Campbell is on course for a personal-best season in terms of wins and earnings, even though his career numbers are already quite impressive. He currently sits at 4,737 wins and is just short of $13 million in earnings. He has hit the board at a 53-per-cent clip since 1989.

Drew Campbell, Shawn Gray and Mitchell Cushing (Images courtesy Tom Melanson)
Gray is right behind Campbell in the U.S. with a .417 UDR and currently sits third in victories at Plainridge with 62 behind Greg Merton (65), who is the defending driving title holder at Plainridge over the past two seasons. Gray has also pocketed $455,966 in purses, hit the board 58 per cent of the time and has a local UDR of .371.
Gray splits his time at Buffalo Raceway and is the second winningest driver there with 103 tallies from 301 starts behind Drew Monti (114), who leads the locals in western New York. At that meet, Gray's UDR is a lofty .483 and he's extracted $511,544 from that track's coffers to date.
Like Campbell, Gray is also on track for new personal one-year standards for wins and earnings and is almost certain to get them. For his career to date, Gray has 3,970 wins and just under $15 million in purses.
Plainridge's sixth-leading dash driver is Mitchell Cushing, who ranks seventh in North America for drivers between 300 and 499 starts and is only .010 out of second place in that category.
At 'The Ridge,' Cushing has 23 wins from 147 starts, $154,278 in the bank and a UDR of 261. He has hit the board at a 40-per-cent clip while sporting a phenomenal 90 per cent return on investment rating that illustrates how many times he's brought the long-price horse back to the winner's enclosure.
Cushing also drives at two tracks and is currently second (behind Campbell) at Scarborough Downs with 47 wins, $132,184 in earnings and a UDR of .385.
Cushing is only 20 years old and is a driver whose career is taking off. After racing in Maine and Massachusetts since he was 16, Cushing decided to up the ante and made the move to the Meadowlands this past winter to compete with some of the best in the business. He got his first win on the big stage on March 17 behind Flyn With Royalty in gate-to-wire fashion. Since returning home to New England, he has exhibited skills and patience that have gotten noticeably sharper. As a result, he has become a sought-after catch driver at both tracks.
(Standardbred Owners of Massachusetts)