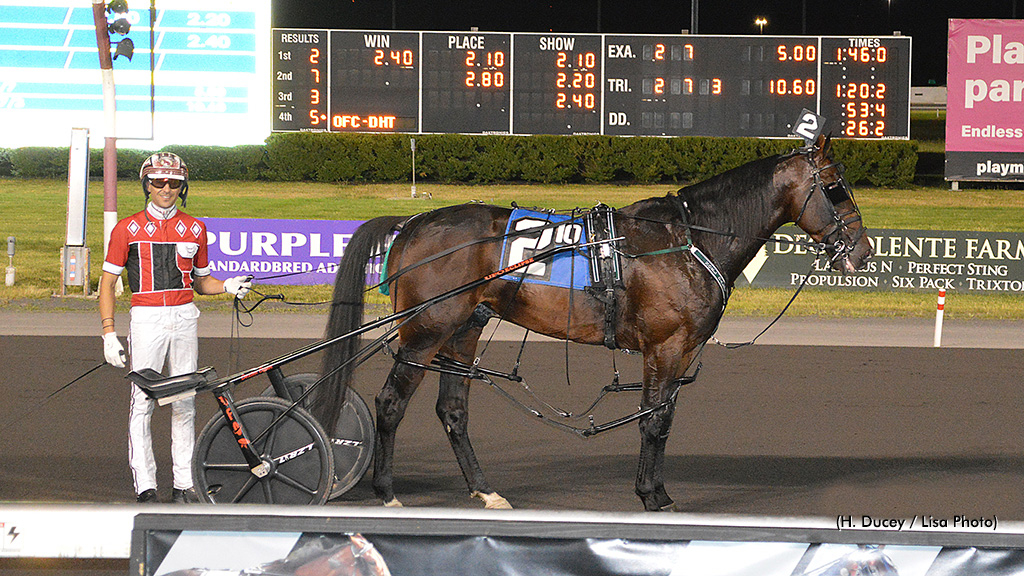 Published:
July 8, 2022 09:51 am EDT
Canadian harness racing is once again directly involved with the fastest mile in the history of our sport.
Over the past 40 years, Canadian connections have been prominently involved with record-setting speed but that tie was broken a few years back when Always B Miki shaved one-fifth of a second off the 1:46.1 time trial of Cambest in 1993. At that time, Nova Scotia natives Fred Grant and Bill O'Donnell were both intricately involved with the event as the trainer and driver of the speedy Cambest, and that mile time was still the all-time standard despite a number of 1:46.4 race miles since.
Before Cambest, there was Matts Scooter's 1:48.2 time trial in 1988. Matts Scooter was steeped in Canadian connections, from driver Mike Lachance, trainer Harry Poulton and owners Gord & Illa Rumpel and Charles Juravinski. The mark that Matts Scooter eclipsed was the 1:49.1 epic time trial of Niatross in 1980 — the first sub-1:50 mile in harness racing — engineered by a Canadian expat, trainer / driver Clint Galbraith.
Now, three horses comprise that Mt. Rushmore of Standardbred speed: Always B Miki, Lather Up and Bulldog Hanover. The latter of that group took his place among the elite with a sizzling 1:46 mile at The Meadowlands on July 2.
A son of Shadow Play - BJs Squall, Bulldog Hanover is owned by trainer Jack Darling of Cambridge, Ont. along with co-owner Brad Grant of Milton, Ont. Darling sent his stable star to Noel Daley for a number of stateside appearances in order to focus on the younger future stars in his tutelage. Like many, Darling watched the historic moment as a spectator from the comfort of his own home. Given the 1:47 mile from the week before, and the performance at Hoosier in 2021 where he took his 1:48 sophomore mark over a track that was listed with a two-second variant, a mile in the 1:46 range wasn't out of the question.
"I've always thought that he had it in him," Darling told Trot Insider. "I mean, when you get down to 46 flat...well, I mean, you're pretty well to the limit as close as they can get. But with him, I've always thought if he's got a chance at it, he can do it. You've still got to win the race to get the mark, but I've always felt like he could go that kind of speed. And then watching him last week – I mean, when I'm watching, I'm watching the close-ups of his head and his ears and watching how he's doing it. It just kind of gives you goosebumps when he's coming around the turn for home...you just feel like he's going to do it. And yeah, you just get the feeling. You know, if things go well, he's maybe got another tick or two in him."
 
For a comparison, purely from a perspective of positioning and with all things being equal, Niatross would have finished 16 lengths behind Bulldog Hanover on Saturday night. That comparison isn't intended to diminish the accomplishments of a 1:49.1 mile. In fact, there's still something special when a sub-1:50 mile is mentioned in racing circles. That speed from Bulldog Hanover is just that much more impressive. Darling agreed.
"It's hard to really fathom," admitted Darling. "In my spare time, I was actually watching the miles that Always B Miki went when he went [1:]46 and Lather Up, and to realize that 'Bulldog' came a faster last half and a faster last quarter by like three-fifths of a second to do it...It's pretty awesome to be a part of it."
Modesty aside, saying that Darling and his team are just a part of the process that prepared Bulldog Hanover for his record-setting performance isn't exactly fair. From selection to schooling and scheduling, it's been nearly three years since the yearling colt would have been first noticed in a paddock video or sales ring. And as any industry veteran knows, horses like this do not come along every day.
"It really is as exciting as it gets. And when you've been doing it as long as I have, I mean that's what you're looking for. And it's just very humbling, really, to be a part of that horse. You just want the best for him."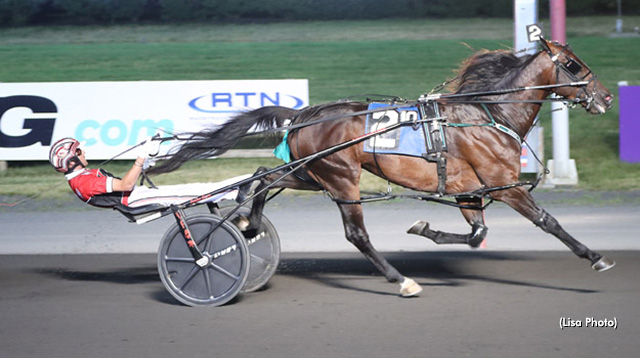 ​
Darling typically concentrates on two- and three-year-old stakes performers in his stable, and he has built a solid reputation over the years for developing those younger horses while not racing older stock. Bulldog Hanover is the exception to that rule, and clearly there's an important reason why. Having said that, sending such a star to another stable isn't something easy. Thankfully for Darling, he had developed a relationship with trainer Noel Daley a number of years ago with Kentucky Sire Stakes champ Carnivore. That successful stateside stint helped set up a similar sojourn for Bulldog Hanover when Darling had a decision to make with one horse in one location and a number of horses needing attention at home.
"He's a proven winner," said Darling. "For me, it's just hard to send a man on the road and he's gone for that long. You know, Johnny Mallia looks after him at home. He hated to let him out of his sight, but it's just something we had to do. So [Bulldog] is there for the four races and he'll come back and we'll, we'll go from there.
"We're busy here. We've got the two-year-olds getting ready for the stake races, so it was just too hard to send Johnny with him."
After this Saturday's Graduate Final, Bulldog Hanover only has one more stakes event on his plate for The Meadowlands this summer -- the William Haughton Memorial on July 16. Thus, no Sam McKee Memorial at the Big M on Hambletonian Day. Bulldog Hanover will be watching that one from his stable at Classy Lane Training Centre. His next slated stakes event after the Haughton Memorial is the Dan Patch Stakes at Hoosier Park.
This Saturday's Graduate Final also marks the final stakes event strictly for four-year-olds, and Darling isn't afraid of the open competition on the horizon. In fact, he feels this four-year-old group comprises the bulk of the heavy hitters in the open ranks.
"I've heard for years about how it was too tough on a four-year-old to break in, and I never really bought into that. I've always thought [that] their four-year-old year, to me, is probably their best year because they're still young enough and sound enough. And they've had enough experience...to me, they should be at their peak. But the thing is, when they get to be four racing against all these older horses, you're racing against the best. But I do believe this year, the four-year-olds are the best.
"This weekend, it could be as tough a race he has all year because there are good ones in there and they're sharp. A lot of sharp horses. It'll be a great race."
Like last week, Darling will be watching from his home in Cambridge, Ont. as Bulldog Hanover leaves from post two in the $250,000 Graduate Final. There are no aspirations of another historic effort, just a sincere hope that his prized pupil is able to once again show his talent and perform.
"It's got to the point you're like, it's not even about the money. It's all about the horse. He's just a special horse and you're watching him and just cheering him on and hoping for the best, and hoping he can show his stuff."