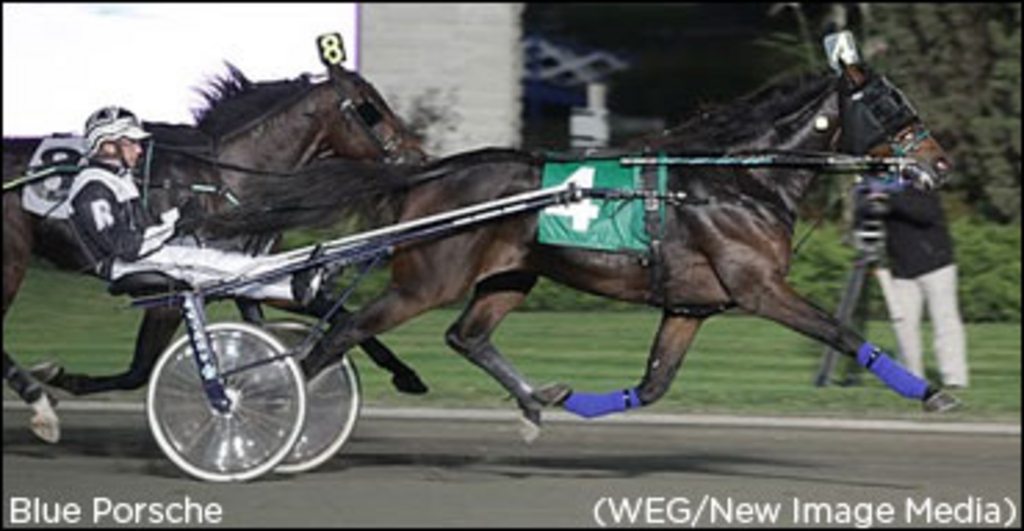 Published:
July 11, 2011 11:50 am EDT
It's Week Seven of the Road to the Hambletonian Top 10, with the $445,474 Yonkers Trot in the books and the Stanley Dancer Memorial on tap Saturday, just three weeks from the greatest day in harness racing
Road to the Hambletonian Top 10 - Week Seven
1-Blue Porsche – Remains the leading contender based on his impressive win in the Goodtimes, now more than three weeks ago and three-for-three record at Mohawk, expecting to get a better gauge on this son of Glidemaster in the Stanley Dancer Memorial.
2-Broad Bahn – Went all the way in a sharp, well rated 1:54.3 mile over a sloppy track in a 3YO Open at the Big M on July 8, last year's leading Big M driver George Brennan made the trip count, Noel Daley's answer to 2009 runner-up Explosive Matter hasn't missed the board in five starts this year.
3-Pastor Stephen – Beaten heavy favourite in a 3YO Open at the Big M on July 8, finished a wide second to Broad Bahn in :27.3 and seemed to struggle with the sloppy track, had been off two weeks after finishing a solid second in the Earl Beal, Jr. Memorial, no worse than second in five starts this year.
4-Charlie De Vie – Rested for the Stanley Dancer Memorial by not racing last week, five for six this season, fresh off a handy score in a 3YO Open at the Big M in 1:54.2, cruising home in 27.3, and twice a winner here in 1:54 this season.
5-Leader Of The Gang – Son of Muscles Yankee gave Jimmy Takter his third straight Yonkers Trot (two in a row for Dave Miller), Takter credits his daughter, Nancy for getting the NJSS champion to go in the right direction.
6-Chapter Seven – Windsongs Legacy colt won seven of eight last year and capped his freshman season winning the Matron Final for Linda Toscano and Mike Lachance, set back by a bout of pneumonia, won a qualifier at the Big M on July 7 in 1:54.1, final quarter :27.2.
7-Del Cielo – Interesting son of Broadway Hall out of a Malabar Man mare cycling forward for Buzzy Sholty, finished a close second in the Yonkers Trot, also had a couple of solid on-the-board finishes in PASS, a fresh face in a sea of question marks.
8-VC Chocoholic – A fading fifth behind Broad Bahn on July 8, regressing over a sloppy track, suffered an interference break and seventh as the beaten favourite in the Dickerson Cup at Tioga Downs, still tough to completely dismiss this Goodtimes elimination winner with the way Trond Smedshammer is going.
9-Manofmanymissions – Off last week after breaking as the heavy favorite in a 3YO Open on July 1, easily won his seasonal debut in NJSS in 1:55.2, but time is running out for the Breeders Crown champion to bounce back.
10-Big Rigs – Made a break and finished sixth in a Reynolds Stake division at Pocono Downs on July 9 two weeks after his fourth in the Earl Beal, Jr. Memorial, stablemate Bambino Hall also broke in the Yonkers Trot, so Kelly O'Donnell has his work cut out in the next few weeks.
(Meadowlands Racetrack)