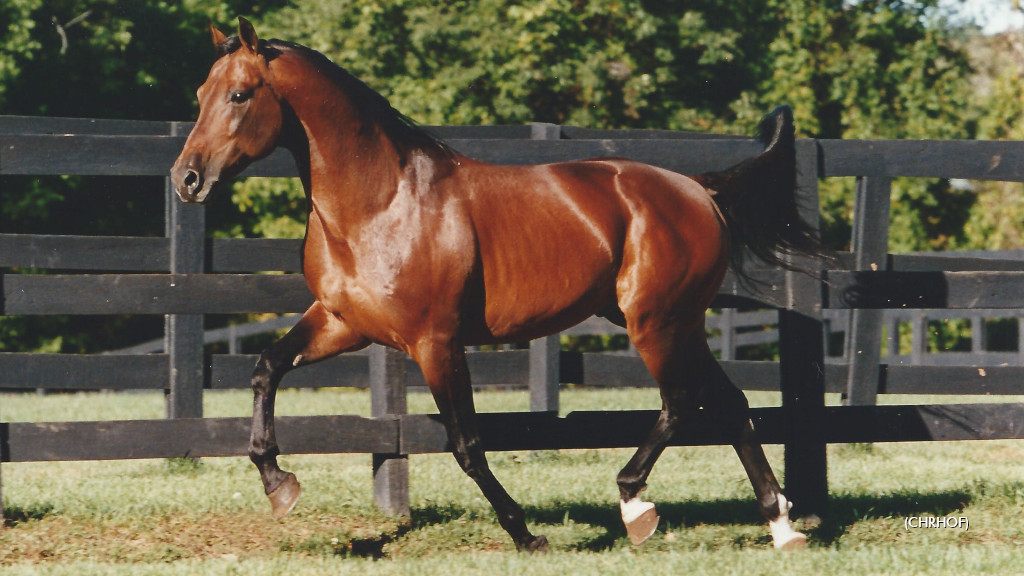 Published:
June 9, 2023 01:08 pm EDT
"My world champion." Those are the words Brad Fritz – caretaker of Apaches Fame and son of the late William 'Bud' Fritz – thinks of when he hears the famous horse's name 33 years after his triumph in the 1990 Pepsi North America Cup at Greenwood Raceway.
The Pepsi North America Cup was established in 1984 and immediately became Canada's premier harness race, attracting top talent from across the continent. But it wasn't until the seventh edition that a three-year-old pacer sired by a stallion standing in the Cup's home province was victorious.
"Winning the N.A. Cup meant the world," said Fritz. "It's hard to describe. When you win a race that big with an Ontario Sired [horse], to the breeders, that is everything. It was just such a big thing, an Ontario Sired [horse] winning the North America Cup."
The proof Ontario Sired colts could hang with the best was nearly derailed in the elimination when Apaches Fame, driven and trained by Bud, hooked wheels with Scoot Outa Reach.
"He hooked wheels with Scoot Outa Reach going to the three-quarter pole, and it wasn't my father's fault for sure," said Fritz. "Bill O'Donnell will even tell you that. That threw a scare into us because he only finished third in the elimination, and that was a setback."
In the final, Apaches Fame was the benefactor of an early break by favourite Beach Towel, who went off-stride battling for the lead around the first turn.
Bud Fritz moved Apaches Fame to the lead as the field passed the finish line for the first time, and didn't relinquish the lead through another lap around the five-eighths oval.
"By the time the finish came, I was in the middle of the racetrack," said Fritz. "I think I just about knocked dad off the cart I was so happy. That was my best night, or one of the best nights with him."
Joining the Fritz family and Dovers Venture II Stable owners Bob Chapple, Dr. Jan Vankleek, Ross Cushman, Tom Lightbody and Gary Noltein in the winner's circle, were 100 other diehard fans of Apaches Fame.
"The bus crew that came from Chatham was amazing, and they followed him all year," said Fritz. "There were over 100 people just from Chatham in the winner's circle. There wasn't much room for the horse, let's put it that way."
Apaches Fame was by Ontario sire Apaches Circle, who in 1986 commanded a modest stud fee of $2,000. Chapple bred his unraced mare Dovers Skip to Apaches Circle, and when Apaches Fame was born a year later, he was broken in by Fred Jewell of Dresden, Ont., before being sent in 1988 to the Fritz family farm in Walkerton, Ont.
"He was on a stock trailer with seven other horses," said Fritz. "It was opened up at our back door on the farm and he was about the second or third one off of it. I pointed at him and said he belongs in that stall there, that was my section."
According to Fritz, on the farm Apaches Fame was the easiest horse to train down ever, but didn't feel like going fast.
"You could beat him with a $2,000 claimer at the farm, but he was a different horse when the wings were in front of him. Altogether different," said Fritz.
Once he left the farm, Apaches Fame had instant on-track success. He won his first couple of starts with Brad driving, before his father went behind him for good.
"I went his first four starts with him as a two-year-old," said Fritz. "After I set the track record with him at [Kawartha Downs] then my dad took over the driving on him because he knew how good he was."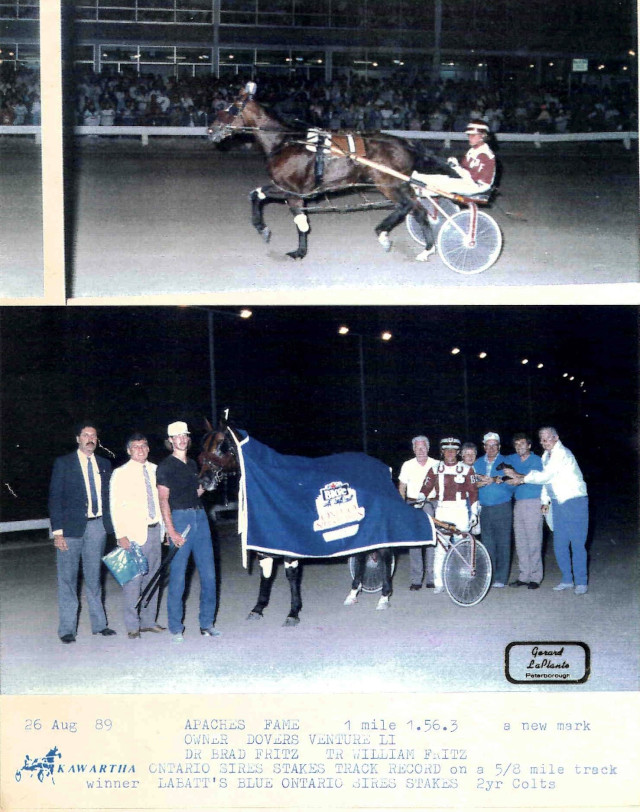 ​
Apaches Fame won 15 times in 16 attempts in the Ontario Sires Stakes, and in addition to his victory in the Pepsi North America Cup he also won major stakes such as the Confederation Cup and later set a track record for aged pacers at Rideau Carleton Raceway in 1991.
With his father passing last January, Fritz feels lucky to have had such great horses that will keep his father's name alive in the minds of harness racing fans for years to come.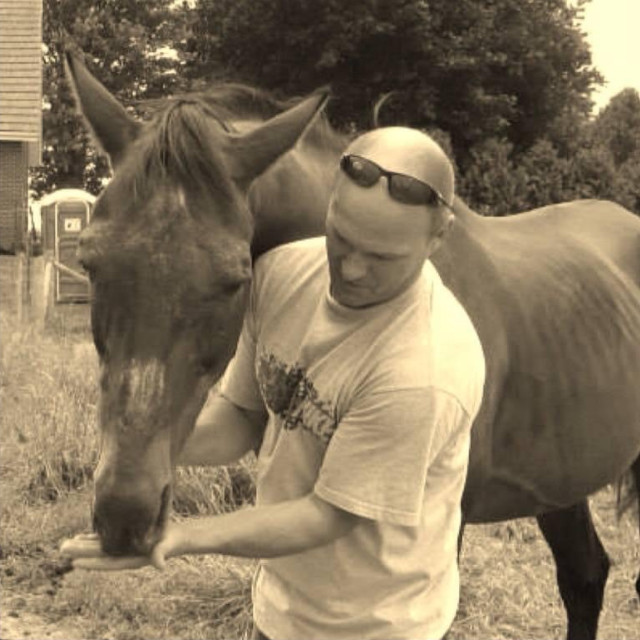 ​
"I am very proud of these moments. My father loved horses so much. I hope that nobody forgets about him," said Fritz. "Apache was a world champion, and a lot of people had a lot to do with that, so I am very proud."
(OSS)