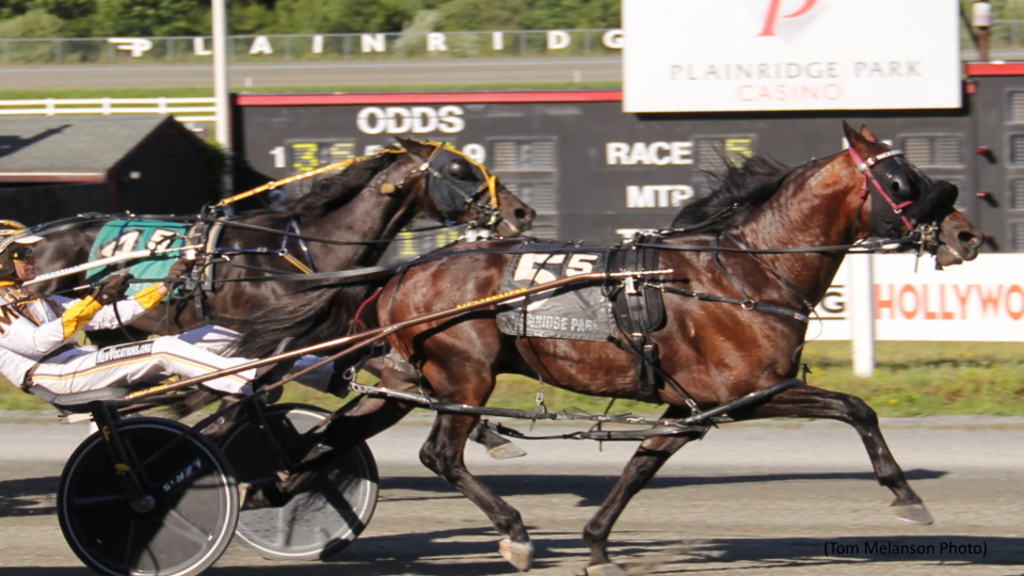 Published:
June 9, 2022 08:34 pm EDT
There was $50,000 up for grabs between two Open class races drawn by gait at Plainridge Park on Thursday afternoon and the best horses on the grounds put on quite a show. 
In the $25,000 pace, Always A Miki won his second straight race and doing it off a perfect trip. 
Skyway Victor (Kevin Switzer, Jr.) grabbed the lead, seating Rock Diamonds N (Ron Cushing) and Lake Charles (Leon Bailey) who did challenge off the gate. As the field moved towards the half, Hudson Phil (Jay Randall) pulled first-over from fourth and Always A Miki (Drew Monti) was glued to his back as they past that second station in :55.
Positions remained unchanged up the backstretch and to three-quarters with Skyway Victor still battling Hudson Phil for the lead heading into the final bend. Just before the group hit the stretch, Monti tipped Always A Miki three wide to get around Hudson Phil, who finally put away Skyway Victor and had the front. As they straightened out, Always A Miki ran down Hudson Phil to gain control and then held off a strong late bid by post time favourite Patrikthepiranha A (Bruce Ranger) to win by three-quarters of a length in a personal season's best 1:50.4. 
On the strength of his twelfth lifetime win, the four-year-old Always A Miki ($9.00) has now earned $452,532 during his career. Owned by Joe Trice, Always A Miki is trained by Jimmy Nickerson. 
Monti ended the day with three driving wins while Nickerson scored two on the training side. 
Later in the $25,000 trot, Remember Titans came from far back to score his third straight victory in dramatic fashion.
Nows The Moment (Kevin Switzer, Jr.) left the gate and flew to the front along with Trix And Stones (Drew Monti) who settled in second and Remember Titans (Jay Randall) who tucked in fourth behind Funnyfunnyriddle (Matty Athearn). The field then set pedestrian fractions of :28 and :57.2, but that was about to change. 
Funnyfunnyriddle came first-over to apply some pressure to Nows The Moment and pushed the third quarter to 1:25.3, with Remember Titans on his back and Trix And Stones still in the pocket. As they headed into the far turn, Funnyfunnyriddle started to fade and Randall tipped Remember Titans three deep, trying to catch the now loose leader. At the top of the stretch Nows The Moment looked vulnerable as Remember Titans drew alongside and Trix And Stones vacated the pocket under a drive. Remember Titans took the lead and then held off Trix And Stones in deep stretch to win by a neck in 1:54.1. 
It was the sixth win in the last seven starts and eighth win of the year for Remember Titans ($4.00) who is owned by Kellogg Racing Stables and his trainer Jackie Greene. 
Driver Bruce Ranger and trainer Domenico Cecere combined to get a tag-team triple on Thursday as they sent Monimovesmountains, Wily Wally and Ill Have A Lindy all for win pictures.  
Live racing resumes at Plainridge Park on Monday (June 13) with post time at 4 p.m.
(Standardbred Owners of Massachusetts)