Published:
June 3, 2017 10:07 pm EDT

All Bets Off reeled in the wide open race leader Luck Be Withyou to win the $200,000 Battle Of Lake Erie in a track record performance at Northfield Park on Saturday night (June 3).
Leaving from post three, Luck Be Withyou paced out to a quick five-length lead for driver Aaron Merriman, clocking a 26-second opening quarter and :52.4 half. Down the backstretch to three-quarters in 1:20.3, the even-money favourite All Bets Off and driver Matt Kakaley swept three-wide and took the lead in the final turn en route to victory in 1:49.2 over the game Luck Be Withyou. The winner's stablemate Rockin Ron and Ryan Stahl finished third.
The time of the mile eclipsed Western Millenium's 1:50.4 track record set in 2002 for pacing horses five years old and up.
"I just got away fourth. I figured Aaron was going to rock 'n roll; I know how his horse likes to do it," said Kakaley of his strategy. "I didn't want to take a chance of him not letting me go or me not finding a hole so I was just going to get away and cross my fingers."
Kakaley said All Bets Off felt good when he moved him three-wide, but gave credit to Luck Be Withyou for holding his own.
"I moved him over and he made a good brush. I thought I was going to pace right by Aaron to be honest with you, his horse raced great. He fought hard around the turn and I kind of pulled away a little bit at the end there. Like I said, I thought I was going to go right by, but his horse was game."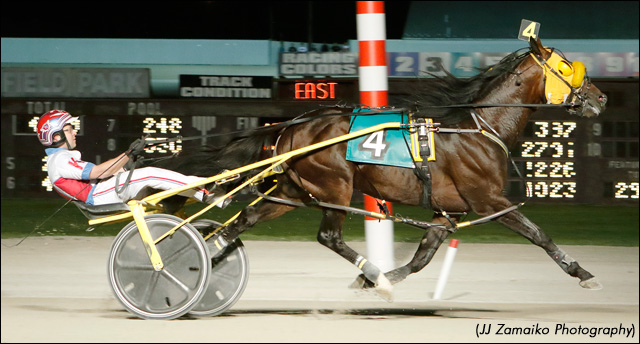 All Bets Off, who is now three-for-nine this year, earned his 25th career win and boosted his bankroll to $2.45 million. The six-year-old son of Bettors Delight is owned by Burke Racing Stable LLC, Weaver Bruscemi LLC, Frank Baldachino, and The Panhellenic Stable Corp.
Kakaley has been the regular driver of All Bets Off, a horse that holds a special place in his heart.
"We've won some big races together and he's brought me a lot of places I've never been to before," he said. "He's special to me and it feels good."
Kakaley earned his fourth win in the Battle of Lake Erie following past victories with Foiled Again in 2009, 2011 and 2015.
This was the first year since 2009 that Foiled Again did not compete in the race, however, he was still in the spotlight on Battle of Lake Erie Night.
After competing on the undercard, finishing fifth in the $20,000 Open Pace, the richest horse in the history of harness racing came to the grandstand apron to greet the public and pose for selfies with his fans.
Foiled Again, 13, has career earnings over $7.5 million and has won 94 races so far in his career.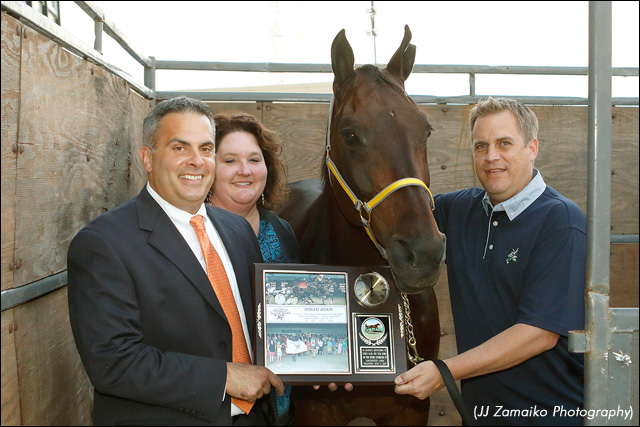 Executive Vice President of Racing and Simulcasting, Dave Bianconi, and Ohio Harness Horsemen's Association Track Representative, Amy Hollar, presented a plaque to part-owner Mark Weaver recognizing Team Burke and Foiled Again's historic contributions to Northfield Park.
Team Burke also won a pair of Opens on the undercard with DWs NY Yank trotting home a winner in 1:55 and Lakeisha Hall establishing a new world record for four-year-old pacing mares on a half-mile track. Her winning time of 1:50.3 broke Shes A Great Lady's 1:51 mark.