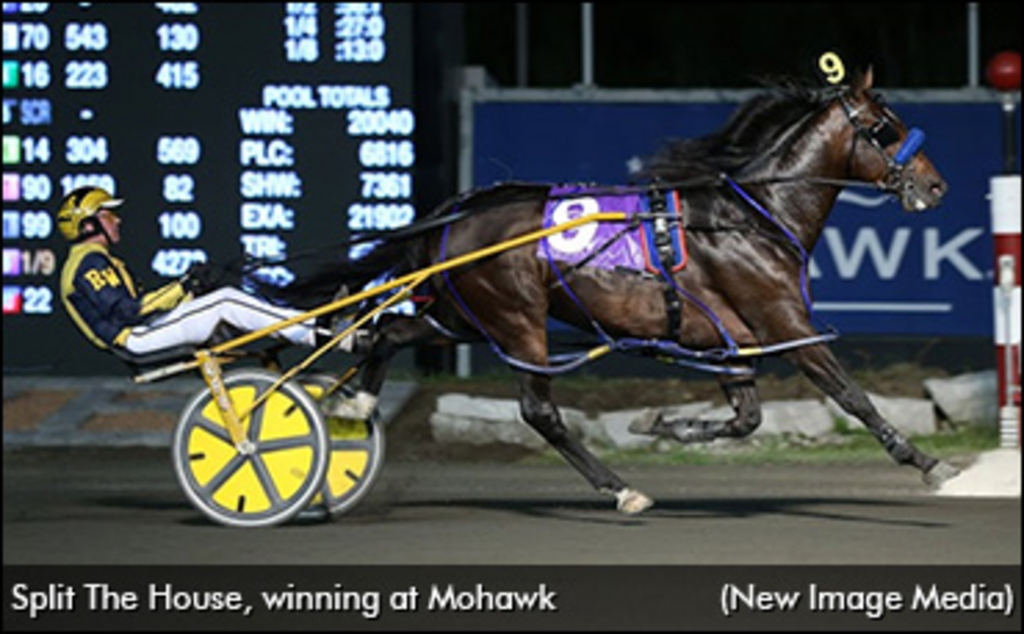 Published:
June 13, 2015 08:37 am EDT

One year ago, trainer James 'Friday' Dean found out that one of his more promising two-year-olds would require stall rest after suffering a season-ending injury. One year later, that horse is undefeated and entered in the eliminations for the $1 million Pepsi North America Cup.
In reality, this story started eight years ago when Dean campaigned pacing filly Shake That Junk. In two seasons on the track, the daughter of Camluck banked nearly $400,000 before becoming a broodmare. Her second foal and first colt, a son of Rocknroll Hanover named Split The House, caught Dean's attention in the 2013 Black Book yearling sale at Harrisburg.
"I like the Rocknroll Hanovers and of course we had his mother, she was a nice filly," Dean told Trot Insider. "We went and looked at him and he was a good looking colt. I thought we'd have to go to $100,000 on him, and we got him for $60,000."
Dean shipped Split The House to Florida to train down over the winter, and the colt showed some potential. Upon returning to Canada, that potential was stifled with news of an injury.
"We got him down to 2:02 about mid-June of last year and he ended up cracking a pastern," said Dean. "There was no surgery involved but he had to stand in a stall for four months to heal up."
That stall rest would consume the bulk of the stakes season, placing him in a pseudo pacing purgatory until mid-October. Upon hearing the news, Dean almost felt as though he should just pack up and head back to Florida.
"There really wasn't a whole lot else. We really thought he was going to be our two-year-old last year."
In spite of the injury and no starts, the connections kept the colt eligible to the 2015 Pepsi North America Cup. That's certainly not an easy decision when the horse had yet to qualify, let alone race.
"He had such a great attitude and we just really liked the horse. And I know it's tough to pay one into the 'Cup' when they don't even race as a two-year-old because you really have no clue," admitted the longtime trainer. "Sometimes you can qualify a horse in :55 and that's about all they can go."
Finally making it behind the gate this past April at Southern Oaks Training Centre, Split The House won both his early tests in times of 1:55.2 and 1:54.1 respectively. That second qualifier came against Tomy Terror, a colt that concluded his rookie season with a mark of 1:50.2. The miles also drew praise from the colt's driver, Hall of Famer Ron Waples.
On May 11, Split The House made his pari-mutuel debut at Mohawk Racetrack and paced to a 1:53.2 victory by nearly three lengths. That win was followed by back-to-back 1:52.2 wins before his most recent race on June 6. Not eligible to the Somebeachsomewhere Stakes, Dean placed his pupil into a conditioned race. He won it with authority. Shaving two full seconds off his lifetime best, Split The House tripped the timer in 1:50.2
The mile time was also a tick of a second faster than both Somebeachsomewhere divisions -- each paced in 1:50.3. That performance was enough to give Split The House a shot against the stakes competition he faces Saturday night.
"He went the same speed that the Somebeachsomewhere colts went, and he raced tough there," noted Dean. "He showed some guts the other night, came first up and battled down the lane. He had to fight and he came through. So I thought we'd give him a shot here."
While the post gods were kind with a starting spot -- post position 5, the highest win percentage post among pacers in 2015 -- they added heavy competition with the likes of divisional standout Artspeak (PP7, Scott Zeron, 6-5), 2014 Breeders Crown champ Traceur Hanover (PP6, Mario Baillargeon, 8-1), Governor's Cup elim winner Pierce Hanover (PP8, Jody Jamieson, 8-1) and PASS standout Wakizashi Hanover (PP1, Tim Tetrick, 9-2).
"I think it's the toughest division. Not only with Artspeak in there but you have about three or four others in there that are going right around :50, but we went :50 over Mohawk, and they've been doing it in the U.S. My guy keeps getting better every race."
Not only has Split The House improved every race, he's impressed his connections. Driver Randy Waples, who has driven this colt for each of his four starts, was listed on both Split The House and Traceur Hanover on entry into the race. Dean feels that if the race sets up right, Split The House will be heard from.
"He's got such a great attitude. With the Rocknrolls it can be hit or miss...ask anyone that's trained a bunch of them. I had Panther Hanover, he was a Rocknroll, he had a great attitude and would challenge the horses around him. And I had Classic Rock N Roll, who still made a lot of money but his attitude wasn't the greatest. If he ever tried 100 percent in a race he'd have been a hell of a horse.
"This colt here, his attitude has been A1 since the get-go."
Twenty-four horses will start in three $50,000 North America Cup eliminations Saturday (June 13) at Mohawk in search of a spot in the $1 million final the following week. The first race will head to post at 7:25 p.m.
To view the harness racing entries for Saturday at Mohawk, click the following link: Saturday Entries – Mohawk Racetrack.
To access a free program for Mohawk's Saturday card, courtesy of TrackIT, click here.
Trot Magazine assembled its annual Pepsi North America Spring Book earlier this year and pegged the then-unraced Split The House at 100-1.
A total of 72 colts and geldings had been nominated to the NA Cup back in February and the connections of 47 of those horses made the final sustaining payment in late May. After this past weekend's card of racing, Trot Insider compiled a list that tracked how the eligibles have raced leading up to the eliminations. To view the list, click here.
It has been announced that TSN1 will televise the Cup final on June 20 and that the marquee race will also be featured on Sirius XM satellite radio during an edition of the 'Saturday Night at the Races' series.