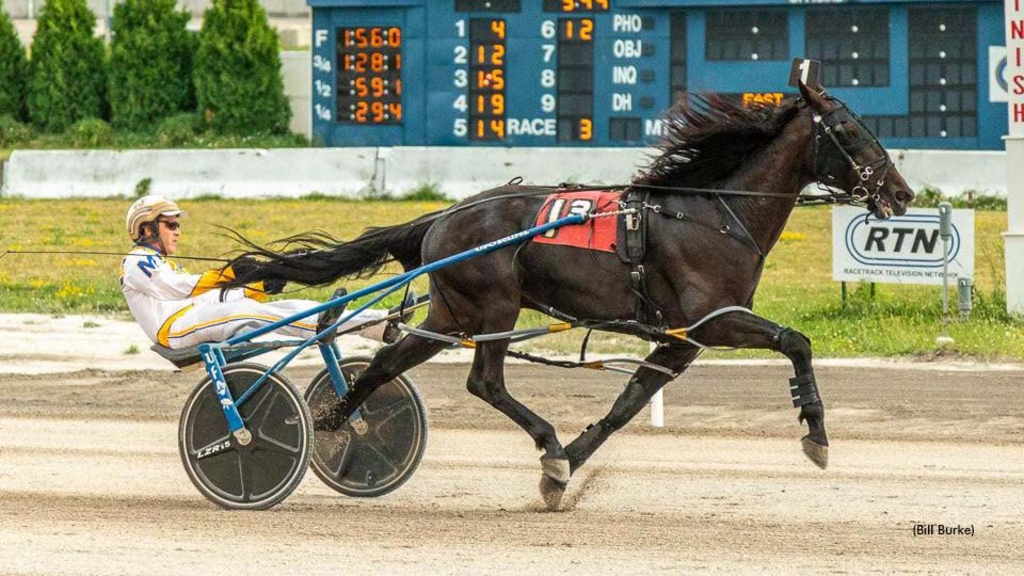 Published:
May 4, 2022 04:36 pm EDT
After breeder George Zitone saw Ray Schnittker purchase So Park N Proud at the 2020 Goshen Yearling Sale, he approached the trainer and asked about retaining an interest in the pacer. Schnittker said yes, but he was changing the name of the horse.
The new name would be JD, after Zitone's son, who had been a two-time NCAA Division III All-American wrestler at Centenary University, placing second in the nation at 285 pounds in 2013 and seventh in the country the year before. While in high school, J.D. Zitone had finished second and fourth in the New York State Tournament.
Schnittker himself was a standout scholastic wrestler in New York before turning his talents to harness racing. He still follows the sport closely and has officiated youth matches.
"I've done work for Ray but never owned horses with him," said Zitone, who runs a family-founded construction company in addition to his involvement in harness racing. "Ray said I could keep a part of the horse, but he was going to call him JD. Ray knew my son from wrestling.
"I was fine with that," he added with a laugh. "But I had nothing to do with it."
JD, like his wrestling namesake, knows how to come up big. He was the 2021 New York Sire Stakes champion for two-year-old male pacers and has earned $148,316 for owners Schnittker, Zitone and Melissa Beckwith. On Friday, he will make his three-year-old debut in the $41,100 W.N. Reynolds Memorial at Yonkers Raceway. The gelding will start from post one with Tyler Buter in the sulky and is 5-1 on the morning line.
"He's really fulfilled more than my expectations," Zitone said about JD, a son of So Surreal-Park N Orchard who has hit the board in seven of 11 races, winning three. "He's a big, powerful horse. He has speed and he's versatile too. I think he's an overachiever, myself. Sometimes you get lucky."
Zitone's family got started in harness racing in the early 1970s. His father, Joseph, and uncle, Edward, started a farm and training center called Big Z Stables in Montague, New Jersey, and also bred and owned horses under the same name. George trained and drove horses for a number of years before becoming more immersed in the family's construction company following his dad's passing in 2005.
"It was always my passion to be a driver and trainer," said Zitone. "I soon figured out that my passion wasn't paying the bills too good. When my father passed away, I had to concentrate on the construction business. When he was alive, it was a lot easier to play. When he passed away, the playing kind of stopped."
Zitone sold Big Z Stables a couple years ago to Rob Harmon and Steve Finkelstein.
"It just got to be too much work," said Zitone, whose daughter, Heather, works at Fair Winds Farm in New Jersey. "If it wasn't for my kids helping do the work nothing would have gotten done."
Despite becoming less hands-on, Zitone has remained active in harness racing. He has several broodmares and currently has two racehorses, a two-year-old male pacer named Boozer that he owns with Beckwith and Steven Arnold as well as JD.
"I like to stay involved," said Zitone, who in addition to his other responsibilities is a former mayor of Montague, like his father before him, and current member of the Township Committee. "I just go with the flow."
In the Reynolds, the entry of 2021 MGM Springfield Stakes winner Pleaseletmeknow and American Zestar is the 5-2 morning-line favourite. PJ Lou is 3-1 followed by recent Paul Revere Pace winner Groovy Man at 7-2.
The card also includes the $34,400 W.N. Reynolds Memorial for three-year-old female pacers. Gotthegreenlight, a New York Sire Stakes champion and winner on the Grand Circuit in 2021, is the 9-5 morning-line favourite.
Racing begins at 6:55 p.m. EDT at Yonkers Raceway. The two Reynolds stakes top the 10-race card. For Friday's complete entries, click here.
(USTA)