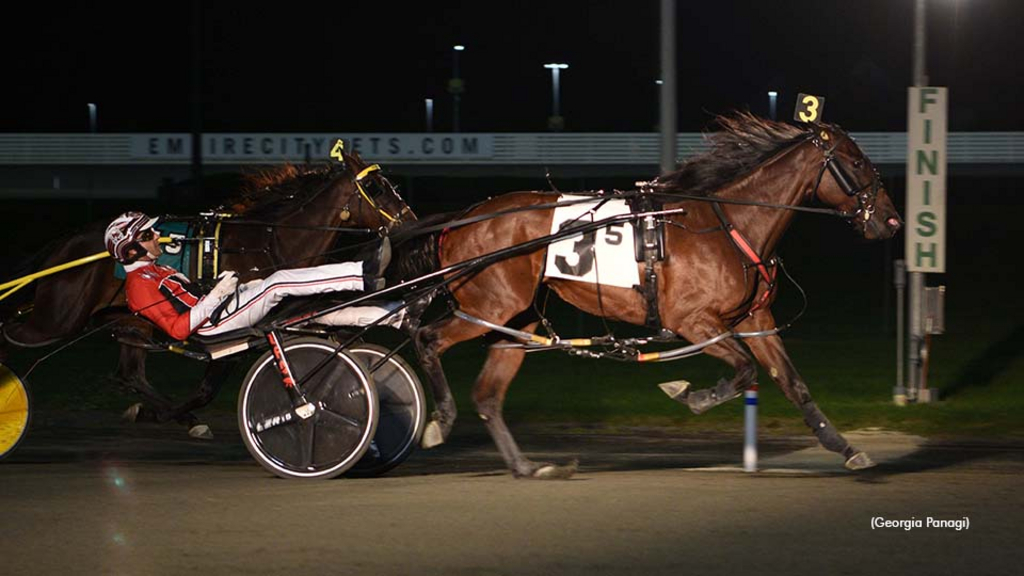 Published:
May 3, 2022 10:46 am EDT
Harness racing's Grand Circuit returns to Yonkers Raceway on Friday night (May 6) with splits of the W.N. Reynolds Stakes for three-year-old pacers of both sexes.
In the $33,500 Tar Heel for colts and geldings, Groovy Man drew post seven with Yannick Gingras listed to drive for trainer Nancy Takter. Groovy Man, a Huntsville gelding, was victorious in the inaugural $100,000 Paul Revere Pace at Plainridge Park on April 28. 
Groovy Man's competition includes JD (post one, Mark MacDonald/Ray Schnittker), the New York Sire Stakes champion in this division a year ago, and Pleaseletmeknow (post three, Matt Kakaley/Michael Spaccarelli Jr.), who was victorious in the $150,000 MGM Springfield Stakes final at Yonkers in 2021. JD, a gelding by So Surreal, and Pleaseletmeknow, a gelded son of American Ideal, will both be making their sophomore debuts in this event.
Gotthegreenlight (post six) tops the entrants in the $28,500 Leta Long for fillies. A daughter of American Ideal, Gotthegreenlight won eight of 12 starts at age two, with her biggest victory coming in the $200,000 New York Sire Stakes final at Yonkers on September 10 (pictured above). Gotthegreenlight qualified on April 23 at the Meadowlands and won in 1:55 for trainer Richard "Nifty" Norman, who has listed Jason Bartlett to drive.
W.N. Reynolds Stakes go as the first two dashes on Friday night's 10-race program at Yonkers. 
Yonkers Raceway offers expanded Kentucky Derby options
The Run for the Roses may take place at Churchill Downs in Kentucky but MGM Yonkers Raceway is offering fans of both Thoroughbred and Standardbred racing a special experience a bit closer to home with all-day simulcasting and a special buffet for Kentucky Derby weekend.
Simulcasting areas at Yonkers Raceway will open at 10 a.m. on Friday (May 6 - Kentucky Oaks) and Saturday (May 7 – Kentucky Derby) to accommodate players looking to get in on the early action at Churchill Downs. Post time for both cards is 10:30 a.m.
In addition to the extended hours for simulcasting, the Empire Terrace dining room will open at 4 p.m. on Saturday and offer a full buffet starting at 5 p.m. for just $50 per person. The menu will include barbecue pork ribs, bourbon glazed chicken, smoked beef brisket and much more.
Reservations for the Empire Terrace can be made by calling 609-317-7295.
Live racing will be conducted over the historic Yonkers half-mile track on both nights, with racing on Friday set to kick off at 6:55 p.m. and Saturday's 12-race card starting just after the 6:57 p.m. scheduled post time for the Kentucky Derby.
Yonkers Raceway is open for live racing Monday, Tuesday, Thursday, Friday and Saturday through May 21 when it will take a one-week break until returning on May 31 for five consecutive nights of racing.
(With files from Yonkers Raceway)