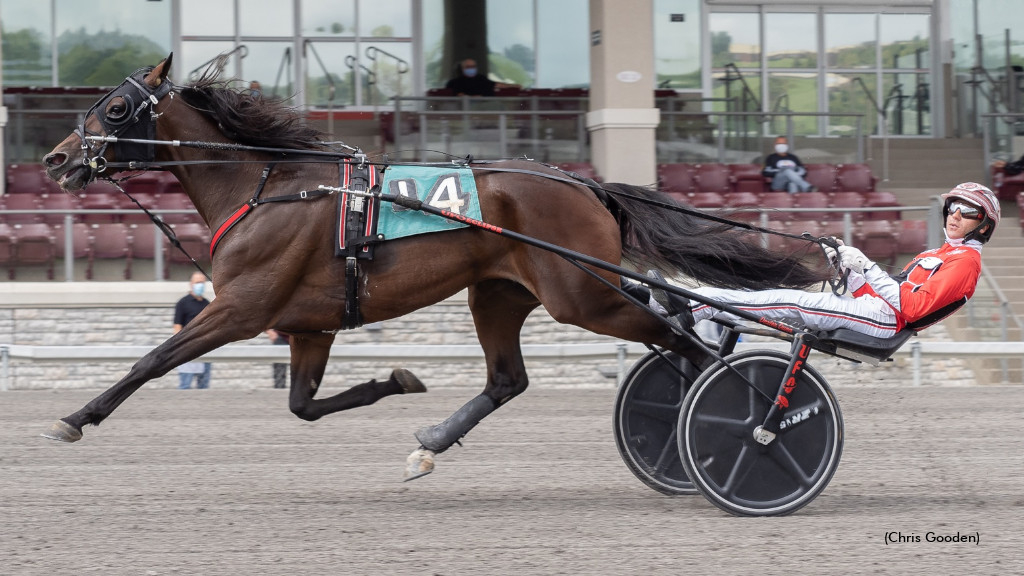 Published:
May 27, 2022 04:59 pm EDT
Amigo Volo and the words "world record" seem to go hand in hand.
Over the course of his award-winning career, the five-year-old male trotter has set at least one world record at ages two, three and four, and done so on half-mile, five-eighths-mile, and one-mile ovals.
His most recent world-record performance came in December at Yonkers Raceway and started a stretch that saw the gelding win four of five races before embarking on a four-month layoff in mid-January.
Now, Amigo Volo is ready to return to work. On Sunday, he heads to the $100,000 Maxie Lee Memorial Invitational Trot at Harrah's Philadelphia, where he posted one of his world-record efforts as a two-year-old in 2019. He is the 4-1 third choice in a field of eight and will leave from post five with Dexter Dunn driving for trainer Richard "Nifty" Norman.
Amigo Volo prepped for his comeback with a 1:53.4 qualifier win this past Tuesday at Philly. The Maxie Lee wasn't in Norman's plans originally, but when an invitation was extended, the trainer accepted.
"They came up short on horses and he qualified good," Norman said. "I have to race him somewhere anyway, so I thought we would throw him in. It's a good field of horses, and I think having him in there gives it a little more interest.
"He normally takes two or three races to get himself tight, so I'm not expecting big things, but the horse has been great and training back good. He'll be all right. We'll see how it goes. You never know."
Amigo Volo, a Dan Patch Award winner at age three, suffered with sickness issues last season. He was winless in his first six races, but after an 11-week respite and addition of Lasix went on to post six wins, three seconds, and three thirds in his next 13 starts.
"Since we've had him on Lasix, he's been a lot better," Norman said. "He was very good at the end of the year, and his last race at Yonkers (in January), he was dynamite."
For his career, Amigo Volo has won 21 of 46 races and $1.78 million for owners Pinske Stables and David J. Miller.
The Maxie Lee morning-line favourite, at 5-2, is When Dovescry. The six-year-old mare, also a Dan Patch Award winner in 2019, finished third in her seasonal debut on May 6 in a division of the Miss Versatility Series at The Meadowlands and last week was sixth in the Arthur J. Cutler Memorial, won by Ecurie D in a world-record 1:49.1 at the Big M.
Back Of The Neck, who saw his connections turn down an invitation to Sunday's Elitloppet in Sweden, is the 3-1 second choice in the Maxie Lee followed by Amigo Volo.
Rounding out the field are Lovedbythemasses, Hillexotic, Eurobond, Mississippi Storm, and Sermon.
"This is a good opportunity for (Amigo Volo); a nice place to start off, just down the road," the New Jersey-based Norman said. "If you get a piece, it's pretty good money. Post five is a good spot for him. And Ecurie D isn't in there."
The Maxie Lee is part of a star-studded card at Harrah's Philadelphia that also includes the $100,000 Commodore Barry Invitational Pace and the $100,000 Betsy Ross Mare Invitational Pace, with Dan Patch and O'Brien Award-winning pacer Lyons Sentinel making her five-year-old debut.
In addition to Amigo Volo, Norman will send out a starter in the Commodore Barry. Jacks Legend N is 7-1 on the morning line, leaving from post seven with Dunn driving. The eight-year-old gelding has won 33 of 94 career races and earned $784,976. Earlier this season, he had two wins in the preliminary rounds of the MGM Borgata Series at Yonkers.
He heads to the Commodore Barry off a third-place finish behind Nicholas Beach and This Is The Plan in last week's Open at The Meadowlands. Nicholas Beach, the Commodore Barry's defending champion and 3-1 morning-line favourite, won the Open in 1:47. Jacks Legend N came home in :25.4 and was clocked in 1:47.3.
"I was hoping he would get a good draw because he's been racing good," Norman said. "He needs some luck, but he's a very good horse. He's good on the front, but he's a better closer. He's a horse that would really benefit from a strong pace, and if he got dragged into the race, I think he could beat a lot of horses if he was raced the right way.
"He's a big, beautiful horse, that's good gaited and has a big engine. He's an easy horse to be around."
Action begins at 12:40 p.m. (EDT) at Harrah's Philadelphia. The Maxie Lee is Race 12 on the 15-race card, sandwiched between the Betsy Ross and Commodore Barry. Free program pages will be available at the PHHA website.
(USTA)