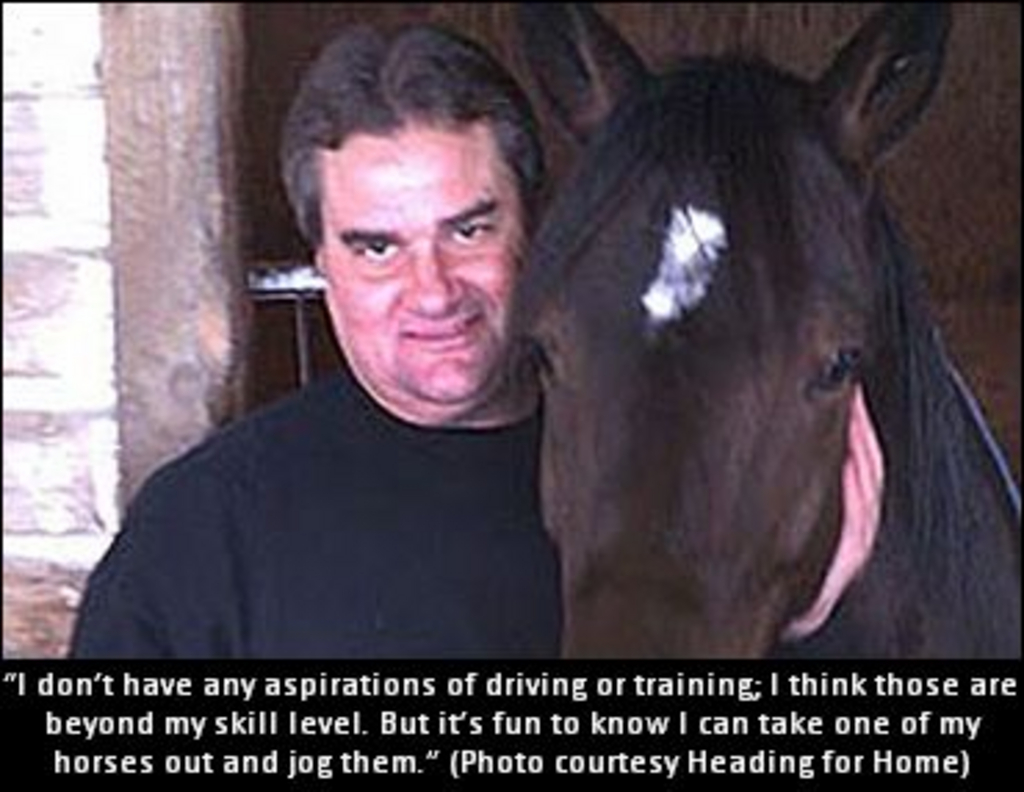 Published:
May 2, 2016 04:51 pm EDT
For horse owner Joe Battaglia, a trip to the U.S. Trotting Association Driving School in 2012 had little to do with becoming a trainer or driver, but everything to do with enhancing his enjoyment of harness racing, not to mention his level of participation.
Battaglia, who got his first horse in 2006 and two years ago joined the ownership group of top older male pacer Rockeyed Optimist, attended the USTA Driving School in Goshen, N.Y., not far from his home near Saratoga Springs. It was the first of four consecutive years of the school being conducted in upstate New York.
This year, the 17th annual edition of the Driving School will be held at the Delaware County Fairgrounds, Delaware, Ohio, home of the Little Brown Jug, June 1-4. The school begins Wednesday evening (June 1) with a welcome reception/dinner and keynote address from George Teague Jr., owner of 2015 Horse of the Year Wiggle It Jiggleit and trainer of 2004 Horse of the Year Rainbow Blue.
Classroom and hands-on instruction will be conducted each day Thursday through Saturday.
In addition to offering basics for driving and training, the school's curriculum has been expanded to include information on ownership of Standardbreds.
"It was a great experience," said Battaglia, a CPA who has horses with trainer John Mongeon in Saratoga. "It was a lot of fun. I wanted to be a little more hands on. I like going to the barn. I try to stay out of the way because everyone there knows what they're doing, but I thought if I could occasionally jog a horse it would be interesting to learn how to do it.
"I don't have any aspirations of driving or training; I think those are beyond my skill level. But it's fun to know I can take one of my horses out and jog them."
Battaglia grew up going to the Thoroughbred and Standardbred races in Saratoga Springs. When he and some friends decided to give horse ownership a try, they partnered on a harness racing horse.
"We started with Standardbreds not knowing where it would go from there," Battaglia said. "I just really enjoyed the breed and the people I dealt with, so that's where I stayed. There are options for Thoroughbred ownership up here, but I like the Standardbred game because you can be more hands on, more involved."
In addition to owning horses, Battaglia is the president of Heading for Home Racehorse Retraining/Adoption Center in Saratoga Springs. The not-for-profit organization was founded in 2011 and also features equine-assisted therapy in cooperation with ECS Psychological Services of Saratoga. A therapy arena was constructed with funds raised in memory of horseman Alan Kirschenbaum.
Standardbred horse owner Erin Christopher-Sisk founded ECS Psychological Services and serves as clinical director. Her husband, Jim, also attended the USTA Driving School in 2012, as did Heading for Home Treasurer John Cimino.
"It was a spinoff of ownership," Battaglia said about the organization, which currently is home to seven horses, primarily Standardbreds. "We thought there should be an organization formed to better help provide an option for people who wanted to stand behind a horse after their racing days were over. We slowly gathered momentum and now have a permanent location."
Battaglia looks back fondly on his participation in the USTA Driving School and still keeps in touch with a number of people who were involved in the program.
"It was nice to be around people who were enthusiastic about the business," Battaglia said. "The people who worked with us were very nice and very helpful, from the USTA to the people in the barns. I was in (trainer) Rob Harmon's barn. It was fun to learn the behind-the-scenes aspect of the business. As an owner, being around the barn is as much fun as race day.
"It was a great time. I would recommend that anyone interested in the business go try it out."
For more information about this year's Driving School, or to enroll online, click here. Those interested in attending should not delay; enrollment is limited. Click here to learn about incentives for attending the program.
---
This story courtesy of Harness Racing Communications, a division of the U.S. Trotting Association. For more information, visit www.ustrotting.com.