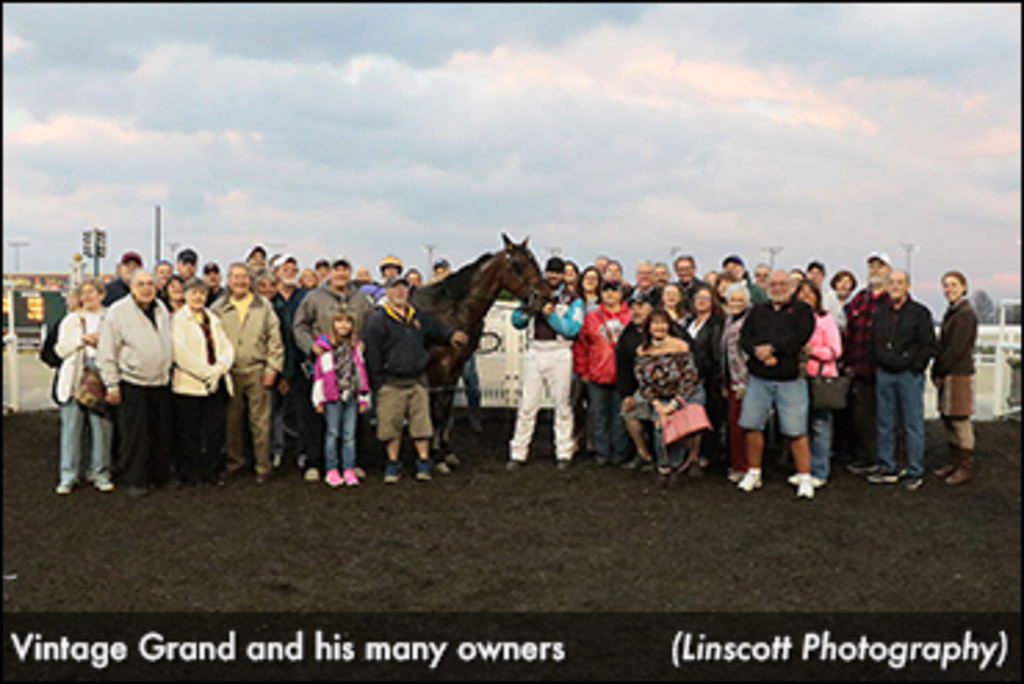 Published:
May 1, 2018 10:38 pm EDT
Building upon the success of the 2017 season, Hoosier Park Racing & Casino's First Turn Stable is off to a flying start for the 2018 season.
First Turn Stable, Hoosier Park's fractional ownership program, is the first of its kind in the state of Indiana and was designed to provide fans an easy and affordable way to experience the excitement of horse ownership while educating for future ownership endeavours.
The fractional ownership program, established in 2016, gives harness racing fans first-hand ownership experience from April to November for a one-time $250 buy-in. Due to the demand for membership, the program has grown from 50 members to 65 in 2018.
"Even though First Turn Stable is now in its third year, the excitement continues to grow as evidenced by the record number of 65 club members who make up this year's stable," noted Rick Moore, Vice President and General Manager of Racing at Hoosier Park. "We truly enjoy this program and want to wish the best of luck to all club members for a most successful 2018 season."
For 2018, trainer Jamie Macomber will be taking over as First Turn Stable's trainer. Macomber holds a Breeders Crown title from 2017 after scoring with Beckhams Z Tam in the $527,500 Breeders Crown, and tied for Hoosier Park's 2017 leading trainer title. In addition to the Breeders Crown victory, horses from the Macomber stable recorded 92 wins and earned more than $1.7 million in purse earnings throughout the 163-day meet at Hoosier Park in 2017.
In 2017, First Turn Stable had three different horses under the direction of trainer Jeff Cullipher. The stable will be starting 2018 with Vintage Grand, a four-year-old gelded son of Vintage Master-Foxie Gram. Making his debut for First Turn Stable on April 12, Vintage Grand made his owners proud and finished a hard-fought third. On April 18, Vintage Grand found the winner's circle for First Turn Stable in 1:54.2, defeating nine other horses with Ricky Macomber Jr. in the bike. It was the first win of the season for Vintage Grand and the first time many of the members visited the winner's circle; a total of 38 members were on hand to congratulate.
When asked what being a member of First Turn Stable means to him, Keith Peters of Richmond, Ind. had a lot to say.
"I have met a lot of nice people and continue to make new friends," Peters said. "It's exciting to be a part owner. It's nice to get pictures to show your friends when you win and being a member gives you something to talk about. There are also great perks, like good meals. Hoosier Park is a great place to spend an evening."
The program provides interactive social media pages, weekly email updates and monthly financials that will be shared with members to provide a transparent and behind-the-scenes look into the real cost of owning a racehorse. Members will also have the opportunity to watch morning training routines and will have the opportunity to interact with the trainer and driver after each race. Seminars and meet-and-greets with a variety of industry professionals will also be available to stable members throughout the 2018 racing season.
"Members of First Turn Stable should be very grateful to Hoosier Park Racing & Casino for their sponsorship and support of First Turn Stable," Peters continued. "The hard work of Amanda Gaskin, keeping members informed of First Turn Stable events is also very appreciated."
At the end of the racing season, the horse's winnings and costs will be calculated and any profit will be split amongst the 65 owners. Racing fans interested in joining First Turn Stable next season can find more information at www.hoosierpark.com or by calling Amanda Gaskin at 765.609.4631.
For more information on First Turn Stable and to see updates about the program throughout the season, visit Hoosier Park's website by clicking here or find First Turn Stable on Facebook.
Live racing at Hoosier Park Racing & Casino will follow a Tuesday through Saturday schedule and be conducted through November 10 with a daily post time of 6:30 p.m. For more information on the upcoming entertainment or live racing schedule, please visit www.hoosierpark.com.
(Hoosier Park)