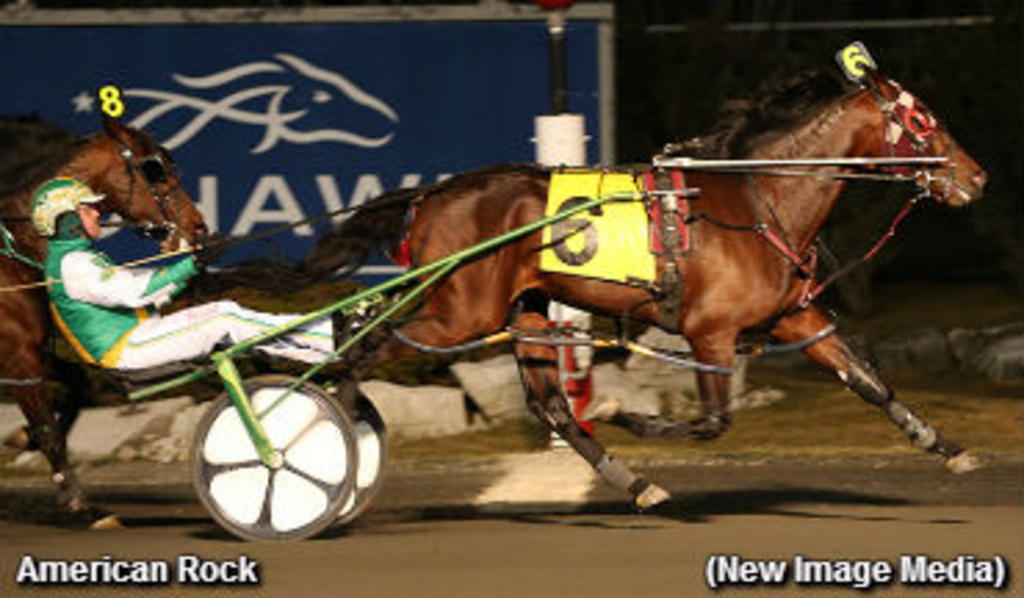 Published:
April 11, 2015 10:22 pm EDT

After a win and a second-place finish in the preliminary legs of the Youthful Series, American Rock dug down deep to post a sharp victory in Saturday's $37,000 final at Mohawk Racetrack.
American Rock, a $62,000 purchase from this year's January Mixed Sale, did most of the road work in Saturday's main event at the Campbellville oval and he kept on trucking en route to posting a 1:52 decision for the tandem of driver Jody Jamieson and trainer Ben Wallace.
Nobettorplacetobe, Dialamara and Vegas Rocks mixed it up to the quarter pole in :27.2 before Dialamara emerged from the troika to grab the lead. It was a short-lived lead, however, as American Rock made a snap move to the front as soon as the field entered the backstretch. Jamieson rolled his charge to the top and cruised through middle splits of :55.1 and 1:23.2 before using a :28.3 closing quarter to win by 1-1/4 lengths over Dialamara. The show dough was earned by American Rock's stablemate, Pantheon Hanover.
Brad Grant of Milton, Ontario owns the three-year-old son of Rocknroll Hanover-Mrs American Pie who bumped his overall cash stash to $57,250 with the win. Unraced as a rookie, the colt now boasts a 5-2-0 record from eight trips to the track this season.
Saturday's card also featured the first leg of the Don Mills Series for four- and five-year-old trotters. Two divisions – each worth $20,000 – went postward, and they were dominated by favourites.
Wild And Crazy Guy, who was sent off as the odds-on choice, brushed to the lead at the half for Mario Baillargeon before cruising to a 1:56 tally in the first split. The gelding kicked home in :28.2 to win by 1-3/4 lengths over Windsun Revenge, while Exemplar finished third.
Martin Lachance trains the four-year-old son of Crazed-My Babys Momma for Jean Brunet and Ted Gewertz. It was the trotter's third win in his last four attempts and it improved his 2015 record to 3-2-1 from 12 trips to the track. The 12-time winner has stashed away $164,407 to date.
Bourbon Bay marched to the lead from Post 5 for driver Mike Saftic, and after slicing out fractions of :28.2, :57 and 1:25.1 the gelding used a :29-second kicker to win by 2-3/4 lengths over Seawind Pascale in 1:54.1. Sheer Flex was a distant third.
Sent off at odds of 1-2, the Mike Sinclair trainee bettered his 2015 scorecard to 8-0-1 from 11 trips postward. The four-year-old son of Sand Vic-America Alive, who is a 13-time winner in his career, races under a lease to John Cummings, Jr. of Nichols, New York. The victory bumped his bankroll to $117,201.
O'Brien Award-winning Modern Legend made his 2015 debut in Saturday's $34,000 Preferred at Mohawk Racetrack, and the hulking gelding rallied in the lane to post a 1:50.4 score for driver James MacDonald.
He treated the Dave Drew trainee to a ground-saving journey while Thunder Steeler charged to the lead and supplied the field with fractions of :27.3, :56.1 and 1:23.3. Thunder Steeler tired in the lane, and a host of challengers started to make their presence felt in the closing strides including Modern Legend, who angled off the rail and used a :26.2 kicker to post the win. He was a half length better than race favourite Apprentice Hanover, with third prize earned by Nickle Bag.
The seven-year-old son of Modern Art-Ruby Cam, who is a homebred owned by Dave Drew Associates Inc of St. Catharines, Ontario, won for the 20th time in his career. He's stashed away more than $920,000 in his career.
To view results for Saturday's card of harness racing, click the following link: Saturday Results – Mohawk Racetrack.