Published:
April 1, 2019 12:56 pm EDT
Melanie Rey-Clark of St. Claude, Manitoba captured this thrilling shot of the horses accelerating at the half in Miami, Manitoba last July. Miami is one of four stops on the Manitoba Great Western Fair Circuit which also includes Holland, Killarney and Glenboro.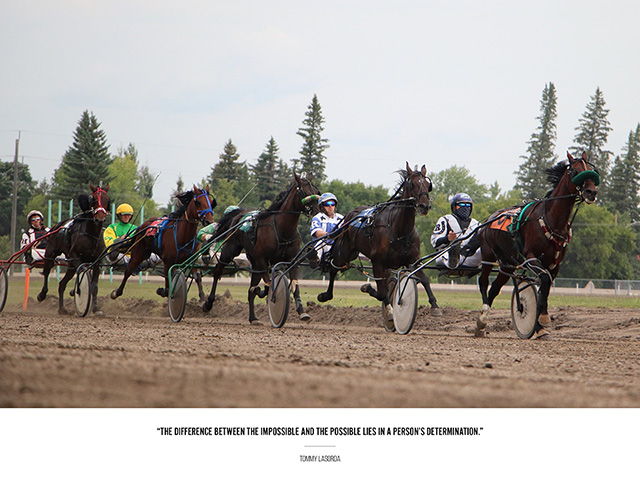 "This summer I was watching a race sitting on the ground and thought to myself that this would be an awesome picture, down low to the ground with the sky. The movement is so awesome and really what the sport is about."
Melanie's love for racehorses and passion for photography both developed on her family farm, where she would spend hours working with the horses in the barn and taking photos. At just 15 years of age, Melanie threw herself into the business full-tilt, purchasing and training her own horses.
Fast forward to the present, and you can find Melanie trucking her family all around Manitoba to the fair races throughout the summer. When at the track, she's either working in the barn, getting the horses ready to race, or taking photos as one of the circuit photographers.
"I started taking more pictures when my kids were born and my husband, sister-in-law and I started taking pictures for the Manitoba Great Western Circuit two years ago. My husband and my sister-in-law take most of the photos as my time is spent in the back getting the horses ready. I do all of the editing and orders for the win photos."
Along with her commitment to racing, Melanie works nights as a Social Worker for Child and Family Services and raises her two children as a stay-at-home mom throughout the day.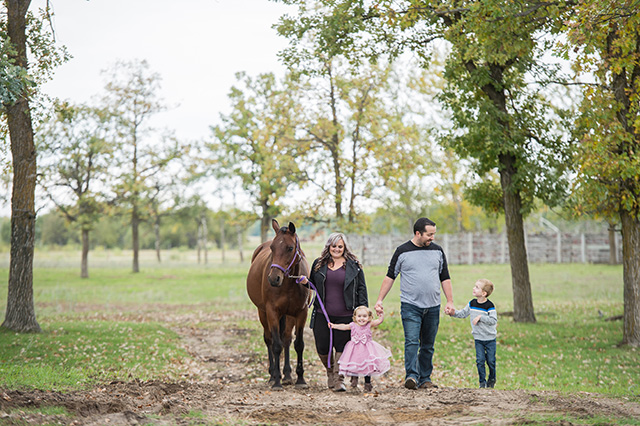 Melanie and her family with retired Standardbred Cheyenne Dusk
"The horses and racing have been my reprieve from work and kids. There is nothing like being on the back of that bike just you and your horse," Melanie explained. "Harness racing and horses are really who I am, and keep me, me. I try to use the horses in counselling with some children because I find the horses have always helped me stay focused on who I am. I truly love these animals and racing is my passion."
Melanie is one of a small group of people who are committed to harness racing and help keep the industry operating in Manitoba. She currently owns and trains two Standardbreds that will race on the Circuit this summer.
This is the first time that one of Melanie's photos has been featured in the calendar.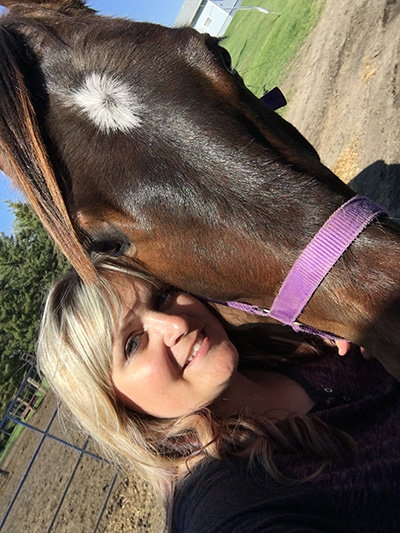 Melanie with Small But Fierce