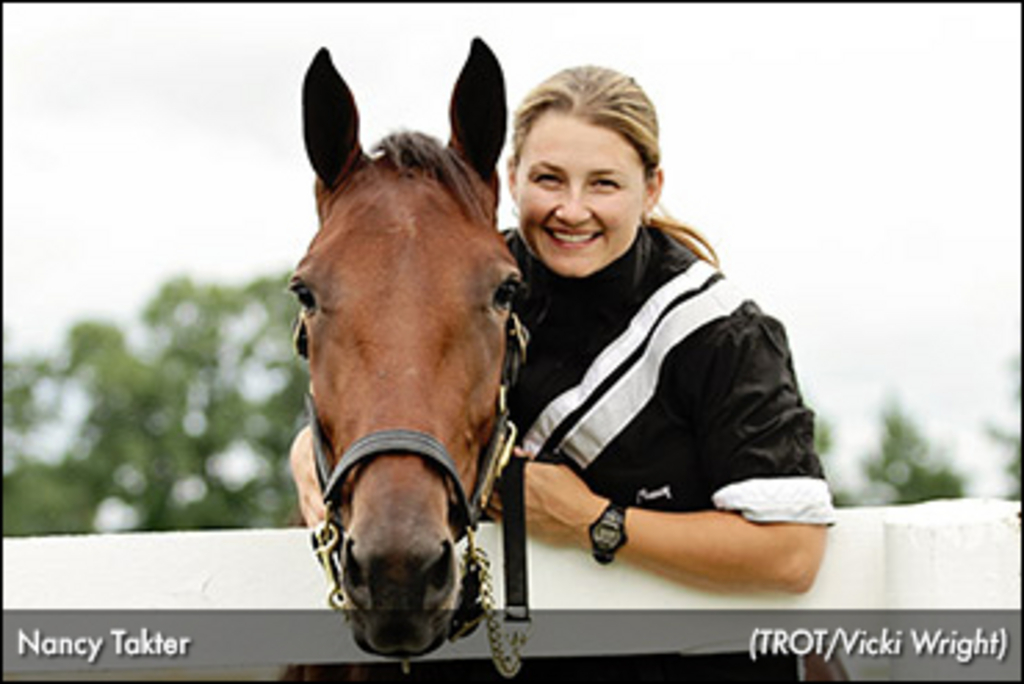 Published:
March 7, 2021 08:30 pm EST

The 2020 season was, by all counts, a watershed year for trainer Nancy Takter. With the 2021 stakes season on the horizon, Takter and her team are eyeing a few new targets for the stars of their stable — but admittedly, last season will be a challenge to top.
After Tall Dark Stranger conquered North America last year and accounted for one-sixth of Takter's $8.4 million in 2020 purse earnings, the New Jersey-based conditioner is toying with the idea of taking on Europe's best with three-time Breeders Crown winner Manchego this spring.
"I guess we'll see how the next couple of months play out," Takter told Trot Insider of the potential plans to send Manchego to the Elitlopp. "It's not until the end of May, so we still have some time. I'll probably qualify her mid-April, the beginning of April ... some time around there. She's very easy to get going — she just needs a couple of qualifiers, and she's off."
Of course, a Breeders Crown hat trick is enough to put Manchego in the rarest of trotting company on this continent, and the now six-year-old daughter of Muscle Hill is "coming back just great," having "picked up after her vacation where she left off," according to Takter.
But, while the prestige of winning the Elitlopp can land Manchego in the same air as some of the globe's greatest trotters ever, there remains a significant risk for Takter to weigh, not to mention the logistical challenges in play — for horse and human alike.
"It's a prestige thing to go to the Elitlopp," she explained. "It's not necessarily a money thing because she has more money to race for here than over there. You always have to keep in mind once she comes back from the Elitlopp that she's going to need a little bit of time just to recover from the race and so forth. The whole month of June and half of July is pretty much just going to be her recovering if she were to go over there. If we were lucky, then maybe she'd be ready for Hambletonian Day or the Maple Leaf Trot. It's a lot of risk, but it's also one of those things — if you have a horse that can go over there and win it, it's an amazing thing.
"It's something that sets horses apart, like Moni Maker, Mack Lobell — those American horses that have been able to go over there and do that, there aren't many of them. They're few and far between. It makes greatness; it puts her in a completely different status. You could compare her to these other great Open mares, but none of them went to Europe or did that. That's why I think Moni Maker was a great horse, and what made Moni Maker great was that she went to Europe and travelled across the ocean and did things nobody else was able to do ever."
Despite the rewards of international glory that an Elitlopp win would bring, the logistics of getting Manchego to Stockholm — while the world tries to recover from the worst pandemic in a century's time — remains a major obstacle, as does the toll that the extensive travel and two heats on a foreign continent has taken on many a North American invader over the past two decades, as Takter explains:
"We could probably get her there, but as far as me and Dexter [Dunn] being able to go there and not being able to come back because it's an important time in our racing season, too ... Neither one of us could quarantine for two weeks. We're just going to have to see how things kind of play out as far as that goes. And then, we're going to have to see how the actual trip works out for her, because the way they've had to do it in the past [is that] they've flown to Belgium, then shipped from Belgium to Sweden. It takes almost three days for the horses to get there, and they race on that [Sunday] — going two heats. We'll have to see how the travel arrangements work out. It's something we would keep on our radar, I think. I wouldn't say no to it, but a lot of puzzle pieces have to fall into place for it to come into fruition."
And while Manchego could very well hold her own on the world stage, Takter wants to protect her mare as much as possible, just the same:
"I never want to put her in a situation where her health or anything is at risk because she doesn't owe any one of us anything. But she absolutely loves her work. She does not like to be off; she likes to race, is happy on the track. She has that diva quality to her. The great ones, they have that; they know that."
With rival and fellow three-time Crown winner Gimpanzee retiring at the end of last season, it opened the door for Takter and owner Black Horse Racing to put retirement plans for Manchego, who concluded her five-year-old run with wins in the Breeders Crown and TVG Open, on hold. But the mare's improved versatility was a definite factor as well — especially in a day when the sport's top trotters flirt with the 1:50 mile rate with increasing regularity.
"Her having the dimension of being a little bit more versatile was a big factor in it," Takter explained. "And then Gimpanzee retiring — there wasn't much left. Obviously, Atlanta's really good when she's good, but she's kind of been a little up and down the last two years, too. And Manchego had issues in the summer with her ovaries and stuff like that. There's no one standout horse, but there's not two or three or four. That's the thing — there's a small, select group of four or five horses that are going to finish one, two, three, four, five in the races. I think Manchego's probably — her and Atlanta are probably the best ones returning. You'll have to see how Amigo Volo's going to be —he's a nice, handy horse, too, and even Ready For Moni — but they have to make the transition to be aged horses, which is difficult sometimes."
Regardless of which side of the Atlantic Ocean Manchego takes up residence in the spring, she's destined for another remarkable campaign — as are a few rising four-year-olds in Takter's barn, including Breeders Crown-winning distaffer Peaky Sneaky, as well as No Lou Zing and Fortify on the pacing side. Also among the roughly 85 horses in her care — a sizeable increase from the 55 she had last year due to more older horses returning to action — are a pair of Australian eight-year-olds transferred to her stable: San Domino A and None Bettor A, both pointed to the MGM Borgata Series at Yonkers Raceway.
"They're tough racehorses; they're seasoned racehorses," she said.
On the trotting side, O'Brien Award winner Sorella and O'Brien Award finalist Ready For Moni are poised to return for their four-year-old seasons, as is Spoiled Princess. With three top older trotting mares in the barn, Takter has indicated she'll point Manchego toward mixed company while the four-year-olds will race against mares whenever possible:
"The Armbro Flight doesn't have an open counterpart that goes that time of the year; Manchego's obviously in the Armbro Flight. But when we went to the Joie De Vie and the Crawford Farms Trot, we made Manchego eligible for the Crawford Farms, and Sorella and Spoiled Princess are eligible for the female parts. In the past, we've never staked Manchego for the Cashman, but this year we've put Manchego in the Cashman, and Sorella and Spoiled Princess are in the Steele."
While Manchego has and will race against the boys this season, Takter's plan to keep Sorella in restricted company as much as possible aligns with her tactic to race her in the Hambletonian Oaks as opposed to the Hambletonian, despite America's trotting classic ultimately going to another filly in Ramona Hill.
"She was so good on Hambo day that I think — I obviously don't know what would've happened had we made different choices — but she raced super on Hambo day. She took charge of the race and raced really tough that day.... When I knew that Ramona Hill was going [to the Hambletonian], it doesn't make sense for Crawford [Farms] to race their fillies in the Hambo, either. And I knew that Sorella had a good shot at winning the Oaks. You know, you have to be second in the Hambo to make as much money as you do winning the Oaks, and nobody ever remembers who finished second. They only remember who won."
Through the grind of a long season — once again stretching from March deep into November — Takter's main goal is to manage all of her trainees and help them realize their greatest potential.
"The goal is always to get the most out of each individual horse that you can get," she explained. "You have to be a realist, too. I have horses in my barn that, if that individual makes $60,000 or $100,000 this year, that's very good for that individual. And it's my job to make sure that individual does that."
Part of that is through making sure each horse gets the individual care and attention they need:
"Even though I have a big barn, every horse gets a training schedule or a training regimen that fits that individual. I'm really trying not to be a factory-type barn where every horse trains Tuesday, Friday or trains Wednesday, races Saturday. I have some that train just on the racetrack, some that go two trips, three trips. I try to keep it very individualized."
... and another part of it is making sure that she herself doesn't fall victim to an unsustainable grind, either:
"In the past, I was really bad about that," Takter admitted. "I would never go away and would try to be there 24-7 all the time. But for my own mental health, you get really tired during the racing season. I don't think my whole staff realizes it, but when I leave the barn, just because I'm done training for the day doesn't mean that my day is over. I have to talk to owners, I have to do the staking, I have to make schedules, I have to make sure people are actually paying us so that I can actually run this business. There are papers that need to be signed and bills that need to be paid."
The ability to step away from an 85-horse stable is one Takter never would have fathomed a couple years ago, but after being able to lean on assistant trainer Josert Fonseca and caretaker Katie Remmerswaal through the pandemic-affected 2020 season, her concerns of burning out are allayed considerably — and her ability to rely on her team is evidence of personal growth.
"I'm a little bit of a Type-A person," Takter admitted. "COVID actually forced me to let go a little bit. In 2019, if you would've told me I was going to send Josert to Canada I would've told you [that] you were completely nuts. But you know what, I had to do that. There was no other option, and it worked out. It taught me a little bit that you can relax and you have to trust the people you have in place to do their job, and if you can't trust people to do their job then maybe you have to hire different people to do it. It's a lot of personal growth more than anything."
And to have such a reliable, professional staff keeping the operation running gives Takter the opportunity to recharge periodically — something that is essential given the demands of an arduous stakes season and keeping up with owners' expectations.
"To get away and go to Florida for two or three days here or there..." Takter said. "I'm fortunate that I was able to buy a condo down there right on the beach. I can hop on a direct flight. It takes me 2-1/2 hours to get there, and I spend 48 hours there and come back home feeling recharged and focused and ready to go."
A couple days away here or there may not sound like much, but it goes a long way toward helping Nancy Takter stay balanced and relaxed. And while the harness racing industry can be all-consuming for many, Takter asserts that she wants to be able to enjoy all that life has to offer — including being a mother that's present for her two children, Marcus and Ella.
"You only live once, and there's that saying, 'You work to live or live to work,'" Takter said. "I obviously love my job, and I don't think you can be successful at this job without loving this job, because it is like joining the circus or whatever crazy show that has to go on all the time. But, at the same time, I want to enjoy other things — I want to enjoy my children, I want to enjoy my friends. I think it's important to enjoy your entire life — it makes you a whole person."