Published:
March 7, 2017 12:09 pm EST
It has been announced that Money On My Mind, a very successful son of Cantab Hall, has been detained by the authorities.
The winner of nearly $800,000, and still a youngster at just eight years old, Money On My Mind, was adopted to the Newark, NJ Mounted Police unit, an effort by the Standardbred Retirement Foundation (SRF).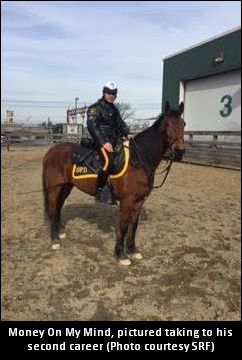 One of many Standardbreds serving the Iron Bound community through adoption from the SRF, Money On My Mind is the son of great Cantab Hall. Thanks to those who thought kindly of their horses and asked SRF to find them homes; ten are now with the Newark Police, and several others are with units in other states.
The horses at Newark Police alone have nearly $2 million earned. They are 10-year-old Echo Thunder, a son of Western Ideal; 14-year-old YF Avenger, a son of Shilling; 21-year-old Blue Hoodlum, a son of Make My Date; 19-year-old Cunning Liar, a son of Jennas Beach Boy; 11-year-old Shark Chaser, a son of Shark Gesture; 15-year-old Allentown, a son of Dreamaway; and 18-year-old Miracle Man, a son of Lisea. Number ten is Harley, a horse bought by a kind donor to help him last summer; he was part of the 15 run through the New Holland sale with no buyer. All 15 came to SRF and were identified except Harley, whose identification could not be made.
One might think horses only live into their early 20s, but Blue Hoodlum, at the age of 21, is a great leader for the unit and still has many years ahead. Eight-year-old UthinkIthinkUrKidn was also part of the police patrol, but recently was re-homed with a local first responder.
Money On My Mind is the baby in the herd. Twenty-five is the new 12 for horses. SRF has 52 Standarbreds retired under their full care all over the age of 24.
SRF is a 28-year-old non-profit whose unique mission is: helping Standardbreds exclusively, whether healthy, aged, injured or neglected; keeping them safe for life; and providing full care for more than 100 passed over by adopters due to age or injury. Please support the horses who have given so much with your tax-deductible gift, SRF 353 Sweetmans Lane, Millstone Twp., NJ 08535; adoptahorse.org.
(Standardbred Retirement Foundation)