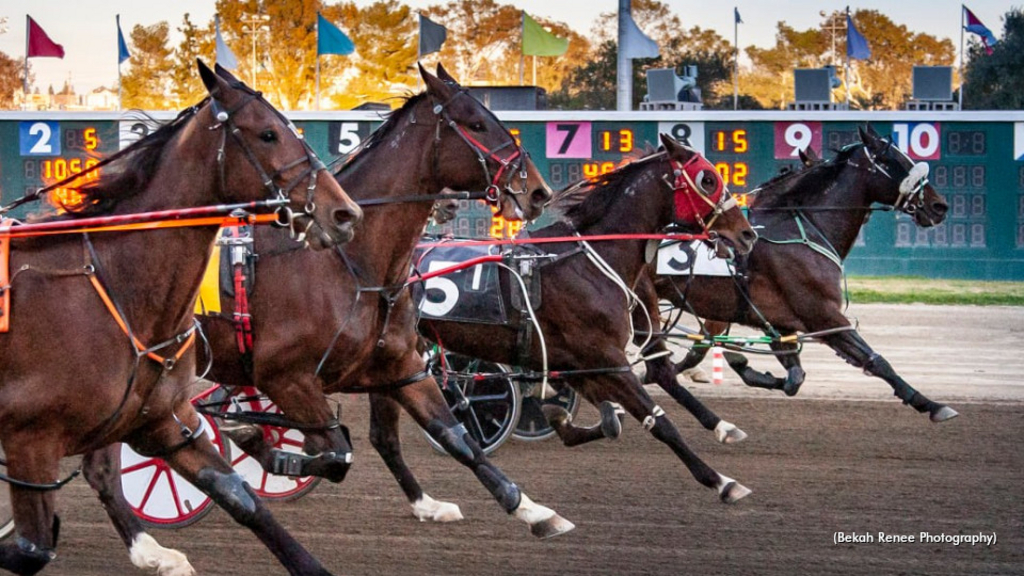 Published:
March 30, 2023 01:24 pm EDT
A pair of $15,000 California Sire Stakes for three-year-old pacers headline the upcoming Friday night card at Cal Expo.
There will be 10 races presented by Watch and Wager LLC and the program will get underway at 6:45 p.m.
The Sire Stakes for the boys brings out a contentious group that features Bin A Mystery, Dougsmonkeybusiness and Polar Storm.
The filly event also features several serious contenders despite the compact cast with Gotyubydashorthairs likely to get plenty of tote attention off her troubled debut earlier this month.
Looking ahead to Sunday night, two Sire Stakes events for the four-year-old pacers will be in the spotlight. The distaff event will feature one of the best rivalries on the grounds when Divine Art and Give Me This Dance do battle.
Divine Art, who had a 17-race win streak snapped early in the meet, has a Sire Stakes trophy and a victory in the Alan Kirshenbaum this month, while Give Me This Dance has prevailed in a Sire Stakes and sports an Open score at this sesssion.
The race for the males finds JP Jetty and Cenalta Hawk among the major players, with these two having captured the initial Sire Stakes clashes at this stand.
Carryovers in both the early Pick 5 and the Pick 6, with guaranteed pools for both, will certainly add interest to Friday night's card at Cal Expo.
The early Pick 5 takes place over the first five races on the program and will feature a $13,424 carryover from last Sunday evening with a $50,000 guaranteed gross pool.
The early Pick 5 is a 20-cent wager and along with the late Pick 5 and the Pick 4 comes with a reduced 16 per cent takeout rate, with the Pick 4 featuring a $25,000 pool every night.
Meanwhile, the Pick 6 is also a 20-cent wager that will be conducted on races three through eight and has a $3,865 carryover and a $10,000 guaranteed pool.
The two carryovers are due in large part to upsets by Sneek Peek Hanover in Sunday's second race and Ynotthishos in the evening's eight and final leg of the Pick 6.
Sneek Peek Hanover was dispatched at 40-1 in a conditioned pace while making only his second start of the year for owner Ronald Rettig, trainer Lino Pacheco and pilot Jessie Pacheco. Leaving from the cozy rail slot, he was able to work out a tracking trip behind the favourites and surged when it counted to hang a neck decision on an unlucky Kioti in that contest.
Ynotthishos, off at 7-1 in the Open II Pace, was unhurried early and then came flying home in :27.1 to register the upset and land owner/trainer Jose Castillo in the charmed enclosure.
(Cal Expo)