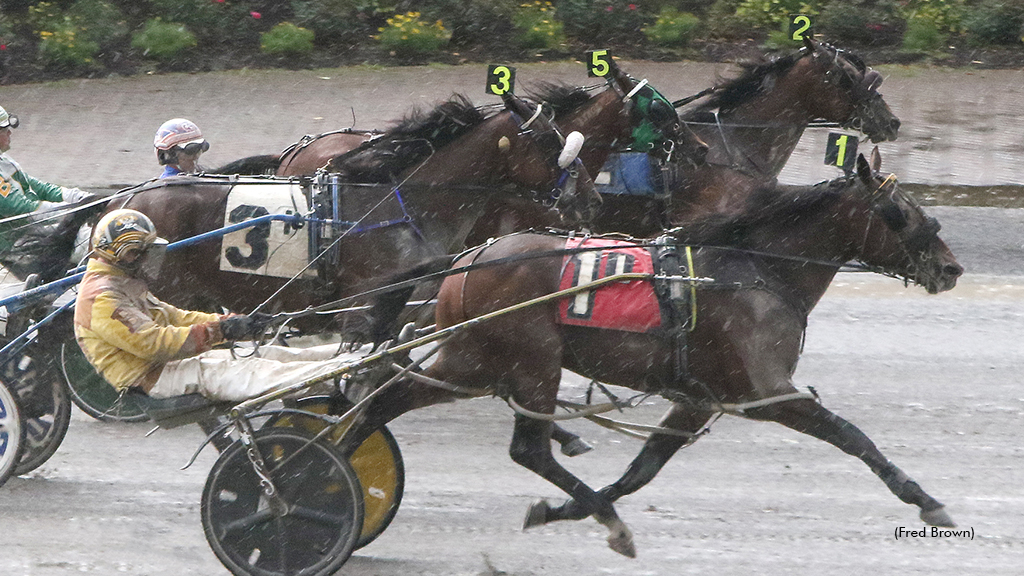 Published:
March 30, 2023 05:37 pm EDT
Shenandoah Downs might not be home for Stacey McLenaghan, but it's close. McLenaghan moved with her family from Canada to Virginia when she was 12 and grew up in New Kent, about three hours southeast of Woodstock, Virginia, where Shenandoah is located.
McLenaghan followed in the footsteps of her father, Ron, in getting into harness racing. Her dad, who passed away in 2020, drove and trained horses in addition to owning and operating a construction company. The family raced primarily at New Kent's Colonial Downs, where McLenaghan spent her formative years, and added Shenandoah Downs when it began racing in 2016.
In 2021, McLenaghan tied for the most wins among trainers at Shenandoah with 10. Last year, she led the way with 15.
Until this year, Shenandoah Downs raced only in the fall. On Saturday, the track will open for its first-ever spring pari-mutuel meet. McLenaghan will be there with a stable of a dozen horses, with six entered to race over the weekend.
The seven-week April/May session — with racing taking place every Saturday and Sunday at 1 p.m. — marks the first spring harness meet in Virginia since 1998, when the inaugural Standardbred campaign at Colonial Downs was conducted.
"I think it's great for them to be able to put on two different meets [spring and fall] throughout the year," said McLenaghan. "It's a great atmosphere there. They put on a great show for the people.
"It's nice to be somewhat close to home and have friends and family come watch what we do for a couple weeks. I have a lot of friends that have no clue about racing, and when they come, they think it's just awesome. The racing is so close and personal there because the grandstand is literally right on top of the track. They can see the horses up close. Everyone loves it."
McLenaghan played softball, volleyball and basketball in high school, and then played softball for four years at Averett University, where she was an honourable mention all-conference selection in 2005. She got a degree in sports medicine and added a master's in physical education, but the allure of racing proved too strong.
In 2009, McLenaghan got her first win as a driver with Beyond Perfection, a horse owned by her father, at Colonial Downs. Her father also drove in the race, finishing third.
For her career, the 38-year-old McLenaghan has won 341 races as a trainer and 34 as a driver.
On Saturday, McLenaghan will send out three-year-old male pacer Buzzer and six-year-old male pacer Art Nukem in separate conditioned events.
Buzzer (pictured above) won his season debut last week at Rosecroft Raceway and is the 2-1 morning-line favourite in his race. The colt has won four of six career starts and earned $14,435.
Art Nukem has two second-place finishes among seven races this year, all at Rosecroft. Last year, he won six of 30 and banked $41,816.
Corey Braden, McLenaghan's fiancé, will drive both horses.
"Buzzer has been pretty consistent," said McLenaghan. "We had a couple issues with a bit of colt soreness last year at two, so we didn't push him, but he's been a nice little purchase for us.
"Art Nukem really enjoys the half-mile track. He was pretty decent [at Shenandoah] in the fall for us. I think he'll enjoy not chasing the speed he's been having to face at Rosecroft. He's been in the Open and Preferred and they go [1]:51 every week. I think he'll enjoy the slower momentum of the half."
On Sunday, McLenaghan will have DW's Revenge and Creekside Pete in the Open Handicap Trot and Kotare Yael N and Twist Knot in conditioned races.
"I think this meet will be a little different with new people coming that haven't raced there because of the time of year," said McLenaghan. "We usually have a good meet, and we're hoping for the same thing this spring."
(USTA)