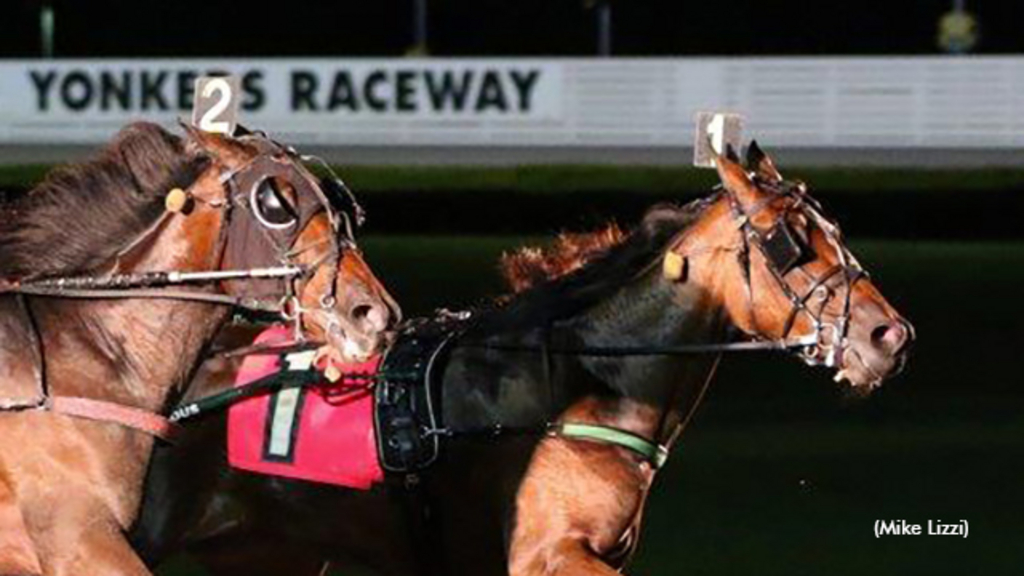 Published:
March 30, 2023 07:40 pm EDT
With the MGM Borgata Series and Blue Chip Matchmaker Series for pacers both ongoing, the trotting set will join the action at MGM Yonkers Raceway on Wednesday night (April 5) with six $25,000 divisions of the opening round of the John Brennan Series.  
The John Brennan Trotting Series is named in honour of the longtime SOA of NY horsemen's representative who passed away from complications of COVID-19 in March 2020. The series is for three-year-olds and older who were non-winners of six pari-mutuel races or $150,000 through Feb. 1, 2023, with winners over $250,000 as of that date not eligible. The series features three preliminary legs on April 5, April 12, and April 19 with a $79,000 final and a $35,000 consolation April 26.
A total of 48 horses were nominated to the John Brennan Trotting Series, which is the most in the history of the event, and 41 of those nominees showed up in the entry box for the first leg when it closed on Thursday, March 30.
"I am very excited to see it take off like this in Big John's memory. It is such a great thing," said Yonkers Racing Secretary Joe Frasure.
Among the storylines looming on Wednesday are three-for-three in 2023 Cantstop Yankee (Post 6, driver Tyler Buter) taking on five-for-six this year Summit City Sonny (Post 2, Dexter Dunn) and Spicy Nugget (Post 5, Yannick Gingras) in the first split, the Yonkers debut of Irish champion Harry Knows IR (Post 6, Lauren Tritton) in the second tilt, and two sharp horses in Southwind Arturo (Post 3, Buter) and Outside The Fire (Post 4, Scott Zeron) meeting in the fourth section.
Twelve races will take place in total on Wednesday night, with John Brennan Trotting Series action in Race 1, 2, 4, 6, 8 and 10.
Stakes racing continues at MGM Yonkers Raceway on Friday night's (March 31) 10-race program with three $40,000 sections (Race 3, 6 and 8) of the third leg of the Blue Chip Matchmaker Series for pacing mares. The second of those events features Amazing Dream N, the only two-time winner in the series in 2023, Racine Bell, who went over $1 million in career earnings with a victory a week ago, and defending champion Drama Act.
The MGM Borgata Pacing Series resumes with its third round on Monday, April 3. Four $50,000 divisions (Race 3, 5, 7 and 9) will take place on that 12-race card.
To complement the MGM Borgata Pacing Series, the Empire Terrace dining room will be open 6 p.m. to 10 p.m. on Mondays through April 24. Owners and fans are invited to attend the races and enjoy food from an ala carte menu. No reservations are required.
Starting tonight (March 30), the Pick-5 pool at MGM Yonkers Raceway will be seeded with $10,000 and also have a guaranteed pool of $25,000. This initiative will continue on Thursdays into April and is being offered in partnership with the Standardbred Owners Association of New York as part of the United States Trotting Association's Strategic Wagering Program.
MGM Yonkers Raceway is currently operating on a Monday through Friday live racing schedule with post time at 7 p.m. (EST).
(Yonkers Raceway)