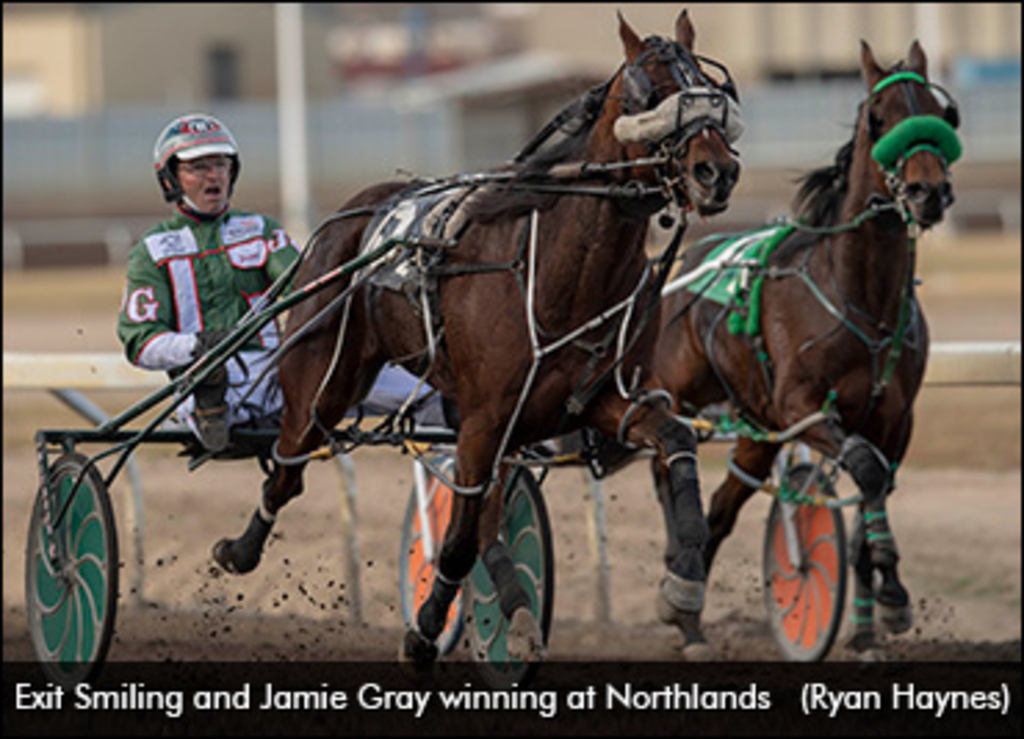 Published:
March 22, 2019 11:59 pm EDT
The Champions of Alberta were celebrated at the 2018 Alberta Standardbred Horse Association's annual Awards Gala on Friday (March 22) at the Apple Creek Golf Course in Airdrie.
Industry partners from Horse Racing Alberta, Century Downs Racetrack and Casino, Century Mile Racetrack and Casino, The Track on 2, the ASHA, as well as many sponsors, owners, breeders and horsepeople were on-hand to congratulate those who excelled in 2018.
Exit Smiling and Jamie Gray definitely made their mark this year. Exit Smiling was victorious in winning Three-Year-Old Alberta-Sired Colt as well as the prestigious title of Horse of the Year. Exit Smiling was trained and driven by Gray, who co-owned with Fred Gillis, Geoff Smith and Natasha Peiskar. Gray also won Trainer of the Year under 200 starts and Horseperson of the Year.
The Ron McLeod Award was presented to Shelley Gray. Shelley has dedicated many years to the industry starting out driving the starting gate some years ago in Saskatchewan. Shelley is also the Standardbred Canada Field Rep, Chart Caller, and she can be found in the barn every morning working hard alongside husband/trainer Jamie.
Longtime owner and breeder Richard (Dick) Schneider was honoured with the Breeders Award of Recognition for over 30 years of dedication to the industry. Dick has bred, owned, trained and driven Standardbreds over many years. Both of his sons, Richard & Quentin have carried on the family tradition and are well involved in the Standardbred Industry racing across Western Canada and into the United States.
The Alberta Standardbred Horse Association was also pleased to present two new awards this year. The Meadowlark Farms-Sponsored Breeder of the Year under Six Mares went to longtime Owner/Breeders Jim McPhail & George Rogers. The ASHA Director's Award, presented by ASHA staff, went to John Hind for his many years of service.
ASHA would like to thank its many sponsors for making this night a huge success including new sponsors for this year, Alberta Veterinary Center, Exit Smiling Group, and The Raynmen.
The complete list of winners appears below.
Two-Year-Old Alberta-Sired Filly
Rockin Mystery
Owners: Blair Miller & Rod Therres
Two-Year-Old Filly
Lady Neigh Neigh
Owners: Christopher Lambie & Christopher Lancaster
Two-Year-Old Alberta Colt & Gelding
Outlawgrabbingears
Owners: Paul & Nicole Davies and Deborah Pinel
Two-Year-Old Colt & Gelding
Outlawgrabbingears
Owners: Paul & Nicole Davies and Deborah Pinel
Three-Year-Old Alberta Filly
Maid In Alberta
Owner: Don Richardson
Three-Year-Old Filly
Cusdmagicdragon
Owners: Blair & Erna Corbeil, Kelly Hoerdt
Three-Year-Old Alberta Colt & Gelding
Exit Smiling
Owners: Fred Gillis, Geoff Smith, Natasha Peiskar, Jamie Gray
Three-Year-Old Colt & Gelding
Cheddar Jack
Owners: Lorne Duffield & Diane Hennessy
Champion Aged Mare
Tajmeallover
Owners: JF Gagne, Peter Van Seggelen, Carl Warnaar, Tapron Holdings
Champion Aged Horse
Iwontdothatagain
Owners: Kelly Hoerdt & Ed Keryliuk
Claimer (Fillies and Mares)
Big Shir
Owners: Derek Gilbert, Christopher Lambie, Christopher Lancaster
Claimer (Colt and Gelding)
Gray Zee
Owners: David Lamont & Donna Wyse
Trainer Under 200 Starts
Jamie Gray
Driver Under 200 Starts
Brian Gray
Trainer Of The Year
Kelly Hoerdt
Driver Of The Year
Brandon Campbell
Horseperson Of The Year
Jamie Gray
Owner Of The Year
Donald Richardson
Breeder Of The Year
Meridian Farms - Bill Andrew
Breeder Of The Year Under Six Mares
George Rogers & Jim McPhail
Fastest Girl
Tajmeallover (1:53.3)
Owners: JF Gagne, Peter Van Seggelen, Carl Warnaar, Tapron Holdings
Fastest Boy
Iwontdothatagain (1:51.4)
Owners: Kelly Hoerdt & Ed Keryliuk
Rising Star
Kaitlin Haining
Caretaker Of The Year
Linda Stahl
Breeders Award Of Recognition
Dick Schneider
Ron McLeod Award Of Recognition
Shelley Gray
ASHA Director's Award
John Hind
Horse Of The Year
Exit Smiling
Owners: Fred Gillis, Geoff Smith, Natasha Peiskar, Jamie Gray
(with files from ASHA)