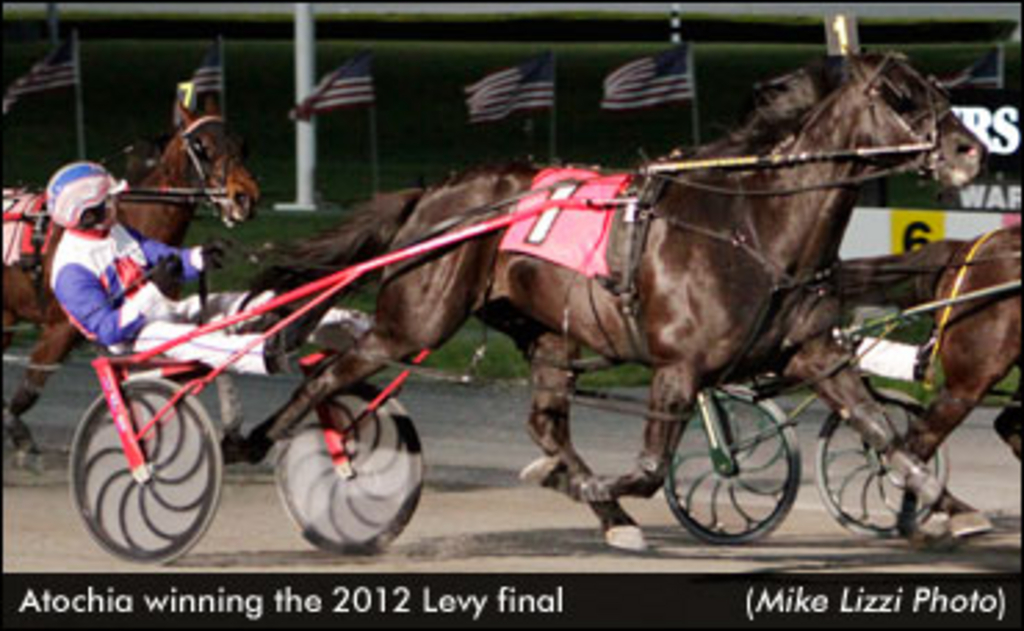 Published:
March 20, 2013 07:48 pm EDT
The 2013 Grand Circuit season kicks into high gear this weekend at Yonkers Raceway.
This Week: Blue Chip Matchmaker and George Morton Levy series opening legs, Yonkers Raceway in Yonkers, New York.
Schedule Of Events: The Grand Circuit at Yonkers features five $40,000 divisions on Friday (March 22) in the first round of the Blue Chip Matchmaker Series for open pacing mares. The Saturday (March 23) card at Yonkers will see six $50,000 divisions in the opening round of the George Morton Levy Memorial Series for open pacers.
Preview: Trainer Ron Burke, who nominated nine mares to the Matchmaker series, is making them all wing for their supper in the first foray.
Friday night's first grouping includes last season's Lady Maud winner, Bettor B Lucky (Tim Tetrick, post 7), pari-mutuelly positioned with Hot List (Yannick Gingras, post 1). Also in the sewing circle are millionairess Western Silk (Brian Sears, post 3) and last week's Open Handicap winner, Krispy Apple (Matt Kakaley, post 5).
The second division finds Ginger And Fred (Kakaley, post 2) making her seasonal debut while looking to add to her $1.8 million bankroll. She's teamed with Ellamony and Masters Stakes winner Camille (Gingras, post 6).
Friday's third get-together has the likes of Rock N Soul (Gingras, post 3), who's partnered with Jugette champion Darena Hanover (Kakaley, post 6). They draw in against standout statebred -- and horse for the course -- Handsoffmycookie (Tim Tetrick, post 4), along with classy lass Feeling You (Tyler Buter, post 1).
The fourth Matchmaker event sees defending series champ Rocklamation (Gingras, post 5) -- with $1.2 million on account -- collide with milllionairess twice over Anndrovette (Tetrick, post 7). The latter is a two-time divisional champion. The former is in partnership with Foxy Lady (Kakaley, post 3).
Friday's final series group includes Ramona Disomma (Dan Dube, post 4) cross the river with two consecutive wins.
The Levy series once again serves as the annual launch party for Foiled Again. The sport's all-time richest pacer ($4.629 million), who's also a two-time series champion (2009 and 2010), drew the pylons in the final series event.
Foiled Again, a nine-year-old Real Artist gelding making his 170th career start, has earned a million racing in Westchester alone.
Gingras again takes the seat for Burke, as he does behind Atochia. Another of Burke's half-dozen Levy entrants, the defending series champ and $1.7 million winner, landed post No. 6 in the evening's fifth division.
Leading the first division is Versado (Sears, post 6 after an inside scratch), already a six-figure earner this season with wins in half of his 10 starts.
The second event includes double-millionaire One More Laugh (Tetrick, post 2) and $1.1 million winner Annieswesterncard (Gingras, post 5).
Division three features season-debuting millionaire Clear Vision (Gingras, post 2), while the fourth event includes all-age track record-holder Sapphire City (Brent Holland, post 2).
Last Time: The Presidential Series in January was the opening event on the 2013 Grand Circuit schedule. Legs were contested on Jan. 12 and Jan. 19, with the final held on Jan. 26.
Nina Simmonds and Our Horse Cents Stables' Golden Receiver, an eight-year-old winner of $1.7 million trained by Mark Harder and driven by Tim Tetrick, swept through two preliminary legs of the Presidential Series for Free For All pacers, leading at every call in both starts, in 1:49 and a North American season's mark of 1:48.4.
In the $103,500 Presidential final, Golden Receiver was challenged early by Mr Hasani N, but the latter broke stride after the quarter pole and scattered the field -- but not before the former had secured a lead he would not relinquish.
Golden Receiver pulled away from his foes midway down the lane as he paced a final panel of :26.4 for the impressive 1:49.3 score on a chilly 20 degree night. Fred And Ginger came back to finish second, two lengths behind the winner, with Dial Or Nodial third.
Tetrick had nothing but praise for Golden Receiver after the victory.
"After that first half, you know that's pretty big into the wind like that, my horse has been really brave and he fought through it," said Tetrick. "In the middle of the lane he just took off again. I'm very proud of him.
"It's amazing what he can do and how good he is off the gate. He's so handy. They've done a great job with this horse and he loves to win."
Grand Circuit Standings: In 2013, the Grand Circuit leaders in three categories (driver, trainer and owner) will be tracked on a points system (20-10-5 for the top three finishers in divisions/finals and 10-5-2 for the top three finishers in eliminations/legs).
Here are the leaders following the Presidential Series:
Drivers: 1. Tim Tetrick–40; 2. David Miller–15; 3t. Yannick Gingras–10; 3t. Andy Miller–10; and 5. John Campbell–9.
Trainers: 1. Mark Harder–40; 2. Ron Burke–15; 3t. Jim Campbell–10; 3t. Nick Surick–10; and 5. David Drew–7.
Owners: 1t. Our Horse Cents Stable-20; 1t. Nina Simmonds–20; 3t. Fashion Farms–10; 3t. KDM Stables Corp.–10; and 5. Dave Drew Assoc.–7.
Looking Ahead: Grand Circuit action will continue with legs of the Blue Chip Matchmaker and George Morton Levy over the next four weekends. The finals and consolations for both events will be held on April 27.
For more information on the Grand Circuit, including the full 2013 schedule, click here.
(With files from Grand Circuit & Yonkers Raceway)