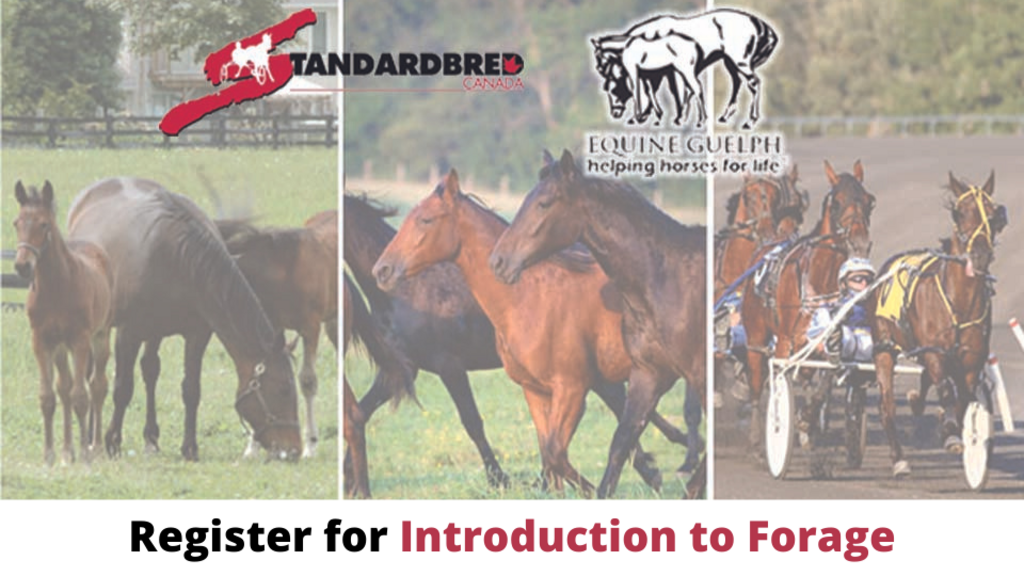 Published:
March 12, 2022 10:00 am EST
Registration is now open for Equine Guelph's online short course on "Introduction To Forage" that runs from March 21 – April 1.  
This is one of the short courses on Equine Guelph's Horse Portal featuring practical, flexible learning, and available this fall to Standardbred Canada's members with a 15 per cent partner discounted rate.
Click here to register now.
For those who have never taken an online course before, no prior online learning experience is required, and the course format is flexible with "24/7" access available.
The purpose of this course is to help horse owners and caregivers understand the importance of forage for horses along with practical advice for selecting, feeding and managing forage. During the course you will learn about: the links between forage and horse health and welfare, main forms of forage, tips for evaluating forage quality, strategies and principles of keeping your pasture healthy, and how you can implement good practices at your own farm.
In this course you will learn to:
Evaluate hay quality
Discuss hay storage, feeding and common problems
Evaluate pasture quality and identify common problems with pasture
Best Pasture Management practices
The course instructor is Dr. Paul Sharpe, an animal scientist who has worked at a number of agricultural colleges in Ontario, and the co-author of a textbook called Horse Pasture Management.  Dr. Sharpe continues to give lectures and answer questions for Equine Guelph and a "Forage Management" course at the University of Guelph.  In 2020, he developed and started teaching a course called "Sustainable Practices in Agriculture" for the Business-Agriculture program at Algonquin College.
Equine Guelph has been a pioneer and global leader in online education for equine professionals since its inception in 2003. The Horse Portal was launched in 2017 and became a national success, partnering with 10 English-speaking provincial equestrian federations across Canada. It is a partnership platform for the equine community, available to everyone in the equine industry. The Horse Portal has quickly grown to include youth organizations, international safety associations, and horse racing partners including Standardbred Canada, Ontario Racing, Horse Racing Alberta and the Alcohol and Gaming Commission of Ontario.